5 Benefits of Getting Global with Mobile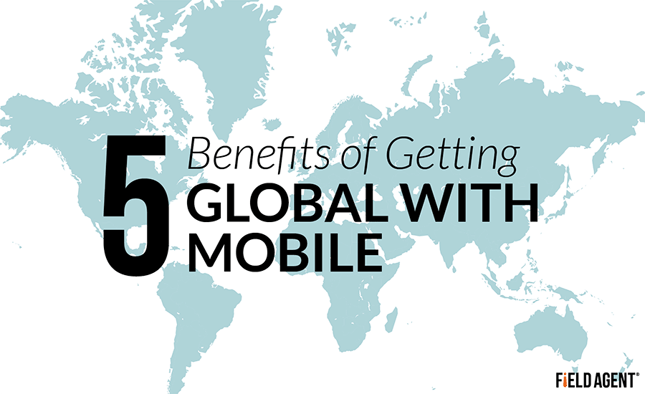 Smartphones have radically changed the way companies collect in-store information (mobile audits) and consumer insights (mobile research).
As mobile audits and research grow in prevalence, multinational companies will increasingly seek out mobile solution-providers with global platforms.
And why not?
If your products, customers, and retail operations are in multiple countries, shouldn't your mobile auditing and research capabilities be there as well?
From the largest global corporations to the smallest exporting operations, consider just 5 benefits of using an international mobile solution-provider for your audit and research needs. Download this case study for an even closer look at how companies take their mobile global.
1. South Africans shop differently than Aussies

You serve a global clientele. Consequently, a cookie cutter approach to marketing and selling—one that treats customers the same the world over—isn't likely to succeed.
To illustrate, we recently conducted research on the "impulse" purchase habits of over 2,000 shoppers across seven different countries: the United States, Australia, Canada, Mexico, Romania, South Africa, and the United Kingdom.
We learned, among other things, that while 44% of South Africans say they are "very likely" to purchase snack foods on impulse while moving through a checkout line, only 10% of Australians and 13% of Romanians are similarly inclined.
Because shopping and consumption differ from culture-to-culture, you need a mobile research- and audit-provider with worldwide reach.
2. The "one stop shop" approach to audits & research
Why shop for groceries at several different stores when you could buy everything on your shopping list at just one? Likewise, why use a different mobile solution-provider in every foreign market…when you could rely on just one?
It's simpler and more efficient to utilize one audit and research platform, rather than spread your projects over multiple providers around the world.
International business is confusing enough already. Opt for the simplicity and efficiency of a single mobile solution-provider.
3. Three small words, one big advantage: economies of scale
When operating in multiple countries, a mobile audit/research firm is able to spread the cost of doing business over a greater number of client projects (i.e., in more markets), thereby operating more efficiently and saving money. These savings can then be passed along to the client in the form of lower prices.
Everybody wins.
4. Audits & research in panorama view
Many multinational companies want to compare and contrast customers, competitors, and retail operations across several countries—all at one glance.
When a mobile solution-provider operates a global platform, it's feasible to run essentially the same project across multiple countries, and then index the results for easy yet meaningful comparison.
Case in point: We recently measured the satisfaction level of over 2,000 shoppers worldwide on various characteristics of the checkout process. As the results demonstrate, mobile solution-providers facilitate quick and easy cross-country comparisons.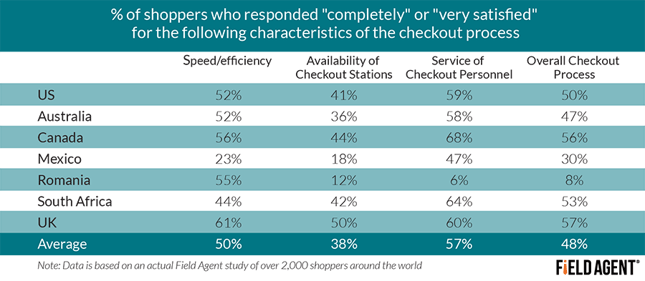 5. Keep it among friends
Perhaps the most important benefit of using an international mobile solution-provider: You know them; they know you.
Why vet a new firm with each and every new market you enter? Instead, depend on the company with the proven track record, the one that knows the ins and outs of your business.
This will help you advance into new global markets with confidence, knowing you have a trusted partner on which you can rely.
The New Power Couple: Mobile + Global
To further explore the advantages of using an international mobile solution-provider, we invite you to download the case study, "Take Your Mobile Global: How Companies Benefit from Mobile Audits and Research with Worldwide Reach."