8 Reasons Your Products May Reflect the WRONG Prices in Stores
It may be small, but it's extremely powerful.
I'm talking about a price tag. With one passing glance, a price tag can make a sale or lose a customer.
And an unappealing price, as perceived by the shopper, is a double-edged sword. Not only will you lose an immediate sale, you may also say goodbye to a customer for life—since they've already made a determination about your brand: It's too expensive. Or perhaps for other items, it's too cheap.
Given the power of price, CPG companies work hard to ensure their prices hit the sweet spot with shoppers.
But here's a scary question:
How do you know shoppers are seeing the right prices in stores?
Retail partners might, after all, misprice your products, leaving you and others wondering why sales are so disappointing.
Mispricing: 8 Commonplace Reasons
Consider just 8 all-too-common reasons your products may be mispriced in stores:
1. Your products are mispriced due to basic human error
Perhaps the most obvious reason, your merchandise could reflect the wrong prices in stores due to basic human error, for instance:
Simple misprints

Employees may miss a category or SKU when adjusting prices

Employees might accidentally overlook information about pricing changes
2. Your products are mispriced due to structural labor issues
Of course, high turnover, insufficient training, or other structural labor issues might contribute to the problems above. Correct pricing is at least partially a function of human capital, which some stores have in greater quantity and quality than others.
3. Your products are mispriced due to pressures and realities at the store-level
Local store managers, faced with unique challenges and opportunities, may deviate from MSRPs and corporate pricing plans in unexpected ways. For instance, they may be eager to unload high inventory and, thus, discount prices on goods carrying your brand.
See also: 10 Reasons Your In-Store Product Displays Aren't Converting Shoppers
4.

Your products are mispriced due to desynchronization

Timing is everything in the pricing game, particularly in non-EDLP contexts.

A "correct" price too early or too late is actually an incorrect price. By way of example, what if local stores are hasty with holiday pricing discounts, or, perhaps worse, what if they're tardy?
5. Your products are mispriced due to inaccurate information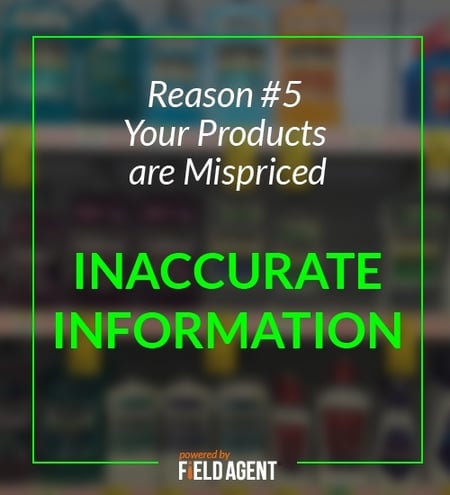 GIGO—garbage in, garbage out—certainly applies to retail pricing management. Sometimes store employees report pricing changes that never occurred, or they may record other forms of inaccurate information. Thus, there is disagreement between the pricing on the store floor and pricing per the retailer's information systems. And, too often, reconciliation doesn't occur until long after valuable sales have been lost.
6. Your products are "mispriced" due to missing point-of-purchase materials
In a separate article, we address 10 reasons your in-store displays aren't converting shoppers. Sometimes expensive POP materials—including those displaying prices—don't make it to the final retail destination, or perhaps they become lost inside the store. Whatever the reason, they're not there.
While this isn't a clear-cut case of mispricing, it is a situation where shoppers may be less enticed to purchase your products because they lack compelling pricing information.
7. Your products are "mispriced" relative to your competitors
Here the danger isn't a mistake made by your retail partner; here the danger is overpricing or underpricing your products relative to your competitors and the larger category. There's a pricing misalignment; you're missing the pricing zone with cost-sensitive, purchase-ready shoppers.
This danger is especially potent for new products, as they, in particular, must entice trial and overcome existing shopping and consumption routines.
The price must be on the money if you're brand is to stack up favorably against rivals.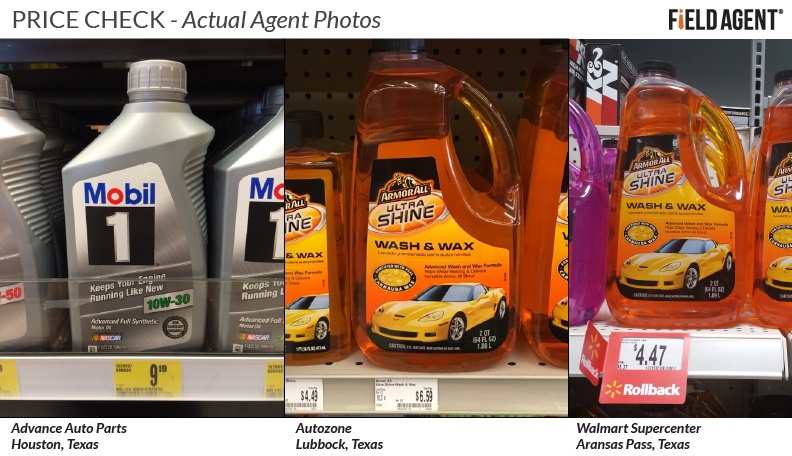 8. Your products are mispriced due to lack of in-store visibility
The good news is: The problems above can be confronted and overcome with greater in-store visbility.
It really boils down to vigilance—knowing the prices on your in-store products (and your rivals') at any given time.
Fortunately, with advancements in mobile technology and crowdsourcing, this has never been easier. Mobile Audits offer a direct line of sight into stores across the country, so you can be among the first to know when pricing mistakes are contributing to poor sales, or when your competitors change their prices.
Mobile Audits ensure shoppers see the prices they're supposed to see. That's peace of mind.
Download the infographic, "Bridging the Knowledge Gap," to see how Mobile Audits work.