Content Marketing Worth Talking About: Behind the Scenes @ Field Agent
"Content marketing is the only marketing left"
– Seth Godin –
Content marketing (aka inbound marketing)—which, coincidentally, I'm doing right now—has taken the business world by storm.
Customers increasingly look on traditional advertising with tired, skeptical eyes, making it less and less effective for generating sales and building long-term customer relationships. With so much information available at our fingertips, cultivating trust, something advertising has traditionally failed at, has become the #1 focus of B2B marketers.
Confronted with this new reality, many companies—including yours truly, Field Agent—have embraced content marketing.
Where traditional advertising was disruptive and "salesy," inbound is relevant and relatable. Content marketers seek to enter the customer's world to solve their problems and connect with them through articles, infographics, ebooks, case studies, podcasts, videos, and other forms of engaging information.
Inbound Overload
According to marketing sage Seth Godin, effective content marketing is all about "making something worth talking about."
Unfortunately, much well-meaning content out there is underwhelming. It lacks credibility; it lacks authority; it lacks substance. And, thus, it fails to engage.
Or, worse, it's unoriginal—repeating the same lines as every other piece of content available on the Internet.
Let me stress: In the content game, it's not the quantity that counts. It's the quality.
After all, content must engage. And, at its best, content is backed by accurate, unbiased data.
Create Content Worth Talking About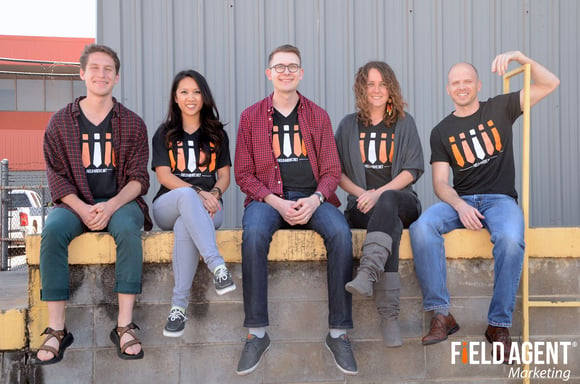 Over the past year, the Field Agent marketing team (pictured) has produced approximately 100 blog posts and an extensive collection of downloadable resources, including case studies, reports, and ebooks. We've dabbled in everything from infographics to podcasts.
In other words, we got bit by the content bug—and bad!
On many occassions, I have been asked just how many marketers Field Agent has on staff. It's true, we produce a lot of content for a small team.
I believe it's our secret weapon that sets us apart...one team member that works while we aren't working, and, honestly, it's not even a secret.
We, like our customers, use the Field Agent audit and research tool. Through our mobile app, Field Agent is connected to hundreds of thousands of consumers and stores across the country, offering near-instantaneous access to information that helps transform otherwise basic marketing content into content worth talking about.
As depicted in the video below, the Field Agent tool helps us consisently infuse our content with hard, authoritative data and insights.
And as you can see, we have a lot of fun creating it. 😎
The Dish on Content Marketing

Following Dish Network's unveiling of Sling TV last year, which the company said would specifically target Millennials, we wrote a blog post and white paper on "How Cord-Cutting Millennials are Changing TV Forever." We felt the topic—fresh on everyone's mind—presented an opportunity to demonstrate how our company could quickly and affordably capture insights on the Millennial market.
To make this content really stand out, we conducted our own original survey of 300 Millennials. It was just a matter of logging into the Field Agent do-it-yourself system, creating a survey specifically targeting Millennials, and monitoring the results on our live, online dashboard.
Within hours (not days or weeks), we had results in-hand.
And, our content had relevancy, credibility, and originality.
Give Your Content Bite
In 2015, 88% of B2B marketers, and 76% of B2C marketers, were engaged in content marketing. (source)
Increasingly, it won't be enough to simply do content marketing—most companies are doing it.
Your content must be relevant, fresh, and distinguishable.
Field Agent offers inbound marketers a fast, affordable, and convenient way to create content truly worth talking about.