Case Study: Starbucks' Cinnamon Dolce K-Cups Get a Digital Demo
Cool, crisp, autumn days have finally arrived, and that means many coffee-drinkers are turning to festive, seasonal flavors to start their days and warm their nights.
Starbucks, the world's largest purveyor of coffee, of course caters to the market's seasonal tastes, selling coffee and creamer flavors like pumpkin spice, white chocolate, caramel, and, MmmmMm, cinnamon dolce.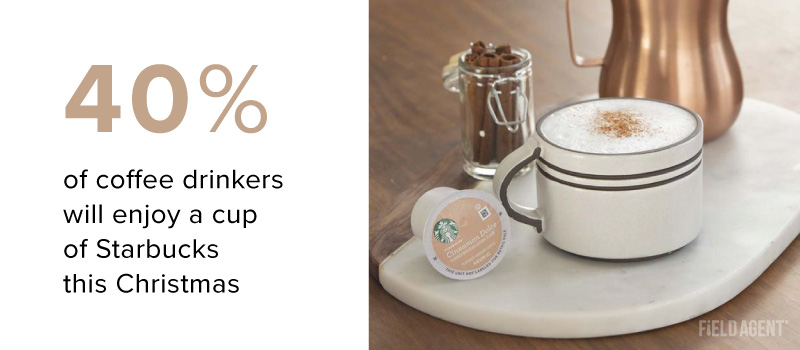 According to Field Agent's 2019 holiday preview, 71% of Christmas celebrants are at least moderately likely to drink coffee on Christmas Eve or Day. Within this sub-sample, Starbucks was easily the most popular coffee brand, with 40% of coffee drinkers saying they expect to enjoy a piping hot cup of Starbucks on the holiday.
We got to wondering, though: What do coffee-drinkers make of Starbucks' seasonal coffee flavors. More specifically, what do they make of the company's Cinnamon Dolce K-Cups?
It seemed like a great opportunity to both demonstrate Field Agent's Digital Demo service and to learn about the customer experience with Starbucks' Cinnamon Dolce K-Cups.
Digital Demo: Cinnamon Dolce K-Cups from Starbucks
First things first: What is Digital Demo?
An alternative to traditional demos, Digital Demos offer an innovative way to drive "first purchase," track repeat purchases, and generate positive word-of-mouth. Watch the explainer video here.
And, Digital Demos produce some amazing content, which Field Agent incentivizes verified-buyers to share online.
Here's how it went down for our Digital Demo of Starbucks' Cinnamon Dolce K-Cups, when we asked eight coffee-drinkers to buy, try, write about, and share about the product. We describe the process in seven steps below:
See Also: Our Digital Demo of Michael Angelo's Frozen, Italian Cuisine
Digital Demo: 7 Steps to Sales
1. Field Agent targeted coffee-drinkers
Field Agent targeted eight coffee-drinkers, from our panel of 1.5 million U.S. shoppers, to purchase Starbucks' Cinnamon Dolce K-Cups. No shopper had tried the product prior to the Digital Demo.
2. Coffee-drinkers purchased the product
All eight shoppers then visited their local Walmart to purchase the product. Field Agent can specify exactly when and where agents make a purchase, from stores to online retailers.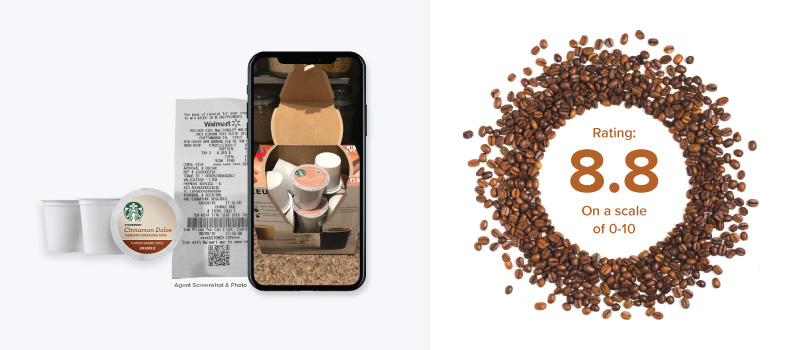 3. Shoppers tried the product at home
These eight shoppers, now verified-buyers, took the product back home, plopped a K-Cup into their Keurig, prepared a hot cup of cinnamon dolce coffee, and, then, gave it a taste.
4. Shoppers answered questions about the experience
Following the trial portion of the Digital Demo, verified-buyers then rated the coffee on a scale from 0-10 and answered several free-form questions about it.
Shoppers assigned Starbucks' Cinnamon Dolce K-Cups a rating of 8.8. As one coffee-drinker said, "The cinnamon flavor is a great fit for the holiday spirit. It provides that reminder of holidays with warmth and coziness."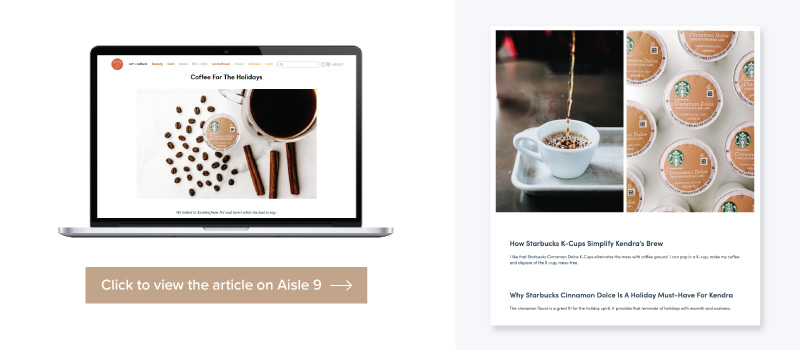 5. Field Agent created and published an article
For ratings of 7 or higher, Field Agent's creative team—consisting of designers, photographers—then transformed shoppers' responses into the high-quality, visually-stunning content you see here.
This content was then published to Aisle 9, one of two online publications owned by Field Agent, where the world could read what real shoppers think about Starbucks' Cinnamon Dolce K-Cups.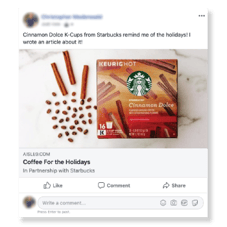 6. Shoppers shared on social
Field Agent then encouraged shoppers to share their article (after all, they wrote it!) with friends and family on social media.
7. Field Agent tracked repurchase
Finally, Field Agent will be following up with shoppers over the next weeks to determine whether they repurchased the product.
Ultimately, one Digital Demo of Starbucks' Cinnamon Dolce K-Cups resulted in (a) verified "first purchases," (b) positive word-of-mouth online, and (c) repurchase information.
For an in-depth look at how Digital Demo can drive sales of your product, check out our Digital Demo case study of Michael Angelo's frozen cuisine. See below.
Digital Demo Case Study: Michael Angelo's
Case Study in Brief...
Michael Angelo's, the maker of high-quality, Italian-prepared foods, needed a way to drive awareness and purchase of its new, frozen meat lasagna.
Digital Demo by Field Agent offered a proven method for mobilizing real shoppers in specific areas to buy, try, write about, and even share about the new product, creating both short- and long-term awareness and demand for the lasagna. Ultimately, the Digital Demo resulted in hundreds of high-quality articles being written and/or shared online.
Download the full case study below.