Do Adults Express, Receive Their Christmas Gift Wishes? [Survey]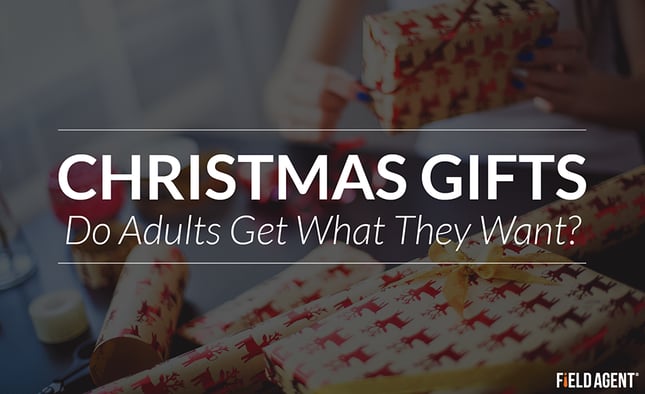 Yes, yes, we know. Christmas is all about the kids.
As the song goes, "All for the little ones, Christmas joys." Emphasis: All.
But what about us adults?
Do we, like kids, have our own Christmas wishes?
Do we express these wishes to others?
Do we ultimately like the gifts we receive at Christmastime?
We conducted a survey of 750 American adults to determine the answers to such questions, which hold relevance for the retail industry and the holiday shopping scene.
Here are the results from four questions we posed to adult gift-recipients:
1. Do adults even know what they want for Christmas?
Adults may not go to the lengths Ralphie did to land his Red Ryder BB Gun, but that doesn't mean adults don't have Christmas wishes.
When we average the results from our separate men and women surveys, 95% agreed with the statement, "I usually know of at least one item I would like as a holiday gift." In fact, a small majority (51%) "strongly agreed."
For each of these questions, men and women were far more alike than different.
Coming Soon: Black Friday Scoreboard. Sign up to watch the action...without standing in line.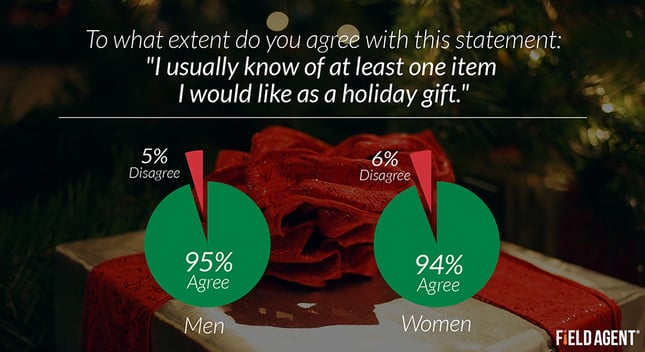 2. But do adults express their Christmas wishes to others?
Well, they don't exactly visit Santa at the mall, but, yes, they do let others know. We asked adults to what extent they agree with the statement: "I normally tell at least one family member what I want for Christmas."
In all, 89% more or less agreed. 14% of men don't voice their holiday wishes to family, meaning men are slightly more tight-lipped than women (7%).
3. Do families follow through on adults' Christmas wishes?
Although 85% agreed with the statement, "My family generally gives me the holiday gift(s) I really want," their agreement was less intense for this question. A departure from the previous questions, only 20% strongly agreed.
See also: 7 Reasons Retail Shoppers Aren't Buying Your Products
4. In the final analysis, do adults like the gifts they receive?
Those return counters are awful busy following the holidays, perhaps suggesting that many adults are less than thrilled with the presents they receive.
Yet when we gauged agreement with the statement, "My family generally gives me holiday gifts I like," the overwhelming majority (95%) agreed. 33% even showed strong agreement.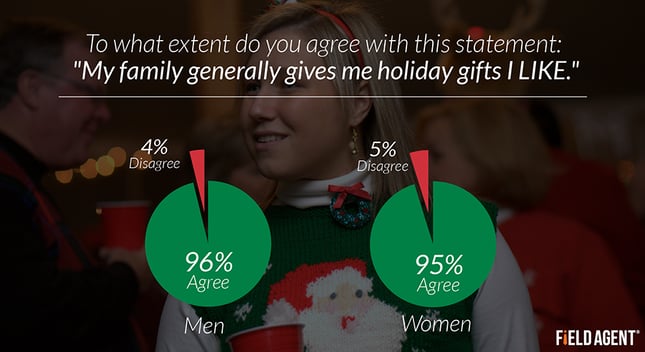 Connect with Your Customers
There are many ways to build your business by building your knowledge of customers. Mobile Research combines smartphone technology with crowdsourcing to deliver fast, affordable, and dependable consumer insights. Read more about these capabilities in the eBook, "Mobile Research: How Smartphones Connects Companies with Their Customers."