Will Americans Make or Buy These 5 Thanksgiving Foods? [Survey]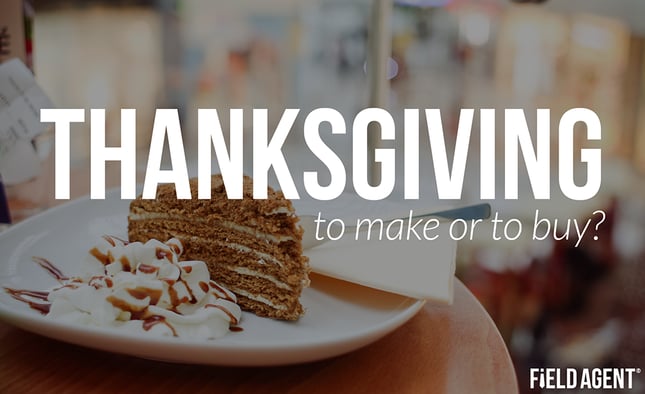 It's a delicious question: Just how much of that traditional Thanksgiving menu is actually homemade, and how much is prepared ready-to-eat by local retailers?
That is, do Americans largely MAKE or BUY Thanksgiving fare?
This question is of course critical to many businesses vying for consumers' Thanksgiving dollars. For instance, in one recent year, Boston Market forecasted its Thanksgiving Day traffic at five times the chain's usual Thursday draw (source: Bloomberg Businessweek).
Haste or Baste?
"There are two kinds of people on Thanksgiving," writes Venessa Wong of Businessweek, "overachievers who brine their turkeys according to some fussy Martha Stewart recipe that involves juniper berries…Then there are those who wake up in a cold sweat at the thought of touching the stove."
Which is more common among modern American households: convenience or homemade-goodness? Field Agent surveyed 250 moms across the country to understand whether families make or buy five traditional Thanksgiving staples: turkey, dressing, green bean casserole, cranberry sauce, and pie.
A Word about the Bird
Our results suggest American households still take pride in preparing the showpiece of the Thanksgiving meal, the turkey, themselves. In all, 93.2% of households indicated they make the turkey entirely or mostly in-home. Only 5.2% reported buying the turkey completely or almost completely prepared, and just 1.6% do not serve turkey on the holiday.
Rounding Out the Menu
The majority of households (82.6%) prefer, as with turkey, to make their holiday dressing entirely or mostly themselves. Yet households displayed less willingness to make green bean casserole wholly from scratch. 45.7% said they make it mostly themselves, compared to only 28.7% who make it completely on their own.
Of the five food items in the survey, which one did consumers say they are most likely to buy outside the home—fully or almost fully prepared? Cranberry sauce. More than half (52.6%) indicated they will not make their own cranberry sauce.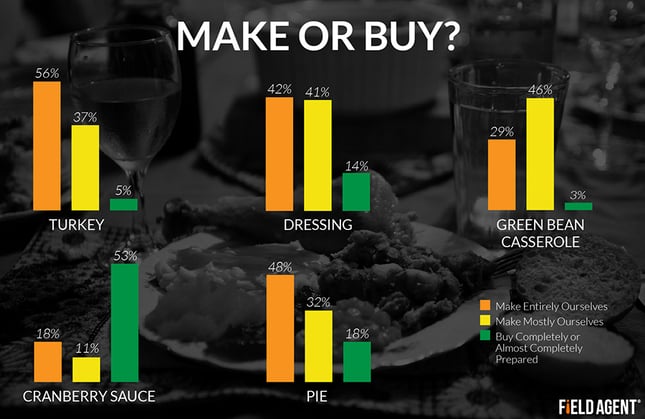 Black Friday LIVE!
For the second year in a row, Field Agent is excited to host its real-time Black Friday Scoreboard.
From 6 p.m. CST Thanksgiving evening to noon on Black Friday, hundreds of shoppers across the country will be taking pictures of the action as it happens inside and outside stores. These photos, along with real-time information on which retailers are winning shoppers, will be displayed live at www.blackfridayscoreboard.com. The countdown has already begun!