Do Shoppers Spend Less on Everyday Essentials during the Holidays?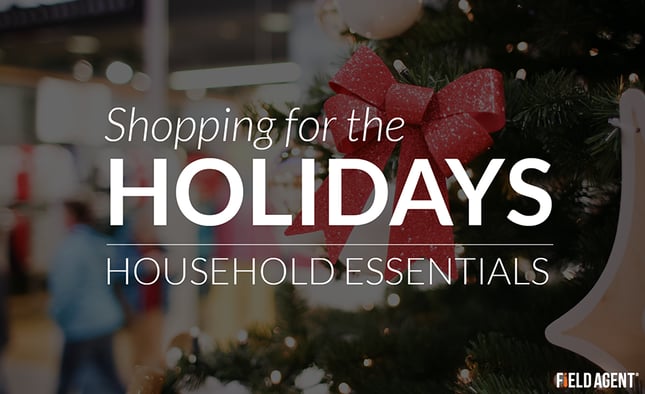 The holidays can be lonely. Especially for cleaning supplies, laundry detergent, and other "everyday" essentials that stores carry throughout the year.
With the arrival of the holidays, stores reconfigure their prime retail space to promote holiday foods, stocking stuffers, and the season's hot-selling gifts.
Household essentials, meanwhile, take a back seat.
[Cue Elvis Presley's "Blue Christmas"]
But exactly what role do everyday essentials play in the overall holiday retail scene?
This weekend we surveyed 500 adults about their shopping habits toward household essentials during the holiday season. Household essentials, per our definition, include cleaning products, air care, paper products, pet care, baby care, and personal care.
Here are 5 fast insights into how Americans shop for everyday staples during the holiday season:
1. There's a small holiday spending frenzy on aisles 11-13
Despite reductions in point-of-purchase marketing, most shoppers (61%) say they actually spend more, not less, on everyday essentials during the holidays. Surprisingly, only 4% report spending less, leaving 35% who spend about the same.
2. Over budget? Blame it on your guests
Of those who said they spend more on household essentials during the holidays (n = 302), 62% attribute this uptick to an influx of guests, parties, and other social affairs.
3. Shoppers stray a little during the holidays
Only 32% in our survey reported buying their household essentials entirely from the same stores during the holidays, that is, when compared to other times of the year. 62% said they make their purchases from mostly the same stores, while 6% reported buying everyday staples from different stores during the holidays.
4. At Christmastime, the "big box" gets the most attention
Mass merchandisers seem to benefit most from the change discussed in the previous point. Among respondents who stray, even a little, from their normal shopping destinations to purchase household essentials during the holidays (n = 338), 55% said they spend relatively more at Target and 52% more at Walmart when compared to the rest of the year.
Walmart, however, also loses sales from 22% of household essential shoppers from Thanksgiving to New Year's, roughly.
5. Doorbusters on cleaning products?

When you think doorbusters, you probably don't think household essentials. Yet our survey indicates that 46% of shoppers seek out sales, price reductions, coupons, etc. on everyday merchandise during the holidays, if primarily to save money so they can afford gifts.
Don't Lose Sales to Retail Oversights
In January, with the holidays over, household essentials will regain their rightful positions on main aisles and endcaps across the country. It'll be a critical time for brands, as they endeavor to start the new year right.
There may be many reasons vendors lose retail sales, but, fortunately, mobile audits provide a fast, affordable, and dependable means for monitoring and optimizing your in-store execution.
Download the eBook, "Mobile Audits: Avoid Retail Blind Spots & Grow Your Brand," to start preparing for the post-holiday selling season.