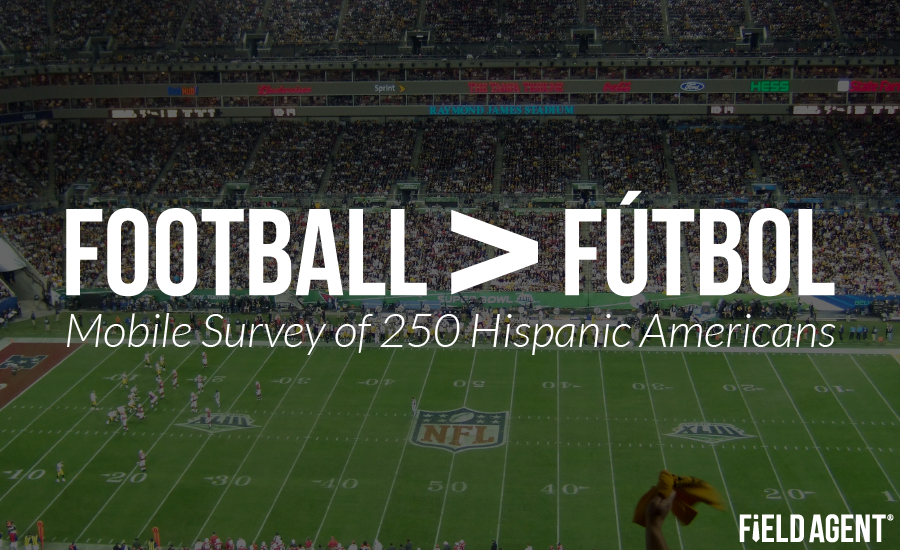 Football Beats Fútbol: Super Bowl Survey of 250 Hispanic Americans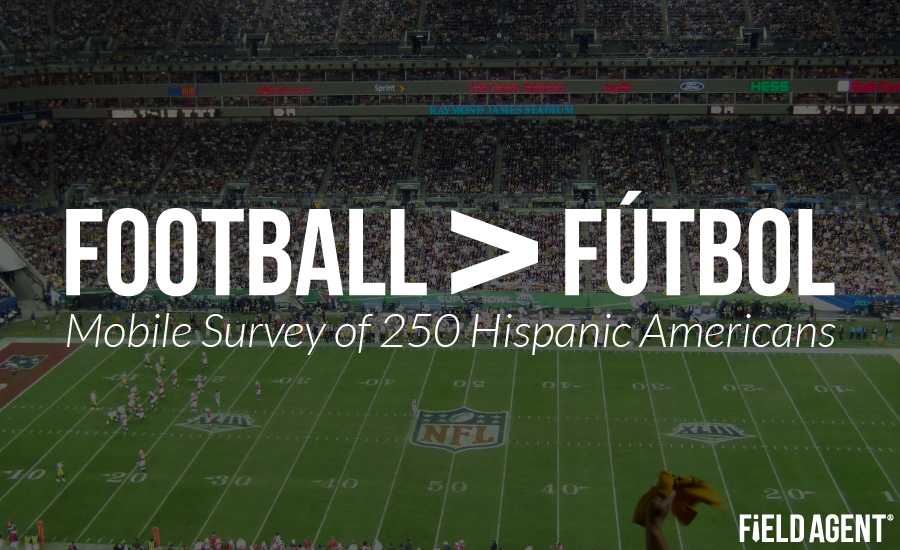 Field Agent's Super Bowl survey of 250 Hispanic Americans addresses the sports- and football-viewing preferences and behaviors of this influential customer class. We asked Hispanic Americans a wide range of questions, from "What's your favorite professional sport" to "What beer did you drink for the Super Bowl" to "How much did you spend on Super Bowl-related merchandise?" The results might just be a game-changer.
As the largest ethnic minority in the United States, Hispanic Americans are a powerful force at-retail. In fact, Nielsen projected that, by 2015, the collective purchase power of Latinos would amount to a massive $1.5 trillion. Powerful indeed.
We at Field Agent used Super Bowl XLIX as an occasion to better understand Hispanic consumers and, more specifically, their sports- and football-viewing preferences and behaviors. Below are just 3 important findings about the Hispanic sports consumer. Click here to download the full report.
1. The Big 3 are also the Big 3 among Latinos.
Football, basketball, and baseball outperformed the competition to win the title of favorite professional sports among Hispanics, who were asked to rank 10 sports by interest level. Find out where soccer, boxing, and other professional sports ranked on this list.
2. Hispanics awarded Corona top prize as Super Bowl beer of choice.
With 41% saying they'd likely drink the brand during the NFL championship, Corona won big in our survey of Latinos. Download the full report to see how other popular beer brands, as well as soda and salty snack brands, fared with these consumers.
3. Latinos open their wallets big for the big game.
Of those Hispanics who said they are at least somewhat likely to watch the Super Bowl, the vast majority (97%) indicated they would most likely make one or more merchandise purchases to enhance their game-viewing experience. The full report details exactly how much Hispanics said they would be willing to spend.
Super Brands, Super Insights
Coming soon: Our full Super Bowl XLIX report. This survey of over 500 football fans reveals which beer, soda, salty snack, and store brands won Super Bowl Sunday. Sign up for it here. Mobile market research offers real-time, 24/7 access to Hispanics and other important consumer groups, meaning retailers and brands can connect with customers more quickly and affordably than ever.
(This survey was conducted in English only.)