How CHESS Improves Our Business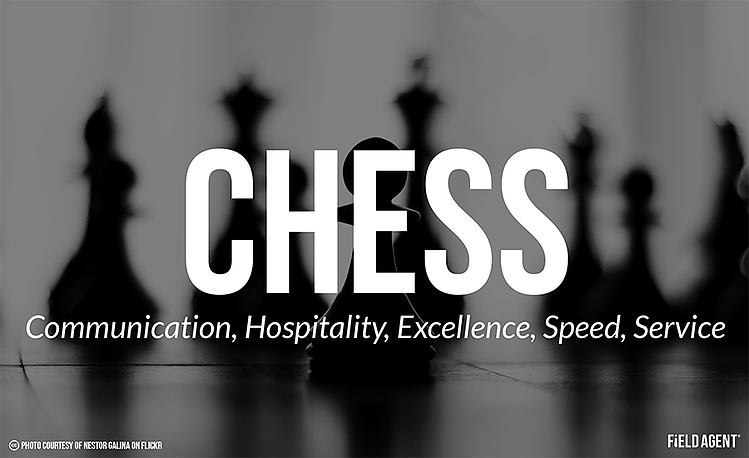 Our team is devoted to providing service that wows our Clients, whether they are full-service or using our Do-It-Yourself platform. We are changing the way the world collects business information, and we are doing it ambitiously with a smile.
Why CHESS?
Our team works unremittingly to serve our Clients. We are constantly sharpening the tools and services we provide in order to serve our Clients more effectively and efficiently to earn those reactions of "Wow" or "This is incredible" or "I can't believe it!"
Our core strategy for achieving this is explained in an acronym we've created: CHESS. Nearly everyday, around our offices, you'll hear us talking about CHESS, which stands for Communication, Hospitality, Excellence, Speed, and Service.
Communication
Early on in my career here at Field Agent, Henry Ho, our Co-Founder and Chief Business Development Officer, taught me that being able to communicate clearly, concisely, and courteously is one of the keys to business success. Years later, our entire team knows and consistently works to improve upon our business writing and communications.
Hospitality
We treat our Clients as if they are guests in our own home. We are attentive to the needs and try to go above and beyond expectations by providing our Clients with all the information necessary. There is a verse in the book of Romans that says, "Outdo one another in showing honor." We accept that challenge and do our best to raise the bar in showing hospitality.
Excellence
John Gardner has a famous quote, "Excellence is doing ordinary things extraordinarily well." To provide excellence in our service, we are attentive to the details and think multiple steps ahead in order to get each detail right. Excellence allows us to work more efficiently to get work done for our Clients.
Speed
Our platform of Mobile Technology + Crowdsourcing creates an environment of speed. It is amazing to witness a project targeting 1,000 stores completed within hours (I mean, really?! We can actually capture thousands of location-specific responses, from all around the country, within a matter of hours! That's amazing.). It's truly remarkable. Since the system we've created is so fast, we have to work hard to keep up. Along the way, we have to accept the healthy tension between moving fast and getting the job done right. We communicate quickly, get the work done quickly, and then celebrate a job well done.
Service
This is why our team exists: to serve our Clients. We enjoy working together each day to serve our Clients in the best ways we know how, providing them with support, as well as tools and education to help them conduct the highest quality research for their business. It is our goal to change the way the world collects business information and to do it joyfully.
Start your Project with our Dedicated Team Today
We work with humility and an eagerness to grow, knowing that not one of us is perfect and that we all have room to grow in each of these areas of Communication, Hospitality, Excellence, Speed, and Service. We each look forward to working with you.
Contact us today and let us show you – firsthand – the emphasis we put into CHESS!
If we do a job well, we appreciate the praise of a simple #CHESS placed at the end of an email! We look forward to serving you on your next Field Agent project!

#CHESS

Types of Projects
Field Agent is dedicated to bringing the most accurate research insights and audit programs to improve small and large businesses. Download our latest report below for an example of our capabilities.