How to Engage Students with Practical Research & Business Experience
Tell me, and I'll forget.

Show me, and I may remember.

But involve me, and I'll understand.

Attributed to different sources over the years, this quote is particularly well traveled among educators. It has a simple yet powerful premise:

Students learn more fully when engaged in, by, and through practical experience.

Many business professors share this conviction, as they seek ways to incorporate practical application into their courses, to supplement theory with hands-on, experiential learning.

But, for professors, those ungraded papers, assessment requirements, departmental meetings, committee assignments, publication deadlines, and other duties stack up, leaving many wondering…

What educator really has time to create, execute, and monitor practical experiences for their students?
Help Has Arrived
Thankfully, with Academic Solutions from Field Agent, a leader in mobile market research, professors can involve their students in memorable, "real world" assignments without overcommitting themselves or their schedules.
It's why we say, Academic Solutions lets you give students a break from traditional lesson plans, while you give yourself one, too.
Through the Academic Solutions program, students enter the real world of stores, consumers, competition, and strategy, without leaving campus.

Under the supervision of a professor, students enjoy access to Field Agent's mobile research platform and, by extension, hundreds of thousands of consumers. These consumers, we call them agents, are available to audit stores as well as answer a wide range of qualitative and quantitative research questions, all through Field Agent's smartphone app.
"Students are thrilled to gather results from real respondents in real situations," said Dr. Michael Cook, marketing professor at the University of Cincinnati.
The Academic Solutions program offers experiential learning episodes in two broad areas:
1.

Mobile Audits

Students explore retail strategy and execution, discovering the challenges and complexities of selling to shoppers. Common auditing projects include:
Verifying and assessing point-of-purchase marketing (e.g., displays, signage)
Monitoring product on-shelf availability and out-of-stocks
Evaluating product placement on shelves and in stores
Examining product prices
Collecting competitive intelligence
Download the eBook, "Avoid Retail Blind Spots and Grow Your Brand," for an up-close look at Mobile Audits as well as sample studies.
2. Mobile Research
Students conduct real market research, qualitative and quantitative, with actual consumers. Common mobile research projects include:
Surveying consumers about their attitudes and behaviors
Conducting concept tests of product ideas or in-home use tests of existing products
Shopping along with consumers as they consider different purchases inside stores
Mystery shopping restaurants or other service operations
Engaging consumers over time through ethnographic, diary studies
The eBook, "How Smartphones Connect Companies with Their Customers," offers a deeper look at Mobile Research, including sample studies.
The Better Way
Academic Solutions by Field Agent provides an easy and affordable way to involve students in a complete business project, beginning to end.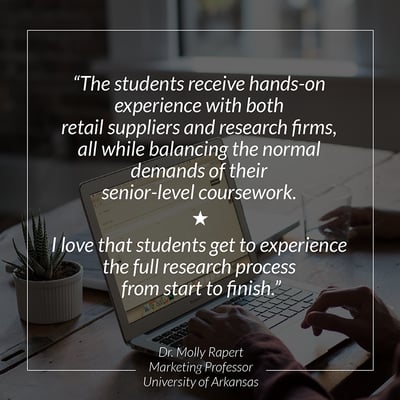 "The students receive hands-on experience with both retail suppliers and research firms, all while balancing the normal demands of their senior-level coursework," said Dr. Molly Rapert, marketing professor at the University of Arkansas. "I love that students get to experience the full research process from start to finish."
More than show and tell, Field Agent's Academic Solutions program is the better way to engage business students in practical assignments they'll never forget.
Academic Solutions by Field Agent: Innovative. Easy. Affordable.
See how one senior-level marketing major, Liz Tanner, used Academic Solutions to audit store shelves across the country. Or contact us for a hassle-free explanation on how we help business professors enrich the educational experience.