In-Shape Insights: Today's Healthy Living Shopper [Updated Report]
Yeah, the fitness clubs and nutrition aisles may be quiet now, but just wait. In early January, they'll be flooded with millions of Americans on a mission to get in-shape and live healthier.
And what's good for these Americans will of course be good for business, as consumers far and wide—reciting that age-old mantra "this is the year"—make scores of health and wellness purchases.
Special Report: In-Shape Insights
Field Agent surveyed thousands of consumers over the past several months to illuminate their healthy living attitudes and purchase intentions. Our highly popular and newly updated healthy living report,
"In-Shape Insights," now reflects Americans' 2018 healthy living goals, attitudes, and shopping plans.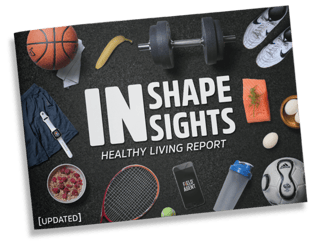 The free report contains five sections:
Physical Wellness: Fitness, exercise equipment, supplements
Style & Tech: Footwear, fitness fashion, wearable technology
Nutrition: Diet, organic foods, dining out
Hard Choices: Snacks, alcohol, smoking, fast food, soda
Wholistic: Sleep aids, hygiene, house cleaning, self-help resources
Download your free copy today!
Our updated "In-Shape Insights" report encompasses six different mobile surveys of 1,000+ U.S. adults, each executed in 2017. All 2018 results, in which we asked respondents about their healthy living goals, attitudes, and intentions for the coming year, were derived from a mobile survey of 2,220 U.S. adults* administered between Dec. 11-12, 2017.
*All U.S. adults at least 18 years of age. 59% female/41% male. Surveys administered through the Field Agent mobile app.
Free Download: Today's Healthy Living Shopper
So flex your business muscle in 2018! Begin by learning about today's healthy living consumer.
Download your free copy of "In-Shape Insights."