Is Trouble Brewing? 113 Drinkers Try WMT's New Private Label Craft Beer
It's probably fitting that Walmart's new private label "craft" beer goes by the name "Trouble Brewing."
As in, is trouble brewing for the craft beer industry?
When America's largest retailer, serving 260 million customers every week, enters the craft beer business, it's potentially troubling news for small microbreweries and established beer brands alike.
See also: Are shoppers ready for Delivery-by-Drone? Download the report

Made exclusively for and sold exclusively by Walmart, the Trouble Brewing line consists of four varieties, including a Pale Ale, IPA, Amber, and Belgian White brand. A 16-can variety pack—dubbed "A Pack of Trouble"—is also available.
None of the brands in the Trouble Brewing family carry the "Walmart" name. As you can see from the Agent Photo, they blend right in with the rest of the craft beer category—not volunteering their identity as a Walmart private label (what the company calls a "distinctive label").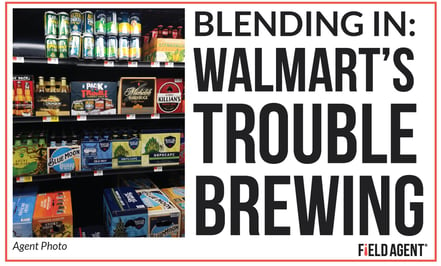 Of course, it'll be the shoppers, ultimately, who determine the fate of Walmart's new craft beer—and whether other retailers feel emboldened to offer their own carefully-disguised labels.
Do Consumers Have a Taste for Trouble Brewing?
Last week mobile solutions firm Field Agent enlisted 113 craft beer drinkers to visit Walmart, purchase one "A Pack of Trouble" Variety Pack, and then head back to their homes to sample and review the four varieties in Walmart's Trouble Brewing line.
The video below offers a single reviewer's take on each beer, while the slideshow further down provides the full results from the study.
All participating agents were at least 21 years of age and regular craft beer drinkers. To participate, agents were required to take a picture or screenshot of their receipt, as proof of purchase. They were also required to submit a photo of the A Pack of Trouble Variety Pack inside their refrigerator.
See also: Are shoppers ready for Delivery-by-Drone? Download the report
The complete, downloadable results from the Trouble Brewing taste test are available below:
Results are good news for the retail giant. Customer reviews of the four varieties in the Trouble Brewing line were mostly above average. And this for a beer whose price tag more than half of taste-testers said was either extremely or very appealing.
In other words, on the whole, customers appear to find Trouble Brewing a good value.
In-Home & In-Stores: Field Agent Bridges the "Knowledge Gap"
Distance is the enemy, separating brands from their products, customers, and operations. Field Agent crowdsources hundreds of thousands of smartphones to offer companies visibility and clarity when and where it matters most.
Learn about Mobile Audits and Research by downloading the infographic, "Bridge the Knowledge Gap."