Special: Kids of the World Tell Santa What They Want for Christmas
He's making a list. He's checking it twice. With the holidays fast approaching, Santa needs to know exactly what the good boys and girls of the world want for Christmas.
So good ol' Saint Nick turned to Field Agent.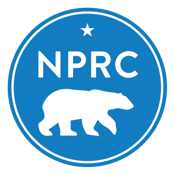 Posing as the "North Pole Research Center," a fictitious market research company serving Santa's Workshop, Field Agent asked over 3,500 kids across six countries (the U.S., Australia, Canada, Mexico, South Africa, and the U.K.) to share their top Christmas wishes.
"By taking this survey," the questionnaire read, "you'll help Santa and his elves ensure they make the right kinds and amounts of toys and other gifts this year."
See Also: Field Agent's free 2019 Holiday Preview, with almost 50 pages of insight into the retailers, brands, categories, and shopping methods that'll drive holiday spending this year.
The kids, ages 2-12, completed the survey with the permission and assistance of a parent. We asked parents to accept the survey, administered entirely through the Field Agent mobile app, only if their household celebrates Christmas and only if their child still believes in Santa Claus.
Watch the video below to see some of these adorable kids making their best case to Santa, then scroll down for the full report detailing what kids around the globe want for Christmas in 2019.
We also offer some additional fun facts from the global survey, like how well-behaved kids think they were this year and how likely parents say their children are to receive their gift wishes. Scroll all the way down for these.
Report: What Kids Want for Christmas 2019
The report below shows the results from a single free-form question, "What's your top gift wish for Christmas this year?," posed to 3,567 kids across six countries. Children were free to answer anything they wanted.
Scroll down for some additional fun facts from the survey that you won't want to miss.
Fun Facts: Kids & Parents Get Honest
In addition to their top gift wishes, Field Agent, er, Santa Claus, asked kids everywhere to rate how good (i.e., well-behaved) they've been over the past year. A rating then fact-checked by mom or dad.
As you might imagine, the kiddos said they were a liiiiittle better-behaved than their parents' ratings suggest. Overall, though, this seems like a pretty good batch of kids, with an average rating of 8.2 (kids) and 7.9 (parents).
Where do the best-behaved kids in the world live, you might ask? Not too surprisingly, the nicest kids are Canadian.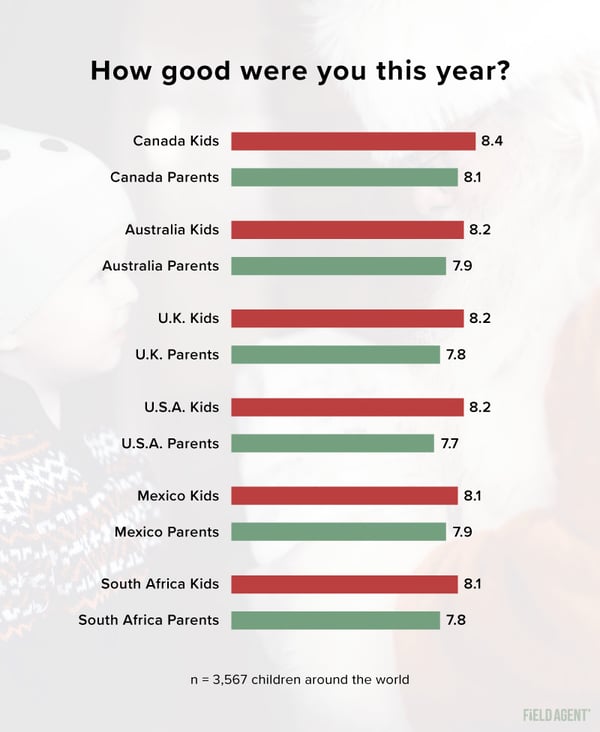 The kids must have been pretty good this year, because, in the U.S. alone, 88% of parents surveyed said their kids were at least moderately likely to receive their top Christmas wish this year. Looks like a lot of kids are about to have a very merry Christmas.
But Christmas isn't all about the presents.
Field Agent also gave kids the opportunity to think about others, and to share their one wish for the entire world. Unicorns, puppies, and candy for everyone were popular choices, but the most popular wish: world peace.
We sure hope they get it.
For even more insight into 2019 holiday shoppers, including insights on toys, electronics, and other gifts, download Field Agent's 2019 Holiday Preview below!
Free Download: 2019 Holiday Preview
From surveys with over 4,000 holiday shoppers, An Omnichannel Christmas, explores a wide range of questions, including:
Which retailers will be most popular this year for toys, electronics, clothing, and holiday groceries?

What role will brick-and-mortar, online, and omnichannel shopping play in gift purchases?

What gifts will be most popular this holiday season, among boys, girls, men, and women?

What foods, drinks, and sweets will celebrants purchase to enhance their holiday?
Covering almost 50 pages, it's our biggest and best holiday report yet.

Download it today. For free!!