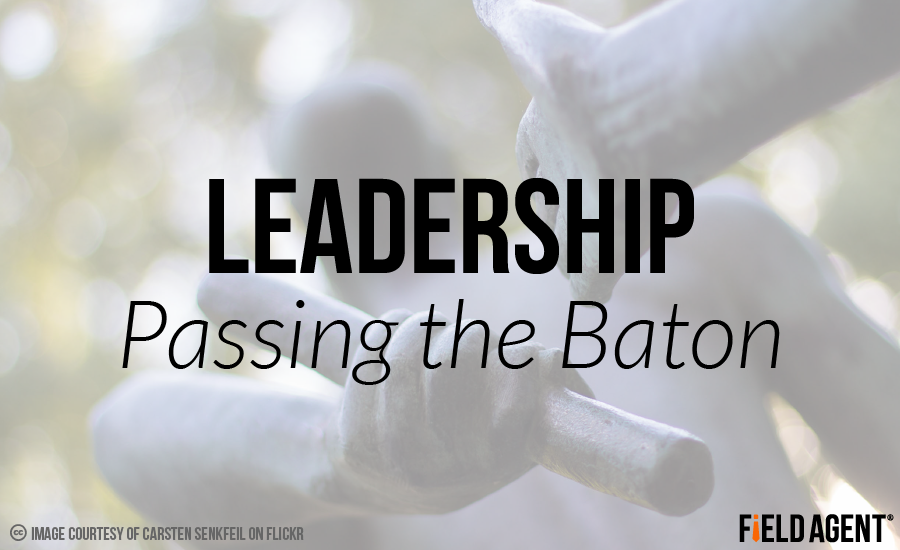 Leadership: Passing the Baton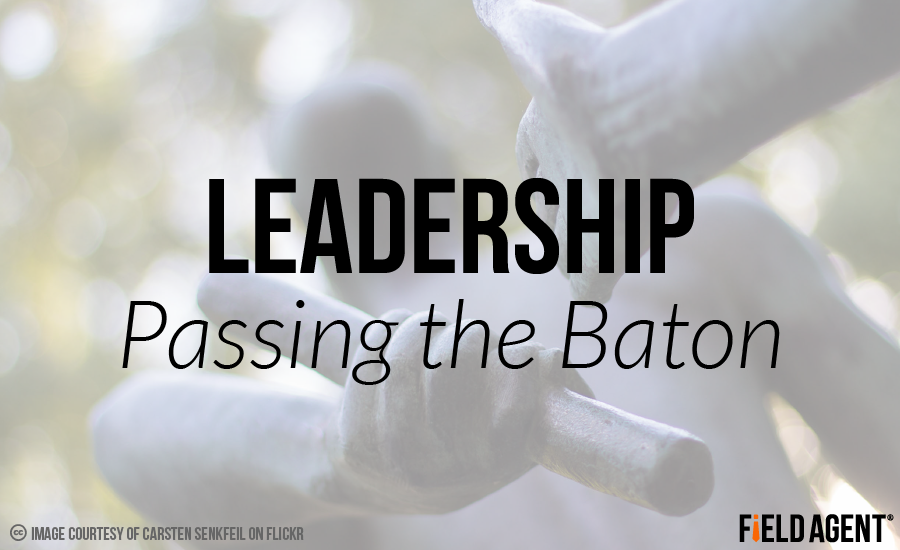 Leadership. At Field Agent, we touch on this subject a lot. Leadership is defined as the act of guidance or direction, but it is extremely beneficial to take a more in-depth look at exactly how to lead.
Each quarter, we get a group together and head north to the WorkMatters® FUSE luncheon in Rogers, Arkansas. These events are great, because attendees have the opportunity to hear from a key speaker, who shares personal experiences and learnings related to life at work.
The most recent FUSE event took place Friday, February 13 and featured Russ Crosson, president and CEO of Ronald Blue & Co. He spoke about leadership, a fitting topic for our group of emerging leaders at Field Agent. Crosson had a lot to say about leadership, so we all put our notes together and saw a common thread of great points.
See also: Field Agent: 'Growing Our Team of Change Makers'
Why do we lead?
Leadership is not performing, producing, and working hard just to be promoted to tell people what to do.
You lead in order to replace yourself.
Let me say that again: you lead in order to replace yourself. That's right. Being a leader doesn't mean it's all about you.
It's about the mission, and that mission is bigger than the individual. We must build up future leaders who are passionate about that mission. The truth is, we only lead for a limited amount of time. Be a good steward of that time, and remember that your legacy is defined by your successor.

Followership: Be a great follower.
Wait, I thought we were talking about leadership. Why should I be a great follower?
In order to be a great leader, we must be a great follower. At Field Agent, our leaders exemplify the concepts of humility and servant leadership. These two leadership principles go hand-in-hand with what Crosson taught us about followership.
He gave us several tips on how to be a great follower:
Get there one step ahead of your boss.
Don't wait for them to ask you to do something if you know it should be done. Take initiative. "Done" tends to sound better than "will do."
Make your boss look good.
"The one who guards a fig tree will eat its fruit, and whoever protects their master will be honored." – Proverbs 27:18
Don't murmur.
Something I have been taught since joining Field Agent is to "Own it." Whether it's a bold idea or a simple statement, when you say something, mean it and take ownership of it in full confidence.
Don't think you are always right.
"The area of decision-making is always bigger than the area of knowledge."
Leadership: Be a great leader.
With Crosson's talk being focused on leadership, this is where he spent most of his time. Each of these are so important:
Come up with ideas to make the company better.
Use your competence, skill, and experience to make something better.
Influence is important.
Grow influence and grow in influence. This is a two-way street.
Find great people.
Don't be afraid to invest in and strengthen others. Remember, you lead to replace yourself.
Be willing to accept feedback.
Pleasing people and decision-making shouldn't depend on each other. 1 Kings, chapter 22 gives us a great example of why you shouldn't be a "yes man."
Passion.
Great leaders never let the fire go out. Hold tight to your mission statement. If you don't have a mission statement, write one. You must have a whole-hearted devotion to that mission.
Great leaders are coaches.
Teach
Train
Counsel
Consult
Mentor
Lead with isopraxism ("unruffled ups and downs").
Practice emotional intelligence and lead by example. Your team is watching you.
See also: 3 Helpful Tips From a Few Good Men
Don't Drop the Baton
I'm going to close with the analogy Crosson gave.
In a relay race, you have a team of runners that depend on one another to make their mission a success. What do you think is the most important part of the race? Passing that baton.
It's all about the hand-off. There's a give and a take. The next generation has to be willing and prepared to take.
We are designed to pour into the next generation. And that's what leadership is.