One Year Later: Shoppers Share Attitudes on Whole Foods Under Amazon
Last June, Amazon embarked on one of the biggest grocery-shopping trips in history, purchasing Whole Foods Market for $13.7 billion.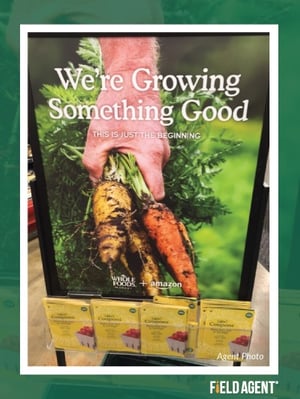 This of course wasn't your run-of-the-mill business acquisition. Combining Amazon's technological prowess, market capitalization, and brick-and-mortar aspirations with Whole Food's 460+ stores across three countries would, experts clamored, really shake up the grocery-business as usual.
Within 24 hours of the news breaking a year ago, Field Agent published an article detailing the attitudes of 300 Whole Foods shoppers toward the Amazon purchase. The results were mostly positive for Amazon and Whole Foods—for instance, 36% of respondents said they expected to shop at Whole Foods more, compared to 7% less, during the approaching Amazon era.
"I'm excited to see what else is to come. Love the Prime Member discounts that recently rolled out... I walk through the store looking for Prime products :)"

- Whole Foods shopper
Here, one year later, we wanted to revisit the subject to determine what Whole Foods shoppers today are thinking about the grocery chain under Amazon ownership.
Shopper Survey: Whole Foods + Amazon
On Monday night, Field Agent surveyed a crowdsourced sample of 516 Whole Foods shoppers* across 45 states. Of these 516 respondents, 436, or 85%, had shopped at Whole Foods for more than a year and, thus, could make informed comparisons between the pre- and post-Amazon era at Whole Foods.
*All respondents were U.S. adults and smartphone owners at least 18 years of age. The survey was completed entirely through the Field Agent mobile app. Demos of N = 516 sample -- Gender: female (67%), male (33%); Age: 18-24 (4%), 25-34 (27%), 35-44 (40%), 45-54 (18%), 55-64 (9%), 65+ (2%); Ethnicity: Caucasian or in combo with (73%), African-American or in combo with (12%), Hispanic or in combo with (8%), other (9%); Household income: <$35K (15%), $35-49K (20%), $50-74K (26%), $75-99K (14%), $100-124K (10%), $125-149K (6%), $150K+ (9%).
With this survey we hoped to gain an idea of how Whole Foods shoppers are currently thinking and feeling about the grocery chain one year after the bombshell acquisition.
Below we present the results as a 6-question QuickFire Q&A.
QuickFire Q&A: Whole Foods Shoppers One Year Later
1. Do Whole Foods shoppers think the grocer is better or worse since Amazon took ownership?
While 51% of Whole Foods shoppers are neutral on the question, those who say Whole Foods is better under Amazon far outnumber those who believe it's headed in the wrong direction.
Among those who have been Whole Foods patrons at least one year (n = 436), 43% believe the grocery chain is better today than it was a year ago (22% = "a little better"), while only 5% say it's worse.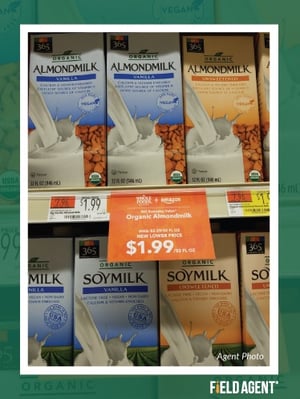 "I haven't noticed any major changes. Prices are a little better, but nothing significant."

- Whole Foods shopper
2. So what changes, if any, have shoppers noticed at Whole Foods?
At 47%, "Amazon tie-ins," possibly including Prime discounts, Amazon signage, and Amazon merchandise, were the most widely recognized change across our subsample of 436 veteran Whole Foods shoppers, followed by everyday prices (35%) and price promotions (29%).
For the vast majority, characteristics such as merchandise assortment, customer service, store policies, and employee KSAs remain seemingly unchanged.
Which is probably just fine by them.
Consider: One year ago, when Field Agent asked 300 Whole Foods shoppers what they wanted Amazon to change about the grocery chain…guess what? Everyday prices (61%), Amazon tie-ins (60%), and price promotions (58%) were at the tip-top of the list.
Consequently, this pair of Field Agent surveys suggests that, in many shoppers' minds, Amazon is changing what needs changing and saving what needs saving.
3. Speaking of prices, what are shoppers' perceptions of those—specifically?
As the graph shows, 49% believe prices have improved under Amazon, while 46% perceive really no difference in prices under Amazon.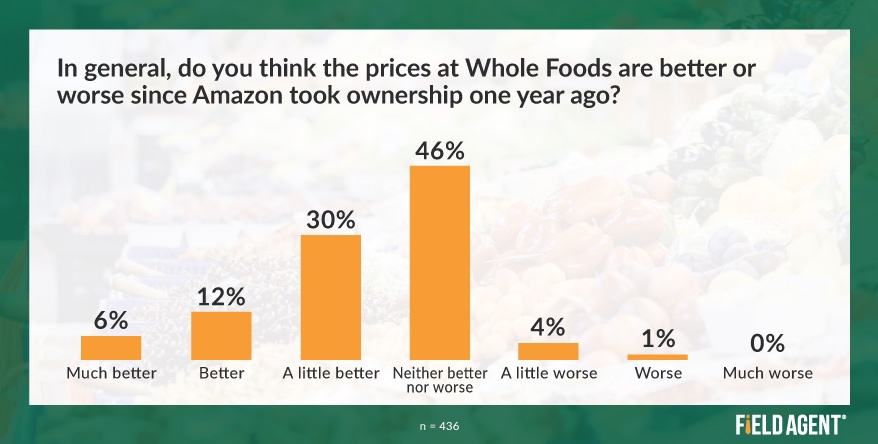 4. How would Whole Foods shoppers describe how they're feeling about the Whole Foods-Amazon marriage?
In last year's survey, we gauged respondents' feelings about Amazon's purchase of Whole Foods with…emojis. (Yeah, pretty much the same ones on your smartphone.)
At the time, the news having just hit, 38% of Whole Foods shoppers (n = 300) said they were feeling primarily thoughtful, reflective, or pensive about the acquisition. Eighteen percent, on the other hand, were mostly happy and 10% mostly shocked.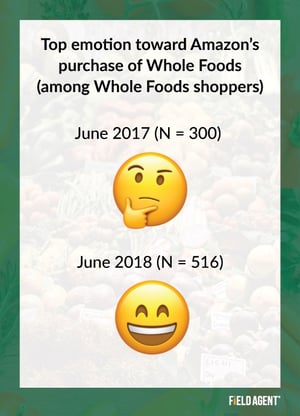 Have feelings changed over the past year?
On Monday night we asked, "Which one emoji best captures your attitude toward Amazon ownership of Whole Foods, now that you've had a year to witness the supermarket chain under Amazon?"
Among the full sample of 516 Whole Foods shoppers, 28% indicated they're mostly happy following Amazon's acquisition of the company, followed closely by 25% who say they're primarily thoughtful and 19% who are pretty ambivalent about the whole ordeal.
"I like it. I have a Prime account and I've enjoyed shopping from Amazon and Whole Foods as separate entities so together they're even better."

- Whole Foods shopper
5. Do shoppers think Whole Foods/Amazon is keeping its promise?
Well, with the acquisition last year, Whole Foods shoppers received an email from the grocery chain reading, in part, "We will continue to operate our stores and deliver the highest quality, delicious natural and organic products you've come to love and trust from Whole Foods Market."
When, at the time of purchase, we presented this statement to 300 Whole Foods shoppers, 61% said they found the statement completely or very believable.
On Monday, basically one year later, we asked another sample of Whole Foods shoppers (n = 436) how well the grocer and its new owner have delivered on the promise above. Fifty-seven percent say they've followed-through on the statement extremely or very well, while another 39% say the company has done so moderately well.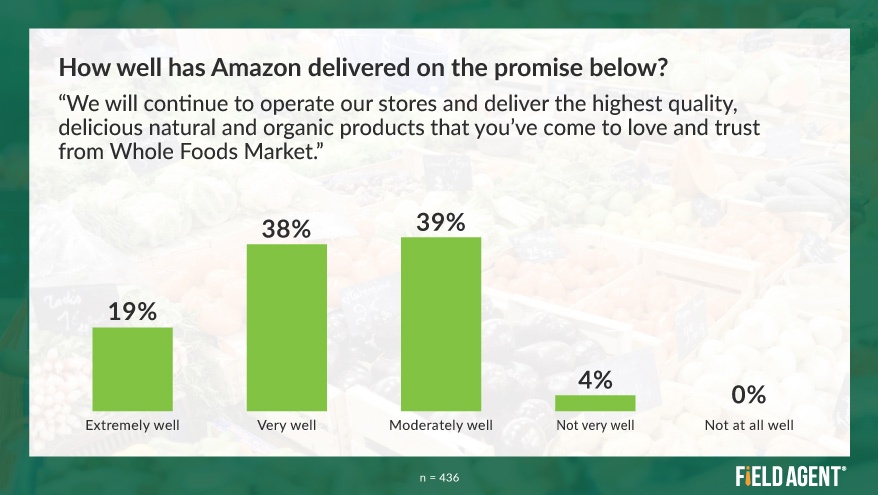 6. Mostly good tidings, but has the goodwill translated to greater shopping frequency among Whole Foods shoppers?
Of the 436 shoppers who've shopped at Whole Foods a year or longer, exactly 6-in-10 say they're shopping at Whole Foods neither more nor less since the Amazon acquisition.
Yet, here again, those who are shopping the grocery chain more (26%) doubled those shopping at Whole Foods less (13%).
"Honestly, I haven't noticed much of a difference. I was expecting to see more sweeping changes."

- Whole Foods shopper
Checking Out: What We Learned
One year after Amazon's purchase of the grocery chain, our survey suggests most Whole Foods shoppers think the company is either on the right track or generally about the same.
"I think that overall the change has been positive and the customer service approach has changed for the better. Everything else is very much the standard Whole Foods experience."

-Whole Foods shopper
Very few Whole Foods shoppers disagree with the course Whole Foods is on, and shoppers seem particularly upbeat about the lower prices they're starting to see.
Altogether, this one-year anniversary finds the newlyweds doing fine.
Free Special Report: The Digital Shopper
Based on studies with thousands of shoppers across six countries, Field Agent's special report, "The Digital Shopper: Insights into Today's Most 'Connected' Customers," offers companies an inside, shopper-centered look at online retail. Special features include:
The digital shopper's journey: before, during, and after shopping for groceries online
Shoppers try and rate Instacart delivery
The product detail page: a shopper-guided tour
Shoppers compare PDPs on Walmart.com VS Amazon.com
Shoppers try and rate Amazon Lockers at Whole Foods Market
Best of all, the report is free.