Special Report: Which Brands & Retailers Won Super Bowl 50? [Survey]
Americans tackle more food on Super Bowl Sunday than any other day of the year, with the one exception of Thanksgiving.
So for the second year in a row, Field Agent used the Super Bowl as an occasion to showcase its location-specific research and auditing capabilities.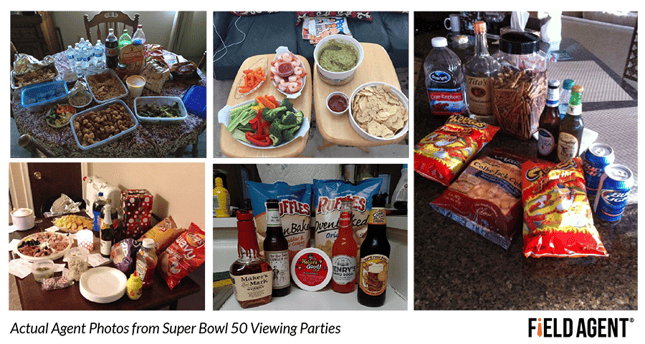 On Sunday we asked over 500 Super Bowl-viewers to identify which beer, soda, and salty snack brands they were consuming during the biggest sporting event of the year. The results were displayed in real-time at www.GameDayBrandWars.com.
Let's just say it was an MVP night for Bud Light, Coke, and Tostitos, though many other brands also put in highlight-worthy Super Bowl performances.
But if you missed the live scoreboard, or simply want to know more about the eating, drinking, and viewing habits of Super Bowl-viewers, you can now download our full Super Bowl 50 brand usage and consumer insights report.
Inside you'll discover the complete results from our brand competition, including beer, soda, salty snack, and liquor categories, as well as the answers to many other questions:
From which retailers did Americans purchase their Super Bowl foods and beverages, and why?
How many Americans actually watch Super Bowl commercials?
Where and how did viewers watch the game?
How many engaged in game-related social media?
And more.
This free report, chock full of insights, awaits you. Download it today.