Store Wars: Price-Checking 'Force Awakens' Toys at 4 Retailers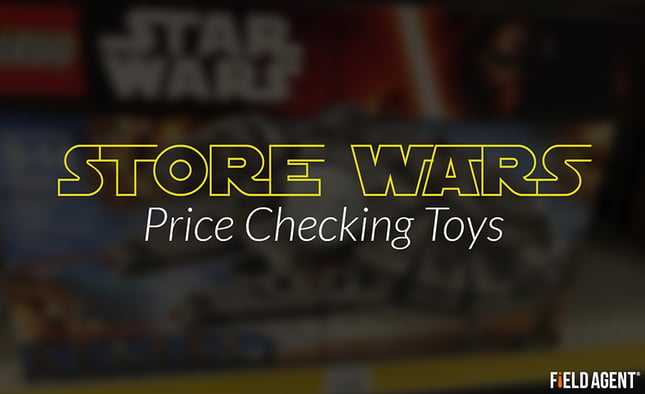 With The Force Awakens set for launch on December 18, just days before Christmas, it's no surprise Star Wars toys are selling faster than the Millennium Falcon in hyper drive.
One estimate suggests sales of Star Wars toys could reach $2 billion during the four-month period leading up to Christmas Day.
"We think Star Wars is performing at a very strong level," said Hasbro CEO Brian Goldner in mid-November. "At the high end of our expectations."
As noted in the article How Field Agent Audits a Galaxy Far, Far Away, Star Wars toys have generated some $12 billion in licensing revenue since the first movie in 1977.
How much are lightsabers going for these days?
This weekend we dispatched agents to four national retail chains to audit prices on Star Wars toys. Agents were asked to take photos of and record prices on four hot-selling items: basic 3.75" action figures, Millennium Falcon Lego sets, PS4 Battlefront video games, and Bladebuilders Kylo Ren lightsabers.
As the table indicates, Walmart undercut its rivals' prices on all four items—by more than a dollar on the action figures, but by just over a dime on the video game and lightsaber.

Our objective was to find the most common price at all four retailers, not the average price. In some cases there was price variability even within the same retailer. For instance, while Kmart most frequently charges $29.99 for the Kylo Ren lightsaber, our agents identified three Kmart stores charging only $28.49.
We audited at least 12 different stores for each retailer, until it appeared we had identified the most common price for each Star Wars toy.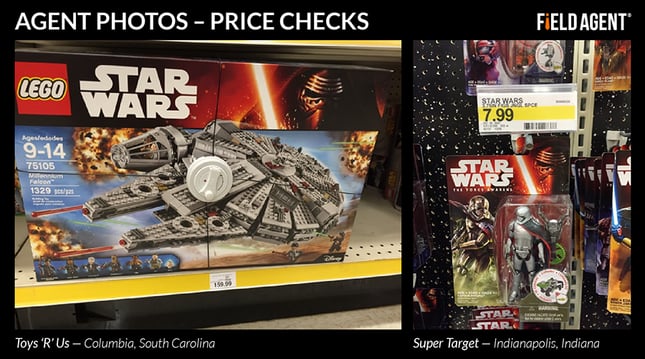 Use the Force
As demonstrated in the article How Field Agent Audits a Galaxy Far, Far Away, our force of over 600,000 agents is standing by to help companies with a wide range of in-store auditing solutions: price checks, display and signage audits, on-shelf availability, modular verification, and so on.
Rely on Mobile Audits for fast, affordable in-store visibility...practically anywhere in the retail galaxy.