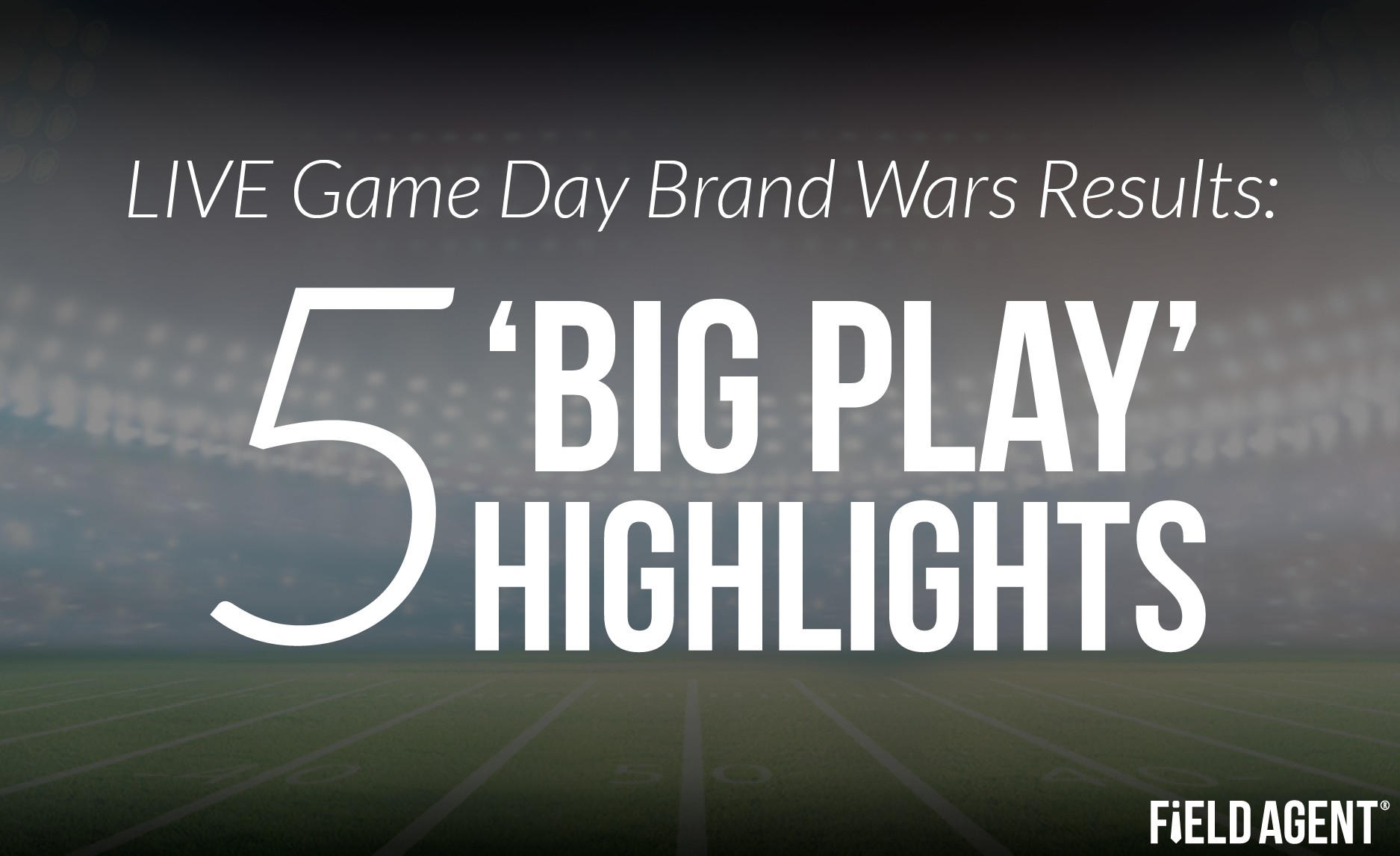 Super Bowl Brand & Consumer Survey: 5 'Big Play' Highlights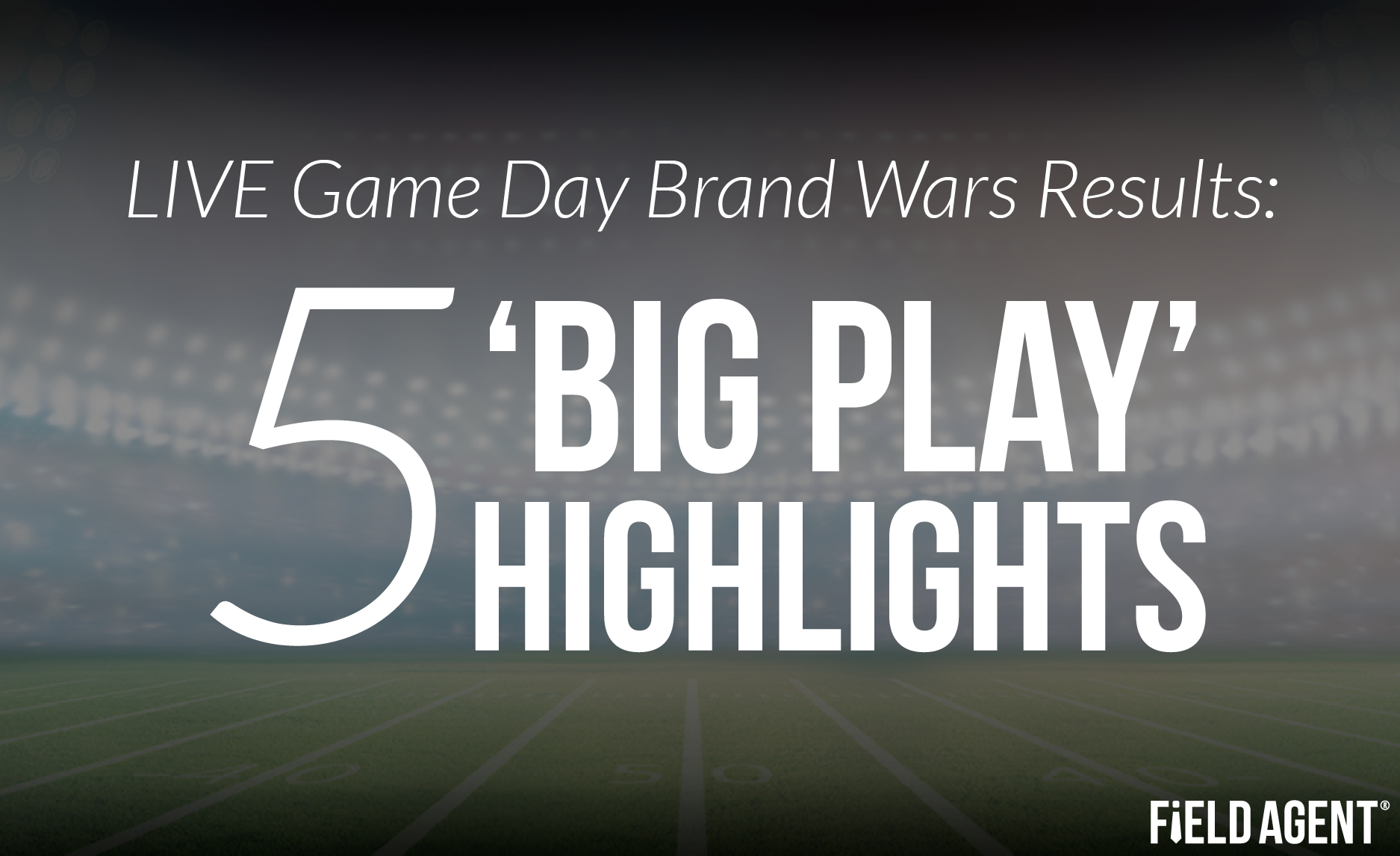 As millions of Americans were watching Super Bowl XLIX, Field Agent had eyes and ears inside over 500 Super Bowl viewing locations. Field Agent was hosting a competition of its own: pitting popular game day brands against one another. Below are 5 "big play" highlights and insights from our Super Bowl survey of over 500 locations, including which soda, chip, beer, liquor, and store brands took home Super Brand rings.
Super Bowl XLIX was chock-full of sensational highlights. It was a night of game-changing interceptions, crucial mistakes, and momentous scoring drives—often with little time left on the clock.
But not all the action was on the field Sunday night. In fact, we at Field Agent were busy officiating a competition of a different sort: determining which beer, soda, and salty snack brands were big winners with Super Bowl-viewers. As reported by NBC affiliate KNWA, the results were displayed in real-time on a web-based scoreboard.
To power the campaign, Field Agent enlisted over 500 respondents, across all 50 states, from its panel of nearly half a million agents to provide real time data from their Super Bowl party. In addition to the brand competition, we also collected important insights about consumers and their game day purchases and behaviors.
At a value of over $4,000 we're making the full report available for FREE!
Highlights & Insights
Below are five "big play" highlights from the study. The full report features the complete rankings for brands in five different product categories (beer, soda, salty snacks, liquor, and stores), as well as additional consumer insights about Super Bowl-viewers.
Highlight #1
Bud Light (13%), Tostitos (21%), & Coke (26%) win Super Brand rings. Three brands continued building Super Bowl dynasties in their respective product categories. See how the complete rankings panned out in our full report.
Highlight #2
Consumers all across the country huddle around delicious food/beverage spreads—and throw caution to the wind. 76% of big game-watchers said they eat more frequently on Super Bowl Sunday, while a whopping 85% admitted eating more calories for the final day of the NFL season. We asked agents to take pictures of their Super Bowl snacks, foods, and beverages. Here's a taste: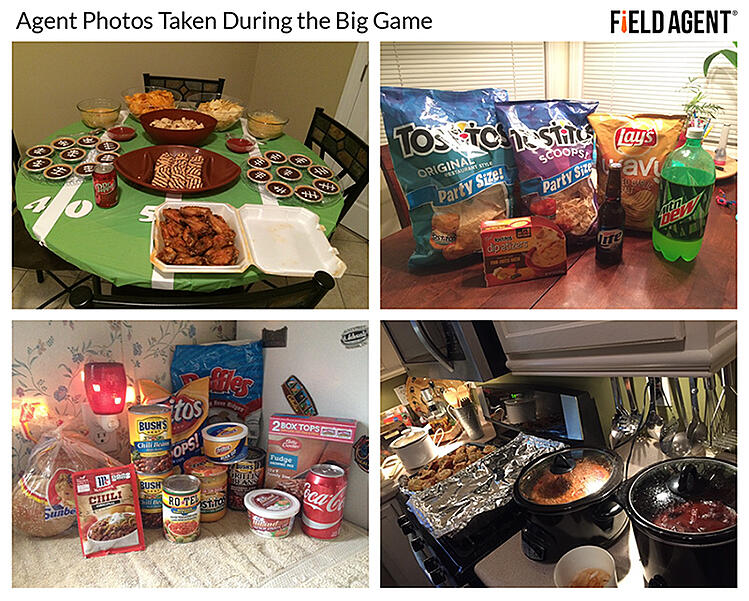 Highlight #3
Some consumers "go deep" into their wallets to purchase Super Bowl foods, beverages, and merchandise. 27% of respondents reported spending greater than $50 on game-related goods. Indeed, 64% spent more than $25. Our separate survey and report of 250 Hispanic Americans showed strong Super Bowl purchase intentions within this influential and growing customer class.
Highlight #4
Commercials prove a real crowd-pleaser. 80% of viewing parties reported watching Super Bowl commercials, as opposed to, for instance, ignoring or skipping them. And an overwhelming 97% said they personally enjoy watching Super Bowl commercials.

Highlight #5
Salty Snacks win the MVFB (Most Valuable Food/Beverage) Award. 50% of Super Bowl viewing parties said they were drinking beer during the NFL championship game. 73%, likewise, reported drinking soda. But salty snacks showed the greatest usage rate on Sunday night, with 88% of viewing parties eating chips, pretzels, or other salty treats.
Make Your Own Highlight Reel
Fast. Flexible. Accurate. Affordable. Mobile market research has the "skill set" to be an immediate playmaker for your company. Whether you're in need of store audits, real-time consumer insights, or other forms of business information, mobile research is a real game-changer for location-based data and insight collection.