The Student Body: Insights on Back-to-School Attire, Makeup & Hygiene
When Back-to-School shoppers converge on stores in the coming weeks, they'll fill their baskets with everything from sharp scissors to sharp cheddar.
But it's attire and accouterments that really seize the attention—and dollars—of BTS shoppers. According to the National Retail Federation, households spent approximately $97.74 last year on school supplies, including backpacks and lunchboxes. Yet, at around $335.38, households spent more than 3 times that much on clothes and shoes.
Naturally, shopping for khakis or eyeliner isn't like purchasing pencils and paper. As our 2016 Back-to-School Report shows, 67% of families say they follow a school-provided shopping list either "completely" or "very closely" when purchasing school supplies.
Not so for clothing, cosmetics, body scents, hygiene gear, etc., which require more discernment, inspiration, and imagination on the shopper's part.
How Do Americans Shop for Back-to-School Clothing, Footwear, Cosmetics, & Hygiene Gear?
Which is why Field Agent recently delved deeply into the subject of BTS attire, cosmetics, and hygiene. We wanted to understand several questions about "the student body," from what articles of clothing families plan to purchase for BTS 2016 to how many loads of laundry households complete in a given week to keep school clothes clean.
So this weekend we surveyed 500 Moms of 6th-12th grade children from all over the country, and the sample broke down as follows: households containing a boy entering 6th-8th grade (30%), girl entering 6th-8th grade (30%), boy entering 9th-12th grade (31%), and girl entering 9th-12th grade (33%). Altogether, 94% said at least one of their kids will attend school outside the home this fall. Moms were asked to confer with their children where necessary.
Download our 2016 Back-to-School Report to see what 500 Moms of K-12 children think about BTS shopping
Below we present a bevy of timely insights into families' attitudes and shopping behavior toward BTS attire, cosmetics, and hygiene gear.
The article ends with a bang: a head-to-head comparison between Walmart and Target, in which we detail the attitudes of shoppers toward buying BTS attire and footwear from the two retail juggernauts.
And don't miss our infographic, "The Student Body." It's chock full of information about BTS attire, cosmetics, and hygiene.
INSIGHTS INTO BTS ATTIRE, COSMETICS, & HYGIENE GEAR
1. What attire, cosmetics, and hygiene gear will families of 6th-12th graders purchase for BTS 2016?
We presented survey respondents 30 choice options for this question—from tanning bed services to sunglasses. The top 10 "student body" purchases among boy and girl households for BTS 2016 are: tennis shoes (90%), socks (89%), backpacks (88%), underwear (86%; not including socks or bras), haircut/hair-styling services (80%), blue jeans (79%), oral and breath care products (72%; e.g., toothbrushes, mouthwash); hair care products (71%), shorts (70%), and dress/casual shoes (62%).
Other notable findings:
Tan skin is a low BTS priority. Only 1% will purchase tanning bed services and 3% tanning products like sprays and lotions.
Yet skincare is comparatively important. 55% of households will purchase skincare products like hand lotion for BTS.
For households containing girls, 86% will buy bras to start the school year.
Households containing girls will purchase shaving equipment at a 51% clip, compared to households with boys at 37%. (note: a single household may contain both boys and girls.)
One out of 10 households will purchase wearable tech, like a smart watch, for BTS 2016.
See also: Back-to-School Study Guide: How Companies Make an A+ with BTS Shoppers
2. What "student body" items will 6th-12th graders carry with them to school or keep in their lockers?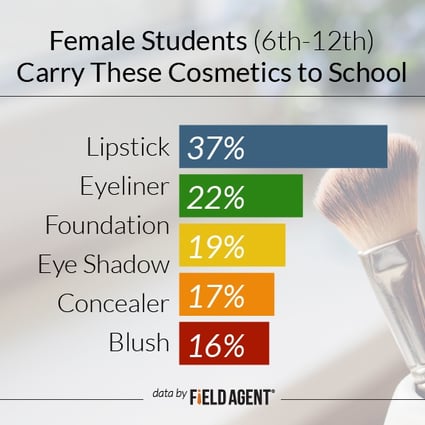 Here, too, are the top 10. Again, these are items students will actually have with them at school: deodorant (68% of households), hand sanitizer (67%), athletic clothing (61%), breath-fresheners (55%; e.g., mints, gum, mouthwash), facial tissue (55%), feminine hygiene (47%), athletic shoes (44%), hand/skin lotion (42%), cologne/perfume/body scents (37%), and hair-styling products (35%).
We also found it interesting that:
77% of households with girls say at least one of their children will tote feminine hygiene products to school with them, which would easily make it the top at-school product category, when the sample reflects only households with females.
Among households with girls, female students will take the following cosmetics to school: lipstick (37%), eyeliner (22%), foundation (19%), eye shadow (19%), concealer (17%), and blush (16%).
14% will take an extra change of school clothes (not athletic clothes) and 13% an extra change of underwear.
3. How much of school clothing/footwear will households purchase specifically during the Back-to-School shopping season?
Our research confirms BTS is of enormous importance to companies selling clothing and footwear.
Get this: 40% of households in our sample said they'll purchase practically all of their children's attire—for the entire school year—at the start of school. An additional 29% will purchase most of their school clothing and footwear during BTS, while 26% said they'll purchase some. Only 5% will purchase a little and 0% none.
Yep, BTS is big for threads and kicks.
4. What are the strongest influences on households' purchases of clothing, footwear, and body scents?
No single factor has more influence over BTS clothing, footwear, and body scents than…
…the kids themselves.
Fully 80% of moms indicated their "children's preferences" is a strong influence.
Rounding out the top five: sales/price promotions (75%), personal/household budget (67%), comfort (60%; i.e., clothing that's comfortable to wear), and school rules and regulations (56%).
Other notables: clothing that flatters the body (46%), friends/school culture (45%), and brand name (31%). 10% said celebrity endorsements exert strong influence.
5. What information sources will guide families' purchases of BTS attire, cosmetics, and hygiene gear?
We asked moms, "Which of the following will you (or your child) likely use to guide your attire, cosmetics, and/or hygiene gear purchases for the upcoming Back-to-School shopping season?"
At 55%, websites, for obtaining information (not for making purchases), received the most responses, followed by word-of-mouth from friends and acquaintances (49%), smartphone apps (43%), social media (36%), and TV shows/ads (31%). An additional 29% of households will utilize print catalogs and 23% salespeople/store employees.
6. How likely are households with 6th-12th grade girls to make cosmetic/makeup purchases for BTS…and where?
More than half (57%) of households containing girls said they're either "completely" or "very likely" to purchase cosmetics for BTS. Another 14% indicated they're "moderately likely," and only 18% "not at all likely."
We then listed eight potential channels for buying BTS makeup and asked moms where they intended to make these purchases. Since they could only choose one option, the survey basically gauged households' first choice for BTS cosmetics.
At 48%, mass merchandisers took top place among households containing females, followed by specialty beauty retailers (28%; e.g., Ulta) and drug stores (14%). No other option, including online, department stores, grocery stores, and dollar stores, received more than 2% of responses.
See also: Back-to-School Study Guide: How Companies Make an A+ with BTS Shoppers
7. How likely are households to make purchases of cologne, perfume, or another body scent for BTS? Where?
In all, 48% of 6th-12th grade households are "completely" or "very likely" to purchase cologne, perfume, or another body scent during the BTS season. Seventeen percent reported they're only "a little likely" and 18% "not at all likely."
Mass merchandisers proved the most popular destination in our study for purchasing body fragrances, with 63% saying they'll spend their money at places like Walmart and Target. Department stores (32%), specialty beauty retailers (28%), and drug stores (24%) also fared relatively well. Only 13% will buy BTS body fragrances online.
8. How many pairs of shoes will households purchase per child during the BTS shopping season?
On average, 2.34 pairs of shoes per child.
9. How many loads of laundry will households complete in a given week during the school year to keep their kids' school clothes clean?
Moms told us, on average, that they expect to complete 5.3 loads of laundry. [Remember to empty out the lent tray.]
10. How many different outfits do 6th-12th graders wear during a normal school year?
We defined "outfit" as a combination of top and bottom that children normally or regularly wear together. Moms were also asked to include one-pieces like dresses in their estimation.
On average, 6th-12th graders wear 25.19 different outfits during a normal school year, per their mothers.
11. How often do junior high and high school students try to lose, gain, or maintain their weight prior to the start of school?
Moms were asked to answer this question for the one child in their household who is most active managing his or her weight.
9% try to lose, gain, or maintain their weight with every new school year, while 11% do so most years, 14% about every other school year, and 16% only 1 or 2 school years in their lives.
However, virtually half (49%) said their children never engage in weight management prior to school starting.
12. How often do 6th-12th graders shower at school?
Similar to the previous question, here moms were asked to answer from the perspective of their one child who showers at school most frequently.
Only 12% said their child showers at school every day. 7% shower often, 8% sometimes, 21% rarely, and 52% never.
See also: Back-to-School Study Guide: How Companies Make an A+ with BTS Shoppers
13. How do mass merchandisers Walmart and Target compare as destinations for purchasing Back-to-School clothing and footwear?
To end the survey, moms were asked to tell us how appealing they find Walmart and Target for buying BTS clothing and footwear. Interestingly, at the very top of the scale, about the same number of moms called Walmart (15%) and Target (16%) an "extremely appealing" option for purchasing BTS attire.
But then Target distanced itself from Walmart.
29% said they see Target as a "very appealing" option, compared to only 17% who feel the same about Walmart.
And at the bottom of the scale, 22% said Walmart is "not at all appealing" for BTS attire, compared to 10% for Target.
Altogether, 76% find Target and 58% Walmart at least moderately appealing for BTS attire purchases.
But WHY?
We asked moms to share, in their own words, specifically why they see Walmart and Target as appealing or unappealing destinations for school clothing and footwear.
Price was the biggest attraction among shoppers who found Walmart appealing. As a 41-year-old mom from Galloway, OH said, "I find Walmart's prices more appealing than anywhere else I've shopped." Selection was also a frequently cited appeal of shopping at Walmart for BTS attire.
Three major themes surfaced among those who find Walmart unappealing for purchasing school clothing and footwear: poor quality, out-of-style, and lack of name brand products. One 47-year-old woman from Lakeview, NY said, "The quality of the clothing is lacking. The styles are not current with what her peers are wearing."
As for Target, moms who find the mass merchandiser appealing for BTS attire said they were highest on three things: price, quality, and style. "They have up-to-date styles, good quality and reasonable prices," said one 47-year-old mother from Fishers, Indiana.
And among the Target dissenters, those who don't find the retailer appealing for school clothes and shoes, price and lack of name brands were the major hang-ups. A 35-year-old woman from Durham, NC stated, "Target prices are usually higher than I want to pay for the type of clothing available." Consequently, price attracts some families to Target, while it deters others.
More BTS Insight: 2018 Back-to-School Report
Field Agent surveyed 1,001 Moms of K-12 children on a wide range of topics:
Which retailers families consider go-to destinations for BTS supplies, clothing, and even quick before- or after-school meals
The role of online shopping in BTS clothing and supply purchases
What specific items—footwear, hygiene items, athletic gear, electronics, etc.—families say they expect to purchase for BTS 2018
The influence of children on BTS supply, clothing, and food purchases
And a whole lot more. Download it now for free.