The Sweet 16: Greatest Hits from the Field Agent Blog in 2016
2016 was an eventful year—for the country, for our company, and certainly for the Field Agent Blog.
It was a year of growing digital sophistication among retailers, most evidenced by fresh approaches to ecommerce and a variety of avant-garde omnichannel developments. Yet the digital by no means supplanted conventional, brick-and-mortar retail in 2016. Shoppers still prefer to purchase many of their wares in-store, in-person.
The Field Agent Blog covered it all in 2016. From high-tech to low-tech, clicks to bricks.
Below we present the Sweet 16 of 2016, the 16 greatest hits from our blog over the past year.
From the Field Agent Blog: The Sweet 16 of 2016
1. Field Agent Named Mobile Research Agency of the Year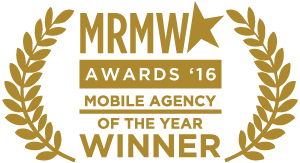 It's always satisfying to see hard work pay off. In 2016, Field Agent was honored by Mobile Research in the Mobile World (MRMW) as Mobile Research Agency of the Year. Such good news deserves the top spot.
2. Inside Amazon Books: Mystery Shopping the eTailer's First Storefront
2016 was the year Amazon made real inroads into the physical retail space, opening its first brick-and-mortar bookstores and announcing plans to open a cutting-edge grocery store. Field Agent mystery shopped the ecommerce giant's first bookstore in Seattle, Washington, as reported by Retail Wire and Chain Store Age.
3. Rapid Response: Who are Jet.com Users and What Do They Make of WMT?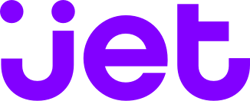 When Walmart startled the retail industry by announcing plans to purchase online upstart Jet.com, Field Agent sprang into action with a "rapid response" survey of 250 bona fide Jet.com users. We made these insights available to companies and media outlets like Fierce Retail even as news of the acquisition was still breaking.
4. What Do Shoppers Think about Walmart's Superstore of the Future?
As reported by Twice.com, Field Agent dispatched a handful of mystery shoppers to Walmart's "superstore of the future" in Rogers, Arkansas, where they took pictures of and shared their thoughts about the retailer's latest in-store, digital developments, including its automated in-store pickup kiosk and innovative scan-and-go checkout station.
As the video shows, later in the year Field Agent provided the retail industry and media (thanks Supermarket News, Chain Store Age) their first look at Walmart's new in-store BOPUS machine.
5. Rapid Response: 525 Shavers Talk Razors, Dollar Shave Club
2016 was a year of seismic change for the wet-shaving category. Another of our popular "rapid response" features from the past year, Field Agent covered Unilever's purchase of Dollar Shave Club with a survey of 525 male shavers, as reported by ValueWalk.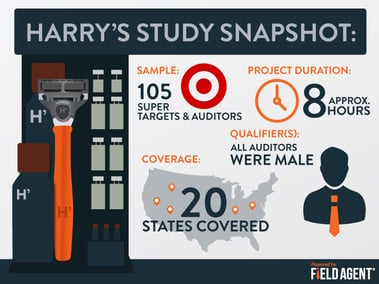 6. Razor Sharp? What Men Think of HARRY'S First In-Store Product Display
What did male shavers think of Harry's—that edgy online purveyor of razors and razor blades—first foray into display design and shopper marketing? Field Agent audited 105 Super Targets across the country to find out. It was a very popular post.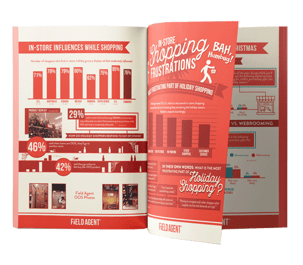 7. The Big Honkin', Tree Toppin', Globe Trottin' Guide to Holiday Shoppers 2016
Business professionals by the hundreds downloaded our 2016 holiday report. Based on surveys with almost 3,000 shoppers across, get this, seven different countries, the guide is packed with pivotal insights into a variety of holiday retail topics. It was our largest report to date.
8. The Click-and-Collect Craze: 6 Shopper Insights into the BOPUS Trend

Click-and-collect, otherwise known as buy online, pick up in store (BOPUS), reached fever pitch in 2016, and the Field Agent Blog kept its subscribers informed on shopper attitudes toward the trend.
9. How Impulse Purchases Differ Around the Globe

Field Agent presently operates in seven countries around the world. Some of our blog features, like this one on impulse purchases, combined shopper insights from all our markets. A true team effort.

10. What Exactly is the Gig Economy (and Field Agent's Role in It)?

Field Agent is a founding member of the Gig Economy. But what is it exactly? This article describes in detail not only the Gig Economy, but how Field Agent has provided hundreds of thousands a source of on-demand, supplemental income.

11. Bulk Insights on Wholesale Clubs: Shopper Attitudes, Behavior

The wholesale club is a mainstay of life in the United States. Field Agent examined the attitudes and shopping behavior of 500 wholesale club shoppers. The resulting article describes everything from what shoppers buy at wholesale clubs to what they think about online-only clubs like Boxed.com.

12. Do Department Stores Have a Future?

Gloomy. A good word to describe many of the news reports about department stores over the past year. We surveyed over 600 women to better understand why they shop at department stores, and to determine what the future might look like for these retailers.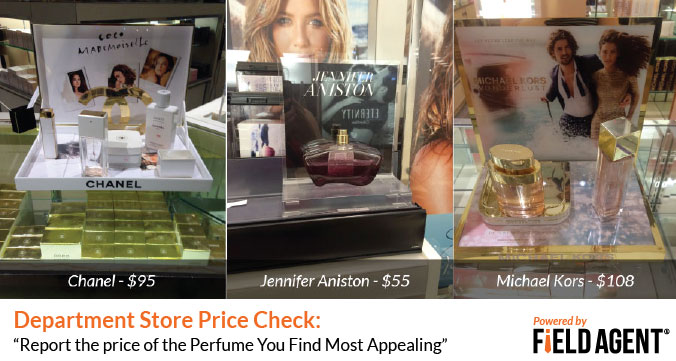 13. Home Improvement Retail in the Digital Age

In 2016, Field Agent partnered with Path to Purchase Institute to conduct a series of studies on home improvement retailers in an increasingly digital age. The resulting report looks at everything from in-store pickup to app-usage among home improvement shoppers.

14. Which Convenience Store Chains are Wowing Shoppers?
Convenience stores are an integral part of the U.S. retail scene. Field Agent sent 20 undercover agents to each of the top five c-store chains to determine which companies are truly impressing shoppers.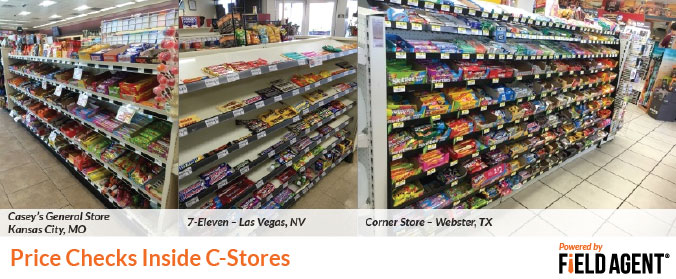 15. Shopper Attitudes Toward CHIP CARDS (EMV) on the Decline

In 2016 we said goodbye to swiping strips and hello to inserting chips.
What, Field Agent wondered, do shoppers think about the new EMV card processing system?

16. 2016 Back-to-School Report: 500 Moms Talk BTS Shopping, Attitudes

Every year the Field Agent Blog publishes a BTS shopper report. And this year we went all out. Hundreds downloaded our 2016 BTS report to learn where moms were shopping and what they were buying.
Be Informed in 2017. Subscribe to the Field Agent Blog.
The Field Agent Blog publishes a steady stream of original content throughout the year. From "rapid response" insights to best-in-class retail reports, the Field Agent Blog is a great way to stay on top of the ever-changing retail industry.
Don't miss a single insight in 2017. Subscribe to our blog today!