What Are the Top Challenges Suppliers Face with Retailers?
For the second year in a row, Retailing Today conducted a study of the supplier community to understand how brands perceive retailers—their leadership, their innovation, their execution, and so on. Based on surveys with 384 supplier representatives across multiple categories, the results were published in the 100 Best Retailers 2015 Special Report.

Among many fascinating findings, the report identifies the top challenges suppliers face when working with retailers. The top 5 are presented below.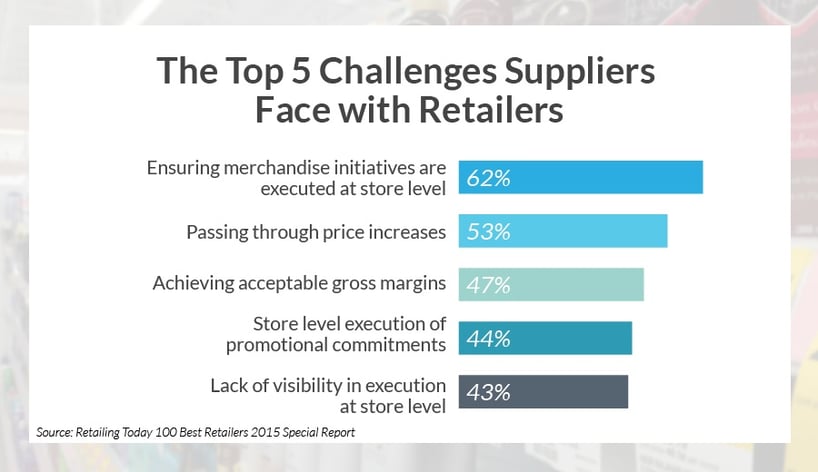 A theme surfaces at the top of the ranking. Many suppliers, it seems, struggle in one way or another with store-level execution, whether it pertains to merchandising, price changes, promotional campaigns, or, in general, achieving adequate in-store visibility to monitor their retail operations.
Most of these challenges are connected by a single root problem: distance.
Distance separates brands from their on-shelf products and point-of-purchase marketing, undermining the control suppliers have over their retail operations and giving rise to many of the challenges brands associate with retailers.
Meeting the Challenges Head-On
Increasingly, though, suppliers are turning to Mobile Audits to confront these challenges head-on and to reduce the detrimental effects of distance on their retail execution.
Mobile Audits crowdsource hundreds of thousands of smartphones to offer brands "eyes and ears" inside stores practically anywhere in the country, at any time. With Mobile Audits, suppliers have in-store visibility when and where it matters most and, in turn, greater control over their retail operations.
Below we briefly consider some of the top challenges identified by the Retailing Today survey, and, in each case, demonstrate how Mobile Audits help suppliers overcome these challenges.
See also: 7 Reasons Retail Shoppers Aren't Buying Your Products
An Ounce of Prevention
Challenge: 62% of suppliers find it difficult to ensure merchandise initiatives are executed at the store level
Mobile Audits excel at helping brands verify the proper execution of merchandising plans and agreements.
For instance, a manufacturer might fret that its products are not available in sufficient quantities inside stores, or that its products are incorrectly positioned on shelves.
Mobile Audits help ensure planogram integrity by capturing photos, videos, and other forms of information to either confirm or alleviate these worries, and to empower brands with the data to consistently execute winning merchandising initiatives.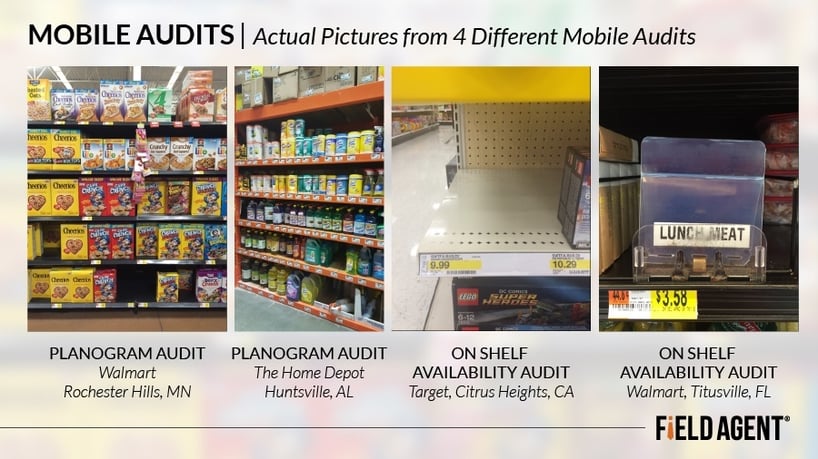 Seeing Dollar $igns
Challenge: 53% of suppliers struggle to pass through price increases
For CPG companies, effective price management is a critical component of retail success. Brands may question whether their retail partners are implementing price changes—from price increases to temporary price reductions—in a timely, accurate manner.
As the sample images suggest, Mobile Audits help suppliers ensure shoppers are seeing the prices they're supposed to see, at any given time, in any given location.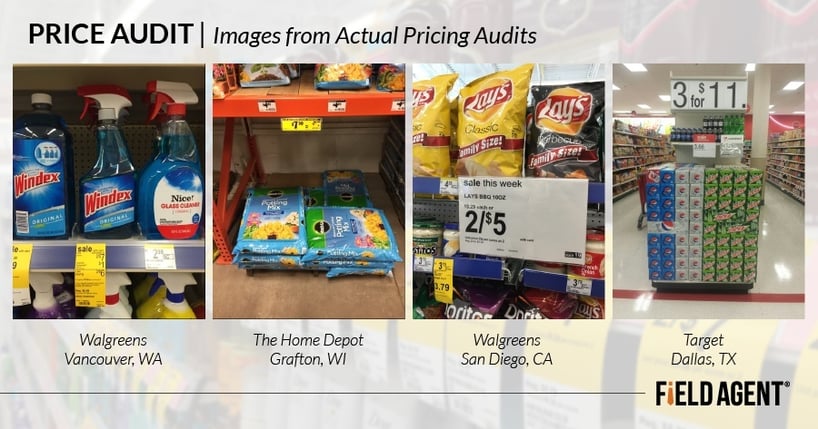 Missing the Mark[eting]
Challenge: 44% of suppliers contend with ensuring the execution of in-store promotions
Brands spend billions of dollars annually on point-of-purchase marketing, including displays, signage, demos, etc.
But how do they know these investments aren't being squandered, that retailers and other partners are properly executing these expensive promotions?
Here, again, the photo and video capabilities of Mobile Audits put minds at ease and help brands make the most of their store-level promotional efforts.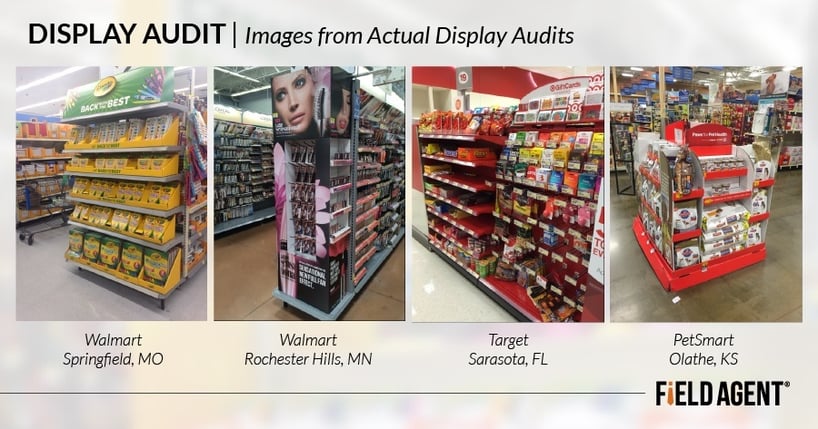 Long Story Short
Challenge: In general, 43% of suppliers say they lack sufficient visibility to monitor their retail execution
For suppliers, retail success hinges on effective merchandising, pricing, and promotional strategies and partnerships.
Such initiatives, however, are only as good as their accurate and timely in-store execution—something brands, separated by distance, often find difficult to control.
Retail Solutions for Any Challenge
Get visibility in-store, gather relevant insights, drive trial of your products, merchandise shelves, and more. You can even create
custom campaigns.
Explore the Field Agent Marketplace today.
Mobile Audits combine crowdsourcing and smartphone technology to offer brands instant visibility into stores—and greater control over retail execution. Distance isn't the problem it once was, because Mobile Audits effectively bridge the gap between headquarters and stores.
Ultimately, Mobile Audits make working with retailers less challenging…and more rewarding.
See how Mobile Audits work from start to finish by downloading our popular infographic, Mobile Audits: Bridge the Knowledge Gap.