What Exactly is the Gig Economy (and Field Agent's Role in It)?
New research shows the Gig Economy is big and growing—changing the very fabric of work along the way.
Last week JPMorgan Chase released the results from an extensive three-year study of the "online platform community," what others might call the Gig Economy. Or, if you prefer, the 1099 Economy or On-Demand Economy or Sharing Economy or, well, I could go on.
Regardless of your preferred nomenclature, according to JPMorgan Chase, over 10 million Americans earned money by way of the Gig Economy from 2012-2015, even as cumulative participation grew by an eye-popping 47-fold.
As I said, big and growing.
What is the Gig Economy?
The Gig Economy encompasses any contingent, on-demand work—that is, "gigs"—facilitated through an online platform.
By way of illustration, the ride-sharing service Uber is often held up as an exemplar of the Gig Economy: A vehicle owner wants to make extra money, so they use an online platform (i.e., the Uber app/website) to locate people in need of a ride and offer their services as a chauffeur.
All gigs, from ride-sharing services (Uber) to overnight accommodations (Airbnb) to freelance graphic design (Upwork), share at least this in common: They procure, through a digital marketplace, the efforts of individuals interested in earning money on a contingent, non-permanent basis.
But with so many platforms now on the landscape, it's little wonder some have described the Gig Economy as the "future of work," even sparking a fundamental rethinking of what it means to "have a job."
After all, when compared to a traditional job, a gig is generally:
More flexible and independent
Easier to obtain
Quicker to start and finish
The JPMorgan Chase study concluded that task-driven gigs, in which someone sells a service (e.g., ride-sharing) rather than a good, are an important source of supplemental income for millions of Americans.
As the report reads, "These flexible, highly accessible opportunities to work have the potential to help people buffer against income and expense shocks."
What is Field Agent's Role in the Gig Economy?
Field Agent is a founding member of the Gig Economy. In fact, Field Agent was conceived in 2009, the same year the term "Gig Economy" was coined.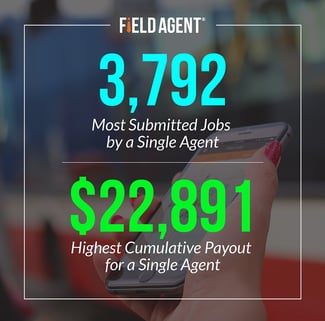 We have over 800,000 "Agents" around the globe who look to us as a source of flexible work and earnings. Specifically, we enlist our Agents to complete location-specific audits and research studies for a wide range of business clients, which are carried out through the Field Agent smartphone app.
Who Are these Field Agents?
According to JPMorgan Chase, Gig workers are generally younger and poorer and often seek out gigs as a way to compensate for "dips in regular earnings."
But do such characterizations jibe with the Field Agent experience? Partially, but they fall well short of the complete story.
Of our 650,000+ U.S.-based Agents, approximately 61% are between the ages of 18-34. Yet, at the same time, upwards of 45,000 individuals 50 or older have also downloaded the Field Agent app.
And household income among our Agents is actually remarkably diverse. For instance, although 30% of Agents report annual income below $35,000, 25% cite household income in excess of $75,000. Agents are also well distributed within the middle-income categories.
Click here to download the app to become a Field Agent.
Why Do Agents Become Agents?
As the JPMorgan Chase results might predict, many of our Agents do indeed use us as a source of income during "hard times," that is, during ebbs in regular income.
Yet, most Agents see us primarily as a source of supplemental or extra money.
We recently surveyed 100 of our more active Agents, all of whom have completed at least 100 jobs with us.
We began the survey with a simple free form question, "In your own words, tell us why you first decided to become an Agent." Without any sort of priming, 64% of these Agents specifically used the word "extra" in their response, as in "extra money."
As one Agent explained, "I was looking for a quick way to make a little extra money on my own time." Others used words like "additional" and "supplemental."
Then, later in the survey, we posed a more structured question in which 97% identified "to make extra money" as a primary reason for being an Agent.
Agents are, however, driven by more than money. For instance, in our survey, 76% said they're Agents because it's fun and interesting work, and exactly half said they like doing work that improves companies.
Click here to see the complete demographic overview of our Agents in this infographic.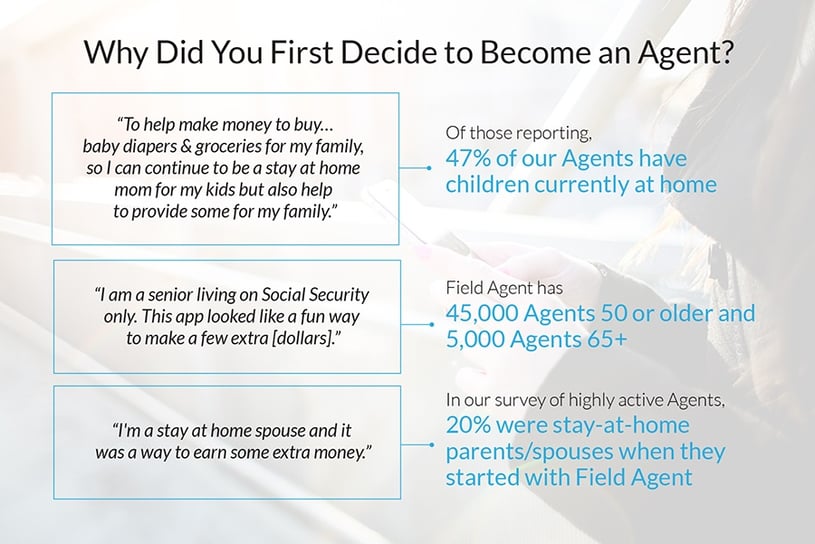 Agent Profiles
Susie Hocklander, Agent Services Manager at Field Agent, has seen definite patterns emerge in the reasons people become and remain Agents. She says Agents often fall into one of three profiles:
1. Gleaners
Most Agents are simply in search of extra funds. For instance, one Agent described Field Agent as "a good way to make some extra cash while out and about running errands."
As Hocklander explained about this Agent type, "Maybe they're saving for a new phone or something. It's not money they count on."
2. Gamers
There's also a large contingency of Agents who, in Hocklander's words, "love the hunt." More than money, they're after the thrill and challenge of auditing products, displays, store shelves, and assorted businesses. As one Agent recalled about her earliest days with Field Agent, "I was interested in this line of work because it sounded fun to me and quite interesting."
3. Graspers
Finally, though in the minority, there are those who use Field Agent as a source of basic or urgent income, not simply "extra" money. In our survey, 25% said they seek out Field Agent work "to provide basic needs (e.g., food, clothing) for myself/my family," while 37% said they do it "to get myself/my family through difficult times (e.g., income dips)."
Graspers typically take a different approach to their Field Agent work. "These Agents take it very seriously," Hocklander related. "They'll often plan their day around the jobs. They're trying to make a living out of it."
Beyond the Gig
The Gig Economy has arrived, and it's showing no signs of slowing down. And Field Agent will continue to serve a pioneering role in bringing flexible work and income to millions of Americans.
From those looking to make a little extra cash to those trying to make ends meet, Field Agent provides an important, accessible means for earning money.
Contact us below to learn more about Field Agent and its auditing and research solutions.