Razor Sharp? What Men Think of HARRY'S First In-Store Product Display
A few months ago it was announced that Harry's—that edgy online purveyor of razors, razor blades, and shaving gear—would begin selling its wares through thousands of Target stores nationwide, joining other stylish brands—e.g., The Honest Company—that have dared to rethink a formerly ecommerce-only existence. Now Harry's has entered the cutthroat arena of brick-and-mortar retail, with all the supply chain challenges, shelf politics, and uncertainty about shopper marketing to boot.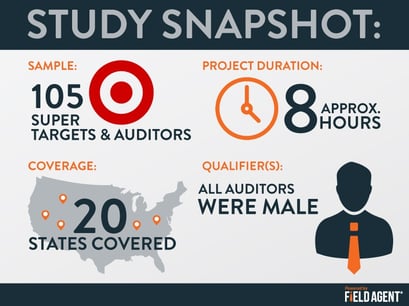 Free Download: The Big Honkin', Tree Toppin', Globe Trottin' Guide to Holiday Shoppers 2016
Much like its products, Harry's is sharp, in its digital advertising, packaging, website, and so on. But how will this penchant for suave, cutting-edge marketing translate to the world of standardized end caps, wobbly shopping carts, and—beep—"clean up on Aisle 7"?
We're already starting to see.
Enter a Target anywhere in the country right now and you'll likely behold a sleek, progressive-looking Harry's endcap display, complete with an oversized mock up of a shaving razor (nabbed from Paul Bunyan's hygiene kit, seemingly) and a sparse selection of Harry's shaving products. Less than half of the endcap is actually devoted to merchandise; the rest is all show.
But will this Harry's shaving display actually cut it with shoppers? That is the question.
105 Shoppers on Harry's First In-Store Product Display
Just yesterday Field Agent deployed 105 shoppers—all men—to 105 Super Targets (see map) where they took pictures and offered their thoughts about Harry's first ever in-store product display.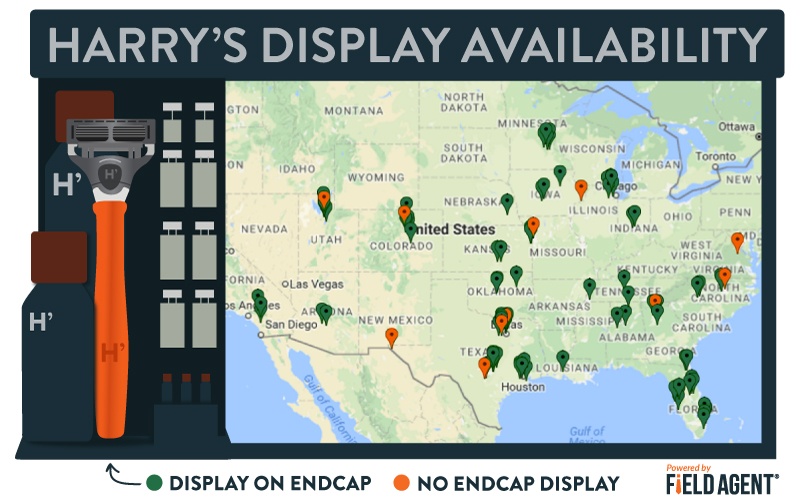 These auditors collected information about display availability, stock levels, and merchandise selection. They also articulated their attitudes toward the product display itself, offering an indication of how shoppers are responding to Harry's first foray into traditional in-store marketing.
Below are some highlights from this Field Agent display audit, as an 8-question Quick-Fire Q&A.
Quick-Fire Q&A: Harry's Endcap Display
1. Were the displays present in every Super Target?
Yes and no.
Field Agent sent Agents to 105 Super Targets. Of these, the Harry's endcap display was present in 90% of stores. In the other 10%, the display was relegated to the main shaving aisle, where, as you can see below, there was a large, specially marked section devoted exclusively to Harry's merchandise.
NOTE: In the map above, the orange pins designate stores where the Harry's endcap display was not present.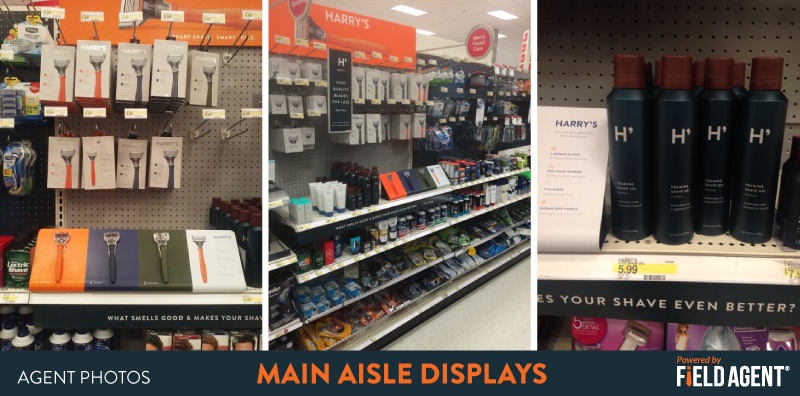 2. What specific Harry's merchandise was available on the endcap display?
We asked Agents to inventory their respective endcaps. The merchandise was pretty well standard across the majority of Harry's displays, with one or two exceptions:
Starter kits containing two 5-blade cartridge refills and one razor, available in one of three colors

Bright orange
Forest/olive green
Navy blue

Four pack of 5-blade refills

Displays in some stores carried an eight pack of 5-blade refills

Foaming shave gel
Free Download: The Big Honkin', Tree Toppin', Globe Trottin' Guide to Holiday Shoppers 2016
3. Were out of stocks a problem for the Harry's endcap display?
Of 94 endcap displays audited (Harry's merchandise/signage was on the main aisle in 11 stores), 40% contained at least one peg with no merchandise available. Indeed, 28% of endcap displays contained more than one OOS peg.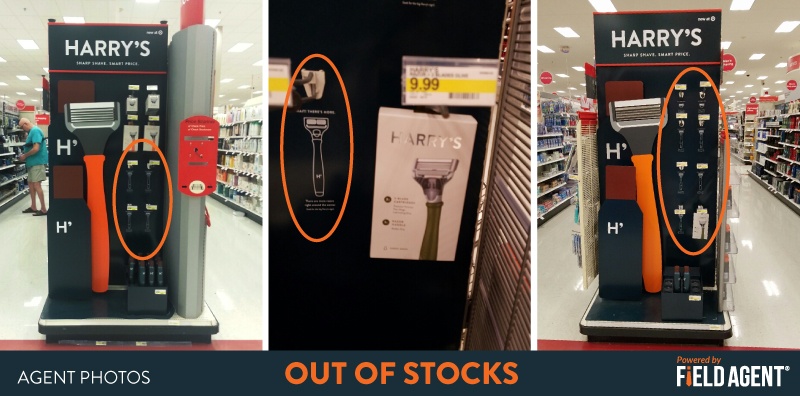 4. Did shoppers approve of the amount of merchandise available?
Deviating from standard endcap orthodoxy, Harry's display designates less than half of its total space to merchandise. Shoppers don't seem to mind though. More than half of auditors (54%) said the amount of merchandise carried by the display is either extremely or very appealing, and only 7% showed relative disapproval.
5. What about prices? Did men find them appealing?
According to Field Agent's display audit, Target is charging:
$9.99 for starter kits
$7.99 for a package of four 5-blade refills (eight count: $15.99)
$5.99 for foaming shave gel
What say ye men? Almost 7-of-10 (67%) found these prices extremely or very appealing. Conversely, only 7% weren't happy with the prices.

6. Did shoppers find the endcap display visually appealing?
Most certainly. A whopping 84% said Harry's display was extremely or very appealing to the eye.
They liked the look.
7. What were overall feelings about Harry's display?
On the whole, male shoppers liked Harry's unconventional endcap display, with 77% describing it as either extremely or very appealing.
They were particularly high on the display's visual appeal; many (without prompting) specifically used the term "eye-catching." As one auditor stated, "[It] draws my attention toward the product. The design is sleek and modern and had great usage of eye-catching colors."
Most criticism centered on the paucity of product information. "...I think a space in it should have a description to motivate me to buy it," said another auditor, "Yes it's visually appealing, but what makes it so good?" Indeed, 68% of auditors said the availability of product information was no more than moderately appealing.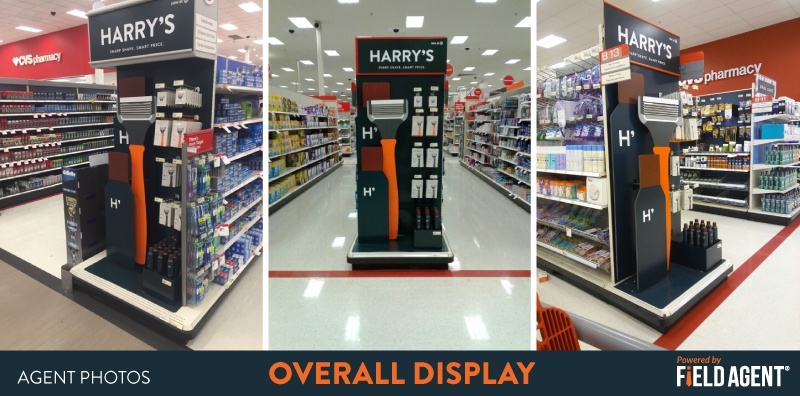 8. How likely is the display to actually trigger shaving gear purchases?
Quite likely. Of auditors who have never before used Harry's shaving products (n = 80), 64% rated the display as extremely or very effective for influencing them to try Harry's razors, blades, and/or gel.
Not bad. Not bad at all.
It seems Harry's first venture into in-store marketing is going along swimmingly.
Welcome to brick-and-mortar, Harry.
Are YOU Ready for Holiday Shoppers?
Top retail destinations for holiday gifts, groceries, and online purchases?
Product categories poised for a strong 2016 holiday season?
Roles of online shopping and omnichannel in holiday shopping?
These questions and many others are explored in Field Agent's Big Honkin', Tree Toppin', Globe Trottin' Guide to Holiday Shoppers 2016, based on surveys with almost 3,000 shoppers across 7 countries.
Download this free, one-of-a-kind resource today!