Which Brands Will Win The Appetites of Millions of Viewers on Super Bowl Sunday?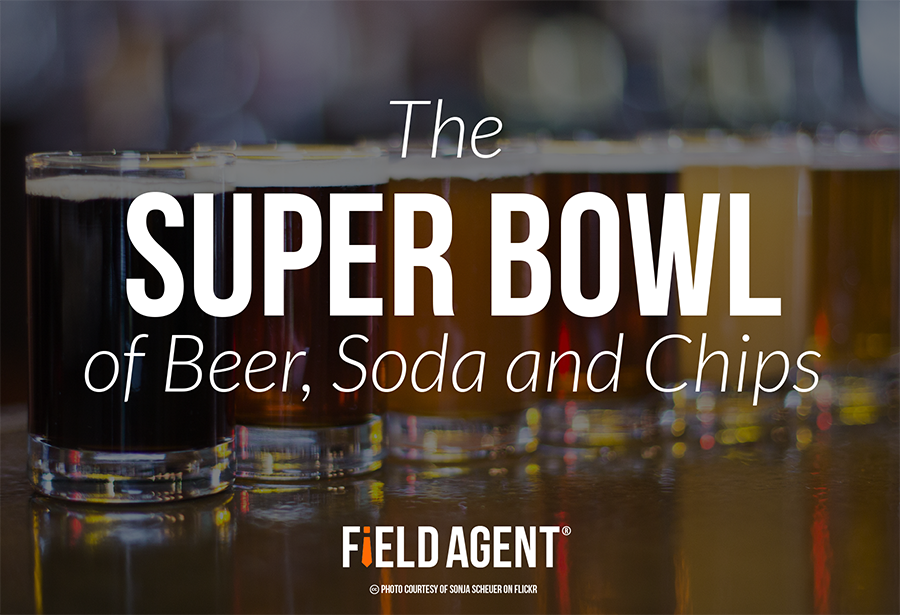 Field Agent® Launches A Live Brand Scoreboard – See In Real-Time What Americans Are Eating and Drinking during the Super Bowl – Game Day Brand Wars Will Monitor Which Beer, Soda and Chip Brands Americans Choose To Party With

Are the millions of dollars big brands spend on Super Bowl campaigns actually worth it? We really won't know the successes and/or failures of these ads until the Big Game airs on Sunday or until months after. But we will know which brands consumers choose to eat and drink during the biggest game of the year at GameDayBrandWars.com.

Similar to the live Black Friday Scoreboard that showcased the top 10 retailers shoppers visited first on Black Friday, GameDayBrandWars.com will be live-streaming which beer, soda and chip brands consumers are eating and drinking during Super Bowl XLIX.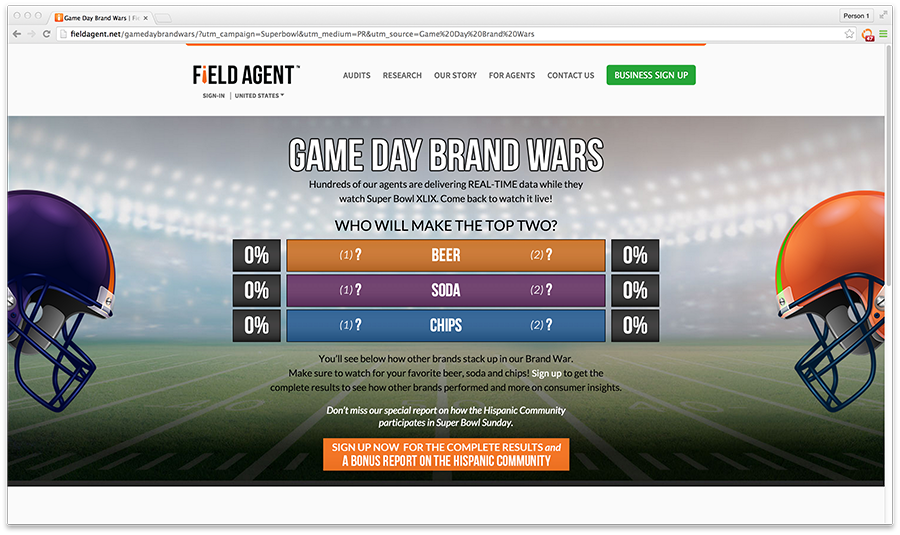 Utilizing Field Agent's mobile app and crowdsourcing, hundreds of Agents will be delivering real-time data about their Super Bowl watch parties in every state across the country. Agents will tell us all the big brands they are consuming during the game, and the data will be populated to show the Top 5 Brands at GameDayBrandWars.com.

"Game Day Brand Wars will be a great way to monitor how brands have prepared for their big debut or lack thereof with their commercials leading up to and on the Big Game Day. We'll be able to see in real-time which brands Americans are most loyal to during their Super Bowl parties. We'll also be able to tell how the Hispanic community participates in the Super Bowl in our Bonus Report," said Rick West, CEO and Co-Founder of Field Agent®.

A thorough report will be generated after all of the results are in and will include more information and consumer insights on how Americans celebrate the Super Bowl. Sign up here to get the report plus a BONUS report on what the Hispanic community does for the Super Bowl.

Don't let this be your only resource to see how your competition did on Super Bowl Sunday. Look to mobile market research to gain more consumer insights about your competitors.
Click here to view the Press Release.