Hard Choices 2017: The Skinny on Fast Food, Snacks, Soda, & Alcohol
Download the fourth report, "Hard Choices," in Field Agent's 2017 Healthy Living Series.
When Americans decide to live healthier, let's face it, some things are usually the first to go: tobacco, for instance. Or maybe fast food, high-calorie snacks, soda, or—perish the thought—alcohol.
In other words, living healthier often means making hard choices.
Very, very hard choices.
These choices greatly influence consumer spending, and can even upend entire industries.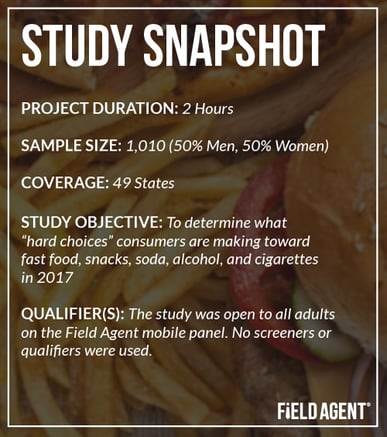 Last week mobile solutions firm Field Agent surveyed more than 1,000 adults to understand Americans' attitudes and purchase intentions toward fast food, snacks, soda, alcohol, and tobacco.
The results are available in our latest report, "Hard Choices 2017," the penultimate installment in Field Agent's popular, five-part 2017 Healthy Living Series.
This report contains timely insights into:
Americans' plans to alter their intake of fast food, snacks, soda, alcohol, and tobacco
Perceptions about the nutritional value of specific snacks and drinks
The soda brands consumers reach for when they want a relatively healthier beverage
Attitudes toward the regulation of sugary drinks, snacks, fast food, alcohol, and tobacco
The snacks Americans say they'd struggle most to give up
Smokers' preferred retail outlets and cessation aids
Download this free report today!
The 2017 Healthy Living Series encompasses five different parts, as follows:
Part 5 - Wholistic: sleep aids, hygiene, house cleaning, self-help resources, etc.
Subscribe to the Field Agent Blog to receive the last report—The Whole Shopper—automatically to your inbox. You'll also receive the full, combined report, In-Shape Insights: Healthy Living Report 2017.
The 2017 Healthy Living Series by Field Agent: Healthy Living, Healthy Business