Grocery Shopping Now & Later: Will Americans REALLY Buy Online?
Groceries presently account for about 1% of all online sales (source).
Not much, relatively speaking.
But some industry power players—think Amazon and Walmart—clearly expect this to change, as evidenced by the advent of same-day grocery delivery, curbside pickup, and in-store pickup.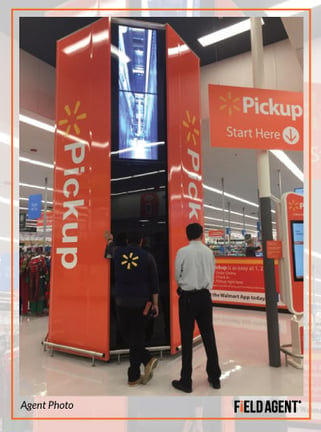 See Also: U.K. Survey Previews Coming Competition between Lidl, Walmart, & Aldi
Despite all this innovation and investment, will Americans ever really go for online grocery shopping?
Craig Giammona of Bloomberg reminds us analysts once scoffed at the idea of consumers buying shoes online. "That sentiment is still applied to grocers—most people, the thinking goes, still want to touch the avocados or talk to a butcher," he wrote.
But what do shoppers think? Do they foresee a future of buying avocados and steaks online?
Do Shoppers Expect to Buy Groceries Online?
This weekend mobile solutions firm Field Agent surveyed 1,100 households across the country. Our purpose was twofold: (1) to understand the prevalence of online grocery shopping now, and (2) to understand if, later on, shoppers expect to move their grocery shopping online.
We also asked "now and later" questions about store visits and retailer preferences—to get a better idea of how grocery shopping may or may not change in the near future.
The full results from this survey are available below for you to view, download, and share:
Note: All respondents were smartphone users who took the survey on the Field Agent mobile app.
Shoppers of course aren't clairvoyant and often can't accurately predict even their own behavior. Yet the results from this survey may offer insight into the receptiveness of Americans toward online grocery shopping—and could even foreshadow how difficult it'll be to persuade them to buy their bread, milk, and eggs online.
See Also: Before & After Photos Inside Walmart's New-Format Neighborhood Market
Online Grocery Shopping: What Did We Learn?
Field Agent's mobile survey suggests: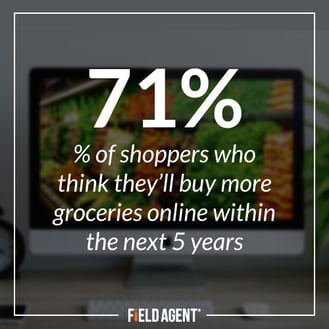 NOW: Online grocery shopping is not yet prevalent.
Fifty-four percent reported they never buy groceries online (which includes pickup and same-day delivery), while another 33% buy no more than 10% of their groceries online.
LATER: Shoppers expect—in no small way—to move at least some of their grocery shopping online.
In the Field Agent survey, 71% said they think they'll buy more groceries online within the next five years. Seventeen percent expect to buy much more.
To potentially add even more disruption to the grocery industry, 39% of shoppers said they anticipate making fewer store trips in the near future, and more than half (54%) indicated they're at least moderately likely to find a new primary grocer in five years time.
In short, those surveyed think big change is coming to grocery shopping.
Inside 3 Cutting-Edge Retail Technologies
Checkout-less stores. Drone delivery. Voice-activated shopping.
Are these the future of retail?
Field Agent surveyed thousands of shoppers to understand their attitudes and intentions toward three innovative retail technologies. Download the free report, "Shopping on the Cutting-Edge," to see for yourself.