4 Motivational Topics for Business Leaders: Hubspot's INBOUND 2015 Takeaways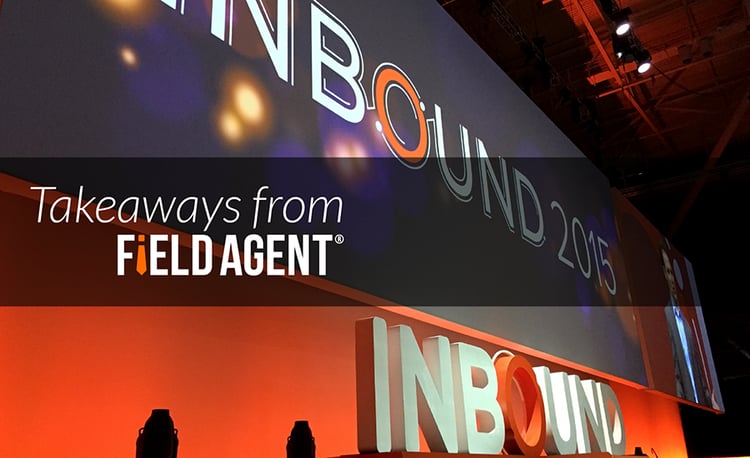 With more than 200 speakers and 14,000 attendees, Inbound 2015 was an impressive event full of inspiration, education and networking. The team at HubSpot brought in notable speakers, including Seth Godin, Aziz Ansari, Sophia Amoruso, Amy Schumer and thought leaders like Darren Rowse of ProBlogger, Gabe Wahahb of Square 2 Marketing and Steve Rubel of Edelman, among many others.

As a communications specialist in design and media, I wanted to learn as much as I could in these two areas. From how to effectively use social media to how to coordinate with other departments in a company, Inbound 2015 was bursting at the seams with useful knowledge. We also heard from several inspirational speakers who shared thoughts about storytelling, leadership, the habits of successful people and staying connected.
Here are 4 specific takeaways from Inbound 2015:
1. Build your storytelling skills through emotional awareness
Several speakers spoke to this topic at various times, but Brene Brown, storyteller extraordinaire, gave us perhaps the most holistic view of why it's important to be a great storyteller, and why it's critical to understand and recognize emotions. She explained how the brain needs certainty or it will start making up stories that aren't true. Brown also related a story about herself and her husband. Click here to listen to her story.

From this story of shame, Brown began to embrace vulnerability as the only path to "show up and be seen" when you have no control over the outcome. She said it's okay to show your emotions in these types of situations. Vulnerability is the greatest measure of courage. If you're innovative and courageous, you will fail, she said. She encouraged the audience to do it anyway.

Brown quoted Theodore Roosevelt, who famously said,
"It is not the critic who counts; not the man who points out how the strong man stumbles, or where the doer of deeds could have done them better. The credit belongs to the man who is actually in the arena, whose face is marred by dust and sweat and blood; who strives valiantly; who errs, who comes short again and again, because there is no effort without error and shortcoming; but who does actually strive to do the deeds; who knows great enthusiasms, the great devotions; who spends himself in a worthy cause; who at the best knows in the end the triumph of high achievement, and who at the worst, if he fails, at least fails while daring greatly, so that his place shall never be with those cold and timid souls who neither know victory nor defeat."
She went on to explain that we are "emotional beings who occasionally think."
If you want to speak to people, speak to their emotions. Sonia Simone and Gabe Wahhbub both explained that creating an emotional message for our audiences will make us more memorable.

We need to listen more, even on social media. "You have two ears and one mouth, so we should listen more than talk," said Sonia Simone. If we're able to listen to what our customers are telling us, then we'll be able to recognize their emotion and be able to find that emotional touch point.

2. Leadership: Take responsibility for your actions and choices
Blogger Seth Godin, HubSpot Co-founder Brian Clark, and NastyGal Co-founder Sophia Amoruso included in their talks bits and pieces on what it means to be a leader.

Seth Godin started out the conference with a keynote full of colorful props, the biggest one being a spot (a car visor). "Be on the spot," he said. "What change are you trying to make? Make change happen."

Godin is all about being bold. (See his book on the Purple Cow.) Be the person who says I'm going to do it. We as leaders must take responsibility to get responsibility. We should stop trying to get reassurance because that will always change. We need to be bold and take the responsibility, sometimes without authority. But, always give credit.

Making change, and changing as a person, is definitely bold. As Brian Clark said, "what you choose to be, you become." This is true in our personal and professional lives. It's all a choice: what we do with our time, how we react and how we become a leader. Sophia Amoruso made certain we understood that with responsibility comes putting in the hours. She had to walk before she ran.
3. Motivations and habits of successful people
Leaders become successful. But what motivates them, and what are they doing differently to gain success? Brian Clark said three things motivate successful people: a sense of purpose; goals to constantly level up; and seeking autonomy and control in our pursuits. Clark challenged us to keep going because happiness is a way of travel, not a destination.

But how do we stay motivated? Darren Rowse, co-founder of ProBlogger, spoke to this question in his session, 7 Habits of Lucky People. These aren't necessarily lucky; he's referencing entrepreneurs and other successful people.

These "lucky people" are:

Avid learners who are always listening to podcasts, reading books, going to conferences, learning from mentors, and gaining as much knowledge as they can.
Fascinated with problems because problems are signals of opportunity.
Curious, which they practice by asking themselves 'what if' and wanting to learn why things happen and what might happen.
Prolific experimenters and are always testing hypotheses to find out if the possibilities could happen.
Watching for sparks because if we get too busy, we don't see the opportunities
Two things Rowse asks himself before going to bed are:
1. What did I do today that gave me energy?
2. What did I do today that gave others energy?
Creative and constructive. They take initiative. Most people spend time responding (e.g., to emails) and being reactive, but entrepreneurs spend more time creating.
Quick to pivot, flexible with change and always evolving.
Rowse concluded by explaining that these are not personality traits, these are choices leaders and successful people make. They schedule these things into their calendars. As Sophia Amoruse said, "My calendar is the biggest change since the beginning of my career. I have to be very picky about who I meet with and what I spend my time on." A schedule is imperative to being successful.
4. Stay connected
Being a successful storyteller, leader, and, in general, individual all boils down to being connected. If we don't have anyone to tell the story to, then what's the point? We're in an infinite game, Godin explained. Sort of like playing catch, the point is not to hit your son in his head and knock him down; it's to keep playing to improve. We're all connected with each other and we need to work together. We need to weave together to grow. "Loom to grow," Godin said.

We're all trying to be seen. "In a networked world, we need networked thinking," Steve Rubel, Chief Content Strategist at Edelman said. In his talk, Communicating in Constellations: People, Platforms, Publishers, Rubel said everyone who is a specialist also needs to be a generalist. We need to focus on putting stars in the sky, publishing and sharing stories that need to be connected through a network of people to create a unique constellation.


Retail Solutions for Any Challenge
Get visibility in-store, gather relevant insights, drive trial of your products, merchandise shelves, and more. You can even create
custom campaigns.
Explore the Field Agent Marketplace today.