5 Success Stories in Our 5 Years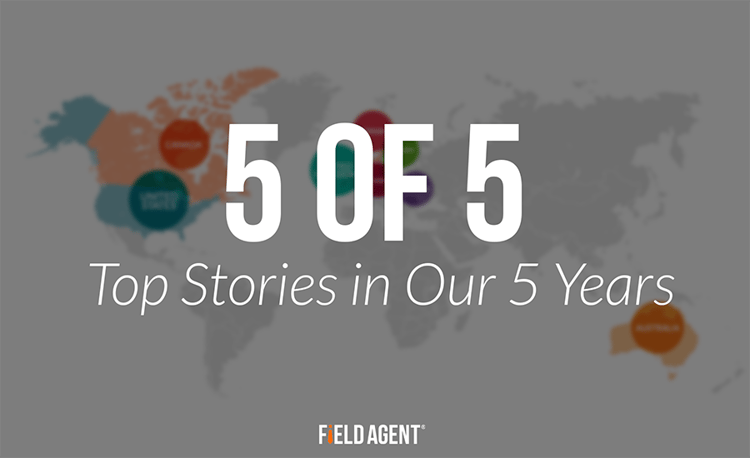 Time flies when you're having fun! We are celebrating our 5th Birthday on Friday, and it's hard to believe 5 years has flown by so quickly. I'm very proud of what Field Agent has accomplished so far. As someone who has been around since the beginning, it has been fun to reflect on years past. We have transitioned from all hands on deck (a team of five people) and late night (into early morning) War Room meetings, to a building bursting at the seams with talent and a reputation as an industry-leader. As we think about our business and growth thus far, here are five areas of success we're excited to share.
#1 Who We Are Is Who We've Been
From Day One, Field Agent's mission has been to change the way the world collects business information and insights. We were the first app that paid for this work, and continue to lead the charge for crowdsourced data. While we are a business based on technology, we are not a technology company. Innovation and technological advances are a significant part of what we do, but we have always been a business based on solving problems and gathering data and insights.
Strategic Placement & Partners
We remain headquartered in Northwest Arkansas, not Silicon Valley where most technology startups exist. Our placement is strategic for the focus of our business, which started out in retail and is now expanding to other markets. Not only are we strategic in location, but also in partnership. We waited for the right investment partner, and found that in Five Elms Capital. Five Elms has come alongside Field Agent because they share the same mission, vision and values.
#2 People Matter
In five years, our team has grown from one to 81. We know there is more to life than the bottom line, and that is evident in our every day. Our people continue to be our priority. As we grow, we are intentional to continue to build in flexibility to allow our team time to focus on what is most important. We invest in our team by providing opportunities to grow personally and professionally. We are committed to giving back to the community as a team, and as individuals. We also have a LOT of fun!
#3 It's All About Collaboration
Here at Field Agent, we desire to provide high-quality, real-time data. Our team loves to solve problems and strives to provide excellent service. By listening to our Clients, we have implemented processes and a structure to deliver best-in-class service and quality. We have built, and continually enhance, a system that provides the highest quality data acquired by the everyday shopper. Learn more about how we service our clients.
#4 Quantity DOES Equal Quality
We have steadily and organically grown our Agent base. We were the first app that paid, and we pay real money. That being the case, word spread pretty quickly! In our fifth year, we now have more than 500,000 Agents working with us in the United States alone. Our Agents provide quality information and get paid for it. The incentive to provide their best work is simple – cash. Some Agents use their earnings for family vacations or Christmas presents. For many Agents, earnings are used as supplemental income to help carry their family through hard times. See this post about one of our Agents who after using Field Agent sparked the idea to build her own business. We are privileged to be able to continually contribute in this way and are thankful for Agents who work to provide quality data for our Clients. Learn more about how to become an agent.
#5 When we say "the world" we mean it
That's right. We are changing the way the WORLD collects business information and insights. Our little startup is not so little after all. We are global. Field Agent is currently operating in eight countries and growing. We launched our first three countries within our first year and have been strategically expanding since then.
Expansion to Romania
We're very excited to announce today in a press release that we've launched in Eastern Europe through Romania. By the end of 2015, we'll be on five continents (North America, South America, Australia, Europe, and Africa), and we're not stopping there.
Many Thanks
What is evident throughout our success to this point is that we did not accomplish this on our own. Without the contributions of our Partners, People, Clients, and Agents, our business would not be what it is today. We are extremely grateful to those that have taken the time to listen, contribute, challenge, and advocate for us. You help make Field Agent who we are today. Thank you! We look forward to celebrating many more birthdays with you!