7 Insights Unveil Wedding Registry Attitudes, Behavior of Brides-to-Be
What will $31,213 buy you?
A luxury car? Maybe, but that's not it.
A college education? Nope.
A really good vacation? Not the answer we're looking for.
$31,213 was the average cost of a wedding in the United States in 2014, according to theknot.com's annual survey of brides and grooms.
Multiply this times 2 million+ U.S. weddings per year and—gulp—there's no denying it: Matrimony is good for business. Really good.
And yet the gaudy figure above doesn't even reflect one of the more economically impactful effects of marriage: lots and lots of wedding gifts.
Retailers compete fiercely for these gift dollars, something evidenced by Amazon's improvements to its bridal registry.
What are the Attitudes and Behaviors of Brides-to-Be toward the Wedding Registry Process?
This week, Field Agent surveyed over 100 brides-to-be about their attitudes and behaviors toward the wedding registry process. We engaged brides on several important topics, including the use of universal registries and recent changes to Amazon's registry.
Survey respondents were bona fide brides-to-be (i.e., engaged to be married in the next 12 months) already participating in the wedding registry process. As the images show, we required Agents to submit photo proof of their involvement in one or more registries.

Below we unveil 7 insights into the wedding registry process, as shared by brides-to-be:
1. Here Comes the Bride…and She's Going to Target
We presented 23 popular wedding registries to respondents and asked, "With which of these retailers are you registered or will you register?"
At 67%, Target was the undisputed winner in our survey, a full 24 points ahead of second place Bed, Bath, & Beyond.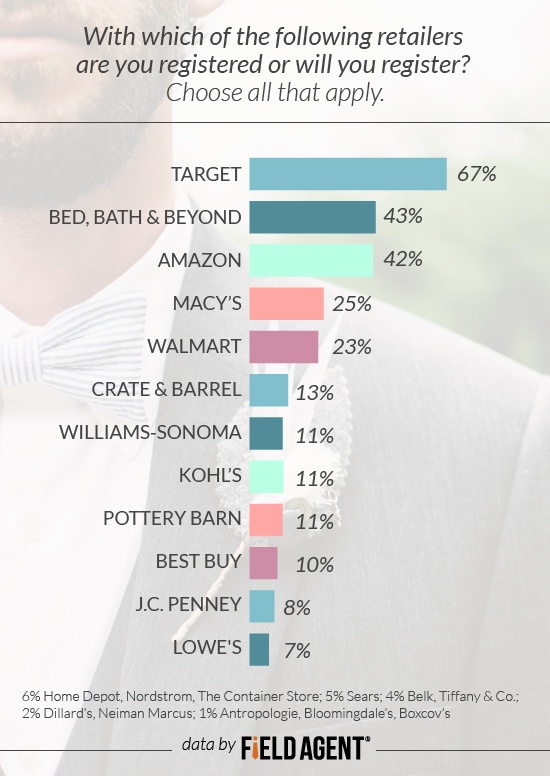 Almost half the sample (48%) said they're registering with only 1-2 retailers, while just 15% are registering with 5 or more.
Field Agent asked Agents to share feedback about their bridal registry experience.
See also: Omni-Channel Special: Pop-Up Retail Paves Way for Clicks-to-Bricks
2. Brides Say "I Do" to Culinary Gifts
We also engaged brides on the gifts they're registering for. Culinary gifts, including kitchen appliances and cookware, came out on top.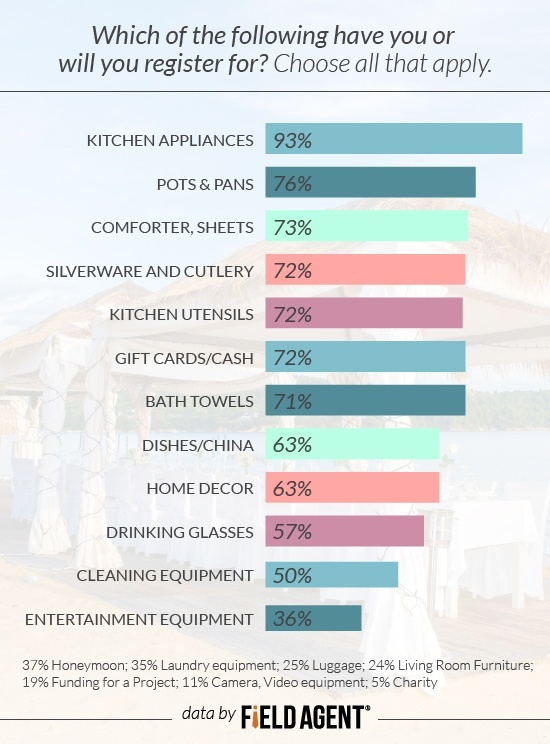 3. Brides Make Room for the Groom
Although only 16% of respondents said their fiancé would be receiving a "man shower" or "honey do shower," this doesn't mean grooms aren't participating in the wedding registry process.
Forty-seven percent of brides said their fiancé was either extremely or very involved in registering for wedding gifts (e.g., selecting retailers and gifts). Indeed, 87% said their partner was at least somewhat involved.
4. Registry Behavior Differs Markedly among Brides
Brides-to-be, our survey suggests, go about the registry process differently. For instance, we asked respondents how they make registry decisions: spontaneously (i.e., in-the-moment as they shop) or deliberately (i.e., pre-planned before they shop).
Brides were almost evenly divided, with 53% taking a pre-planned approach and 47% preferring spontaneity.
Respondents also differed on the importance of various shopping objectives. On a scale from 0-10 (10 = most important; 0 = not at all important), brides were asked to rate price, brand name, and tradition (i.e., the gifts brides normally register for) by importance to their registry decisions.
On average, at 6.2, price was deemed more important and influential than brand name (4.6) or tradition (4.3).
But it's also interesting to note that, for each objective, there were brides at both extremes, suggesting it's difficult to nail down exactly what matters to women registering for wedding gifts.
5. Wedding Gifts: There's an App for That
Fully 70% of respondents in our survey said they're extremely likely to use a smartphone for some of the wedding registry process. In fact, 94% are at least moderately likely.
They're mainly using smartphones, they told us, for Internet browsing (90%), though more than half will also use one to scan barcodes (58%) and access bridal registry apps (56%).
6. The Web Makes It Easier to Wed
We asked brides-to-be whether they're using or will use a universal registry (i.e., a website compiling all products and retailers in one place) when registering for gifts. Sixty-six percent said they would.
Moreover, approximately half of the sample said they're using a wedding planning site (e.g., The Knot) to register.
7. Brides are Ready to Marry Amazon's Revamped Bridal Registry
After describing recent improvements to Amazon's bridal registry (e.g., universal registry, gift-giver tracker), we asked, "Based on what you already knew about Amazon and the changes just described, how appealing do you find the newly revamped Amazon bridal registry?"
A convincing 86% responded extremely or very appealing, and only 2% said not very or not at all appealing.
They're particularly excited about Amazon's new universal registry feature. Eighty-seven percent said they find the universal registry highly appealing, compared to the gift-giver tracker (58%), extended return policy (57%), and 10%-off "completion gift" (50%).
Get Answers. Better Answers.
With Mobile Research, you can home in on the exact customer segments that drive your business. No guesswork; no worries.
So whether it's brides-to-be as they participate in the wedding registry process or some other specific need, Mobile Research is your trusted source for consumer insights.
Download our free eBook, "Mobile Research: How Smartphones Connect Companies with Their Customers," to learn more about these capabilities.