Omnichannel Special: The Webrooming Phenomenon & Beyond [Survey]
Showrooming is so 2015.
In 2016, expect much of the buzz to center on webrooming.
Webrooming: The practice of researching products online prior to purchasing them in stores
By some indications, webrooming may already be more common among shoppers than showrooming, a trend that could become even more pronounced as brick-and-mortar retailers make larger and smarter investments in their omnichannel capabilities.
How Prevalent is Webrooming among Shoppers…and What Does It Look Like?
To illuminate this important matter, this weekend Field Agent surveyed 500 shoppers, split evenly between men and women.
And below we present 6 insights into the webrooming phenomenon and beyond: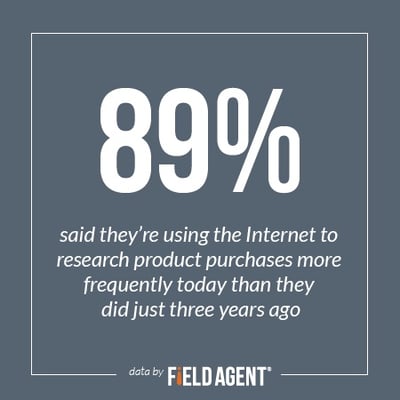 1. Doing Their Homework?
How often do shoppers research product purchases online?
First things first. Do shoppers even research product purchases online? We asked.
In all, 84% said they always or often research product purchases online, while almost the entire sample (99%) said they do so sometimes. Yes, researching product purchases online is a common thing—very common.
Furthermore, it's a growing thing. In our survey, 89% said they're using the Internet to research product purchases more frequently today than they did just three years ago. In fact, 45% said they're conducting such research much more frequently.
See also: The Click-and-Collect Craze: 6 Shopper Insights into the BOPUS Trend
2. Make Room for Webrooming
How prevalent is webrooming among shoppers?
How much of this research, however, precedes an in-store visit, where shoppers purchase—in-person—the products they researched online? Apparently, quite a lot.
We asked, "How often do you research retailers' websites for products you then purchase in stores?" 67% said always or often, and a whopping 93% responded sometimes.
3. Your Place or Mine?
Are webroomers also cross-shoppers?
The billion dollar question: Do webroomers make their purchases with the same retailers they use for research purposes (e.g., Walmart via Walmart.com)? Or do they cross-shop, defined here as conducting one's product research with one retailer while purchasing from another (e.g., Walmart via Amazon.com)?
It seems they do a lot of both.
91% of webroomers said they at least sometimes use the same retailer for research and purchases, while 84% say they at least sometimes cross-shop.
This tells only part of the story though, because 52% said they use the same retailer always or often, compared to only 29% who always or often use different retailers for research and purchases.
4. From Threads to Spreads
Is webrooming more common in some product categories than others?
Some categories may be better suited for webrooming than others, our survey suggests. We asked, "Prior to an in-store trip, how often do you visit the retailer's website to research products in the following categories?"
Consider the percentage of respondents replying either always or often:
Clothing: 37%
Home supplies (e.g., cleaning supplies, air fresheners): 30%
Health & Beauty (e.g., cosmetics, medicine): 29%
Food and beverages: 11%
Little changed at the bottom of the scale, with 27% saying they rarely or never webroom clothes, while 65% responded rarely or never for food and beverages.
See also: Omnichannel Special: Pop-Up Retail Paves Way for Clicks-to-Bricks
5. Popular, Not-So-Tropic Destinations
What information do shoppers search out on retailers' websites?
What are webroomers—really, online shoppers in general—looking for when they visit retailers' websites to research product purchases? In descending order, here's what shoppers in our survey said they're specifically looking for: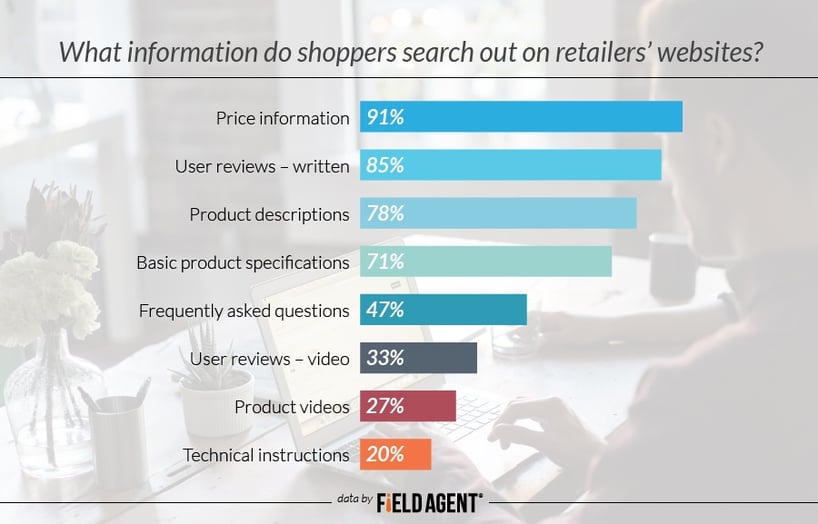 6. What's the Score?
Are shoppers satisfied with the types and quality of information available on retailers' websites, specifically, on their individual product pages?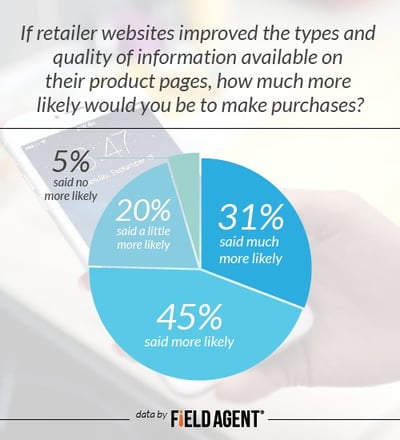 In one sense, yes, online shoppers say they're satisfied with the types and quality of information they find on retailers' websites—specifically, on their product pages. Practically everyone in our survey said they're at least moderately satisfied.
But there's apparently still room for improvement. If not, our survey suggests retailers should find ways to improve product pages—even if shoppers aren't necessarily crying for the change.
We asked respondents, "If retailer websites improved the types and quality of information available on their product pages, how much more likely would you be to make purchases?
Get this: 31% said they'd be much more likely to spend their money, while 95%—475 out of 500 respondents—said they'd be at least a little more likely.
It's an Omni World
Today, business operations and customers are more widely dispersed than ever. Your business and your customers are everywhere.
So more than ever, companies need flexible, pervasive auditing and research capabilities that are always on and always there, wherever "there" is.
Download "Mobile Research: Your Omni-Present Solution for Omni-Channel Operations" to see for yourself how Mobile Audits and Research are perfectly suited for an Omni World. You'll get an inside look at several cutting edge omnichannel operations.