The Click-and-Collect Craze: 6 Shopper Insights into the BOPUS Trend
It's rapidly becoming a click-and-collect world, as more and more Americans opt to "buy online, pick up in stores" (BOPUS).
Just this past December, in fact, more than one-third of holiday shoppers reported using a click-and-collect service.
It's part of the much larger omni-channel trend, in which a retailer integrates its in-store, online, and mobile channels to better serve today's digitally connected shoppers.
See Also:The Omni-Channel Scene: Inside 5 Innovative Retail Services [Videos]
And with its steadily growing popularity, retailers everywhere are scuttling to get in the click-and-collect game—and win it.
The Shopper's Experience
To help companies grappling with these new realities, Field Agent recently queried 200 shoppers about their click-and-collect experiences. All respondents self-identified as typical users of at least one BOPUS service.
Below are 6 timely and important shopper insights into the click-and-collect craze:
1. Which retailers are popular with BOPUS shoppers?
Walmart put in a convincing performance, with 79% of respondents saying they've used the retailer's click-and-collect service. Best Buy (52%) was a relatively distant second, with Target (49%), Kohl's (31%), and Home Depot (23%) rounding out the top five.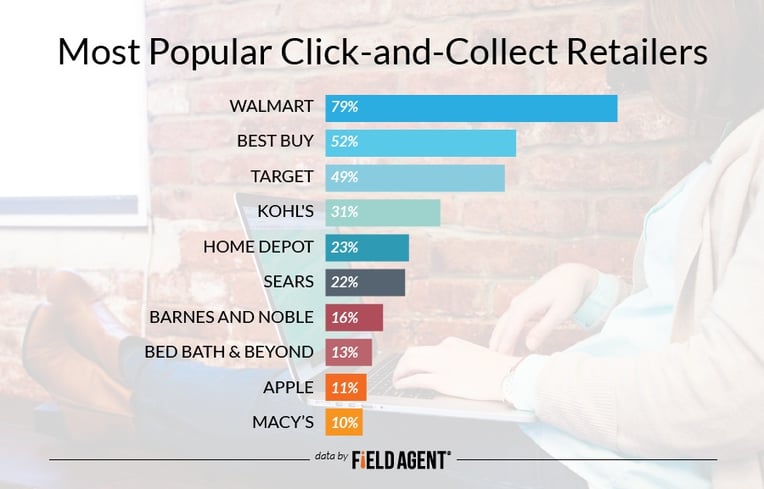 2. Which product categories are most prevalent with click-and-collect shoppers?
Electronics, pretty resoundingly.
In all, 73% in our survey said they've purchased electronics through a BOPUS service, followed by clothing at 49%.
See Also: Video of the new Hannaford Grocery Pickup Service
3. Does click-and-collect offer retailers a competitive edge?
What would happen if a shopper wanted to BOPUS, but a retailer didn't offer the option? Fully 50% surveyed said they'd be "completely" or "very" likely to purchase the product from another retailer, while another 25% said they'd be moderately likely to look elsewhere.
So, competitively speaking, it seems a retailer may have something to lose by staying on the sideline. But is there something to gain?
We also asked shoppers whether, when retrieving their orders in-store, they make other—perhaps unplanned—purchases as well. Although only 3% responded "always," 27% indicated they do this "often" and 51% "sometimes."
4. Why do shoppers choose to buy online, pick up in stores?
88% said they use click-and-collect because there are no shipping costs. Additionally, 77% indicated they feel it's easier to browse merchandise online, while 51% said they like the instant gratification of BOPUS (i.e., there's no wait).
Combined, the results suggest shoppers use click-and-collect to enjoy the browsing convenience of online shopping, while being spared other costs associated with online shopping, namely shipping fees and wait times.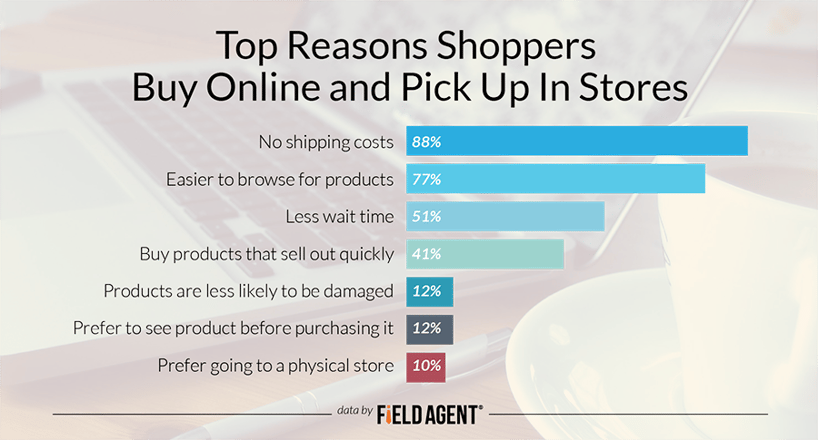 5. From the shopper's perspective, are there defects in the BOPUS process?
It seems the bugs are still being worked out in some cases.
36% said they've received poor customer service in the course of a BOPUS experience. Moreover, 30% said that, on at least one occasion, their merchandise was not available in the store when they arrived to pick it up.
See Also: Video Review of the Target-Instacart Service
6. Are click-and-collect shoppers pleased enough to continue using the service?
For the final question we asked respondents to recall their most recent BOPUS experience.
Altogether, 59% said they're "completely" likely, and 32% "very" likely, to use this specific click-and-collect service again.
That's a pretty strong batting average.
Additionally, 87% indicated they'd be completely or very likely to recommend the service to a friend.
Explore 5 Omni-Channel Operations
Go inside 5 cutting-edge omni-channel developments:
Walmart Pickup
Amazon Books – Seattle, WA
Target-Instacart Home Delivery
Best Buy Click-and-Collect
Hannaford Grocery Pickup
Download the report, "Mobile Research: Your Omni-Present Solution for Omni-Channel Operations," for images and shopper feedback from these retail innovations.