All Natural Baby: 500 Young Moms Talk Healthy Baby Food, Products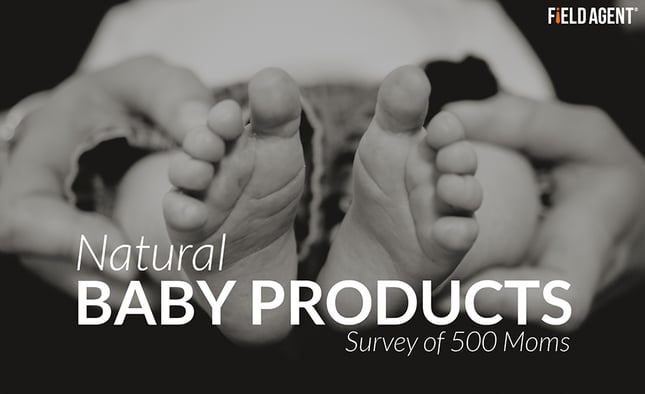 Summary: Mom knows best. Especially when it comes to buying for baby. So we surveyed 500 young moms to shed light on an important trend: the tendency of mothers to shop for and purchase "natural" baby foods and products for their little ones.
Walmart is aggressively ramping up its baby departments, as reported just days ago in The City Wire. It seems one of the best ways to reach the lucrative Millennial consumer is by way of the baby department.
"In recent months Walmart Stores has made a big effort toward introducing expanded baby departments in select supercenter and neighborhood market stores," writes Kim Souza of The City Wire. "After listening to parents across the country, the retailer announced in late July it had expanded its assortment of baby products and services."
But for many young parents today: old style baby foods and products just won't cut it. They increasingly want "natural" alternatives to traditional baby goods.
Just Ask Mom
To illuminate this trend toward natural baby foods and other products, we recently surveyed 500 moms of children younger than two. Half of these mothers (n = 249) currently have at least one child younger than one. Some moms answered survey questions by what they plan to do in the near future, many by what they're doing right now, and others from very recent memory.
The sample was thus comprised primarily of young moms, a consumer class retailers and brands are desperate to understand. After all, according to BSM Media, Millennial moms will spend $750 billion in 2015 alone.
See also: Millennials, Boomers, & 2015 Resolutions: 5 Key Generational Differences
Below are answers to 7 timely and important questions about natural/organic baby foods and other products:
1. How many moms actually feed their children organic baby food…and how often?
48% of mothers with babies younger than one (n = 249) said they feed their little one organic baby food in pouches and 42% in jars. Moreover, 40% use organic ingredients in the homemade baby food they give their child. Only 9% said they buy organic baby formula.
These numbers weren't much different for the full sample of 500 moms (i.e., moms with kids under 2-years-old). The graph displays usage of organic baby foods/formula alongside the regular, non-organic version of the same products.
However, it's important to note that very few mothers in the survey said they feed their babies organic foods exclusively. Results show that 48% go organic only "sometimes" they said, while just 9% do it "always."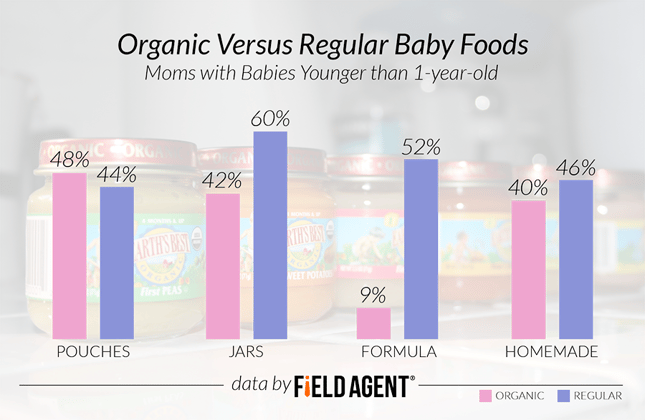 2. Will these mothers continue to feed their children organically beyond the baby food stage?
For those mothers who reported at least occasional usage of organic baby foods (n = 402), we asked, "What is the likelihood you will continue to feed your child organic foods even after he or she stops eating baby food?"
Combined, 45% said they are either "completely" or "very" likely to continue feeding their baby organically even past the baby food stage. Only 5% were "not at all likely."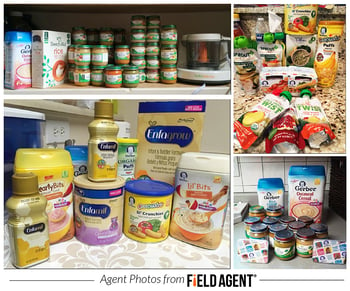 How do we know we're surveying actual moms? We incorporated several QC checkpoints, including requiring respondents to submit pictures of baby products inside their homes. See photos on the right.
See also: Mobile Survey: Moms Set The Tone For Halloween Shopping
3. Where do they buy organic?
A striking 83% of qualified moms (n = 402) said they purchase their organic baby food and/or ingredients from the same store they purchase most other groceries for their household.
4. How much are moms willing to spend on natural, organic baby foods and/or baby food ingredients?
The survey asked the full sample of 500 moms, "If a conventional package of baby food/ingredients cost $1, how much more would you be willing to spend to purchase the organic and/or all natural version for your child?"
While 89% were willing to pay more for organic/all natural, 48% were willing to pay no more than a 25-cent premium, and only 13% were willing to pay $1 or more. So, yes, moms will pay more, but most become resistant as the price increase nears 25%.
5. What matters most when buying baby foods and toddler snacks?
We asked all 500 moms to rank various shopping priorities by how important they are when shopping for baby food, baby food ingredients, and/or toddler snacks.
By far, Quality/Nutrition received the largest proportion (54%) of #1 votes, followed by Price/Value (25%), Convenience (5%), Brand Name (5%), and Packaging (1%). And by count of #1 and #2 votes, Price/Value (68%) edged out Quality/Nutrition (66%) for top spot.
We also sought to understand what specific label claims moms value when shopping for baby food, baby food ingredients, and/or toddler snacks. The survey presented 18 different claims commonly found on baby food/toddler snack labels.
Faring surprisingly well at 71%, "made with real fruit" took first place in the survey. In other words, 71% of respondents said they specifically seek out this claim when buying baby food and toddler snacks. Some label claims didn't do as well as expected: "lactose/dairy free" (8%), "gluten free" (7%), and "fat free" (5%). See the graph for additional claims.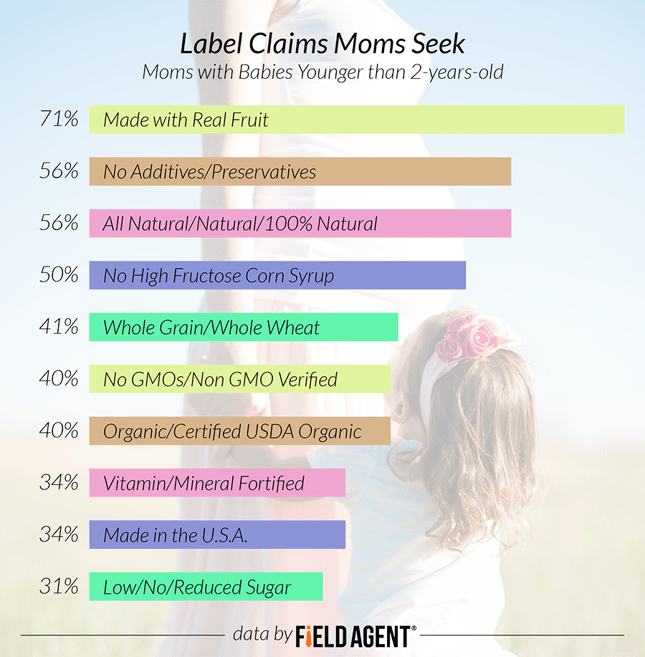 6. Is homemade baby food prevalent among moms? Why?
66% of moms with babies younger than 1 (full sample = 62%) said they at least sometimes make homemade baby food.
The results suggest three primary reasons: 67% of qualifying respondents said they make homemade baby food to "save money" and/or to feed their babies something "healthier/more nutritious." Moreover, 64% said they find the "certainty" appealing, that is, they like knowing exactly what's in the food.
We also asked agents to take pictures of the diaper supplies inside their homes. See photos on the right.
See also: 10 Insights that Make the Grade: Back to School Shopping with 500 Moms
7. What other organic or chemical-free products do moms commonly purchase?
We also presented moms with nine additional product categories and asked, "Please identify all the organic and/or chemical-free products you specifically purchase for or because of your baby/toddler."
As the chart shows, none of the categories won favor from half of the sample, though some clearly did better than others. Specifically, while 44% of mothers indicated they purchase natural and/or chemical-free baby shampoo/bodywash, only 14% made the same claim about diapers.