Top 10: America's Favorite Halloween Displays
Feel that shiver running down your spine? Halloween is right around the corner.
Spooky decorations are appearing in front lawns everywhere, and soon little ghosts and ghouls will be trick-or-treating for tasty candy. And for companies that sell those goodies, it just wouldn't be Halloween without in-store displays, decked with pumpkins and ghosts.
To get a look at the Halloween displays of 2020, we sent our mobile shoppers (we call them agents) to 48 Walmart Supercenter locations, one in each of the contiguous 48 states. They sent us a monster mash of spooky displays, scroll on to see ten of their favorites!
Favorite Halloween Displays
We asked our agents to seek out and count each and every branded, Halloween-themed grocery display in their local Walmart Supercenter. Each agent was instructed to choose their favorite display, photograph it, and review it with a sentence or two. Below we present 10 of America's favorite Halloween displays.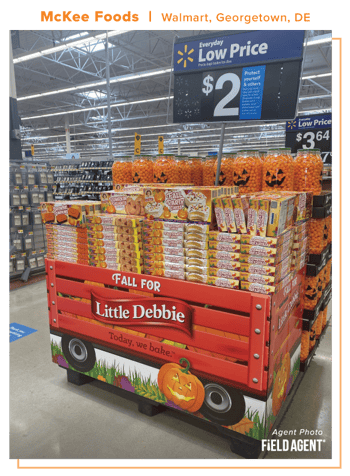 Julianne A. loved this Little Debbie display in Georgetown, Delaware. "I thought it was super cute and fall like," she said. "It was very homey."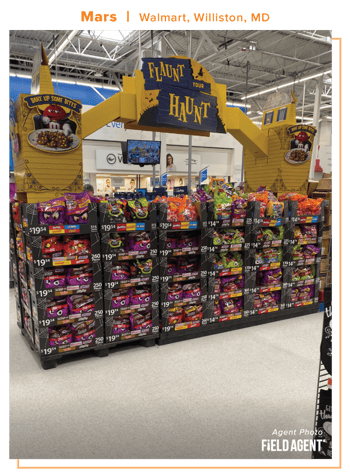 Carl S. spotted this Mars display in Williston, Maryland. "It was the only display I could find," he wrote, "but the color scheme is nice and I enjoy the candies it's advertising." Carl was surprised by the lack of Halloween displays: "I found just one display. I was shocked at how few there were honestly."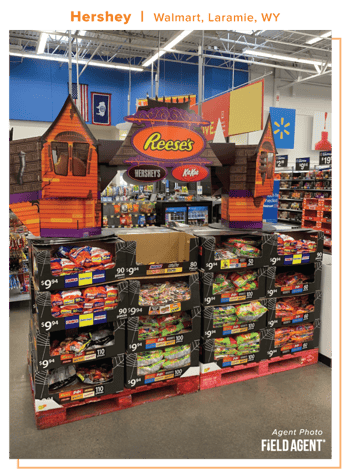 Tucker P. snagged a photo of this haunted "chocolate castle" by Hershey at his local Walmart in Laramie, Wyoming.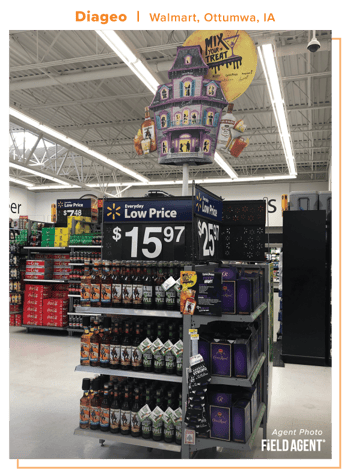 This display of Diageo liquor brands jumped out at Gary D. from far away. "The signage is tall and can be seen as you walk toward the back of the grocery section," he said. "It's the only one in the store. It stands out."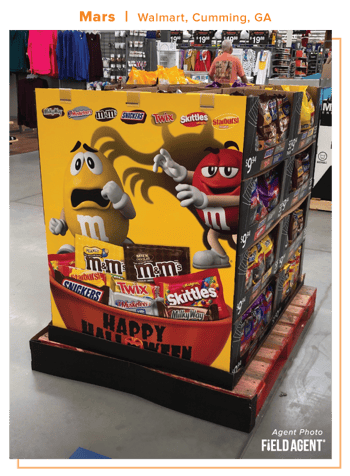 Susan W. enjoyed this Mars candy display in Cummings, Georgia: "This is a cute display but I only had 2 to choose from." Susan also had trouble finding what she was looking for: "very few Halloween displays here."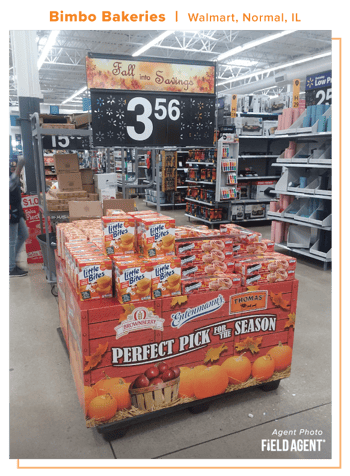 Jennifer W. of Normal, Illinois, noticed this baked goods display by Bimbo Bakeries. "The pumpkins and apples mean both halloween and fall to me," she said.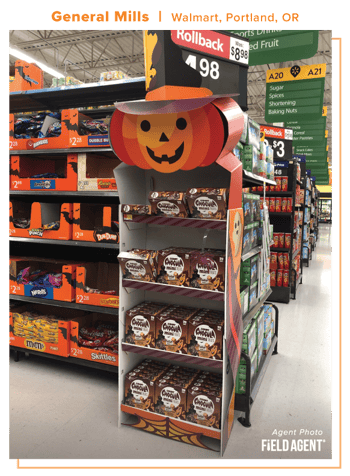 "It has a friendly pumpkin!" said Elaine Q. of Portland, Oregon. Elaine saw the displays as a warm reminder of normalcy during a crazy year: "I think the 3 displays I saw were in good taste, considering the holiday may not be very traditional for many kids and adults during this pandemic."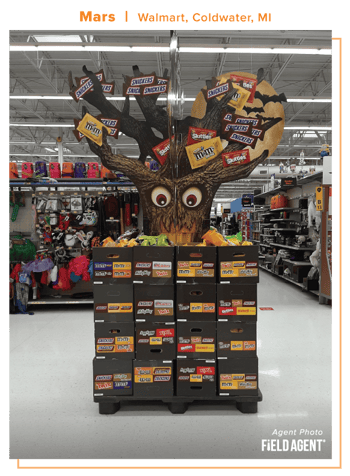 Maria S. found this interesting Mars display in her Coldwater, Michigan Walmart. "Fun display with the spooky tree, and the candy are the leaves. The full moon and bats flying are a nice touch as well." Maria also noticed the limited number of displays: "There's lots of Halloween items, but most are not in a fun Halloween style display."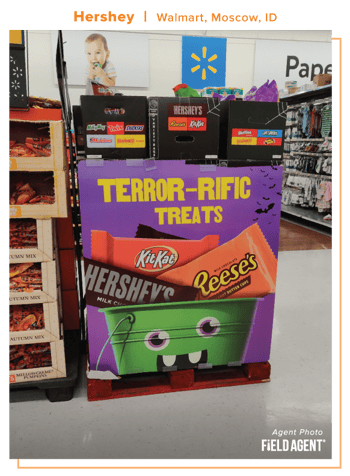 Gardenia O. of Moscow, Idaho thought this Hershey display was "the cutest of the 4 displays!" We'd have to agree, that is pretty darn cute.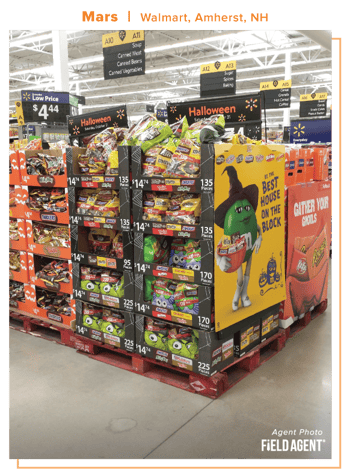 Joseph G. enjoyed this Mars display, "mainly because it contains one of my favorite candy which are M&Ms." He had no trouble finding displays at his Walmart: "they tend to be in logical places around the store."
Many agents found that they didn't have a lot of Halloween displays to choose from, but 33 of them found at least one branded grocery display. Below is a map of our 48 shoppers and their favorite displays.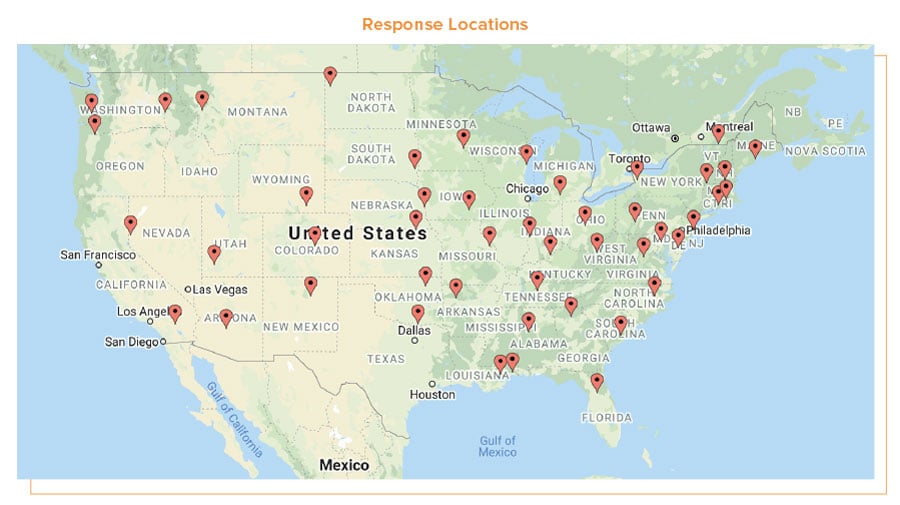 Need Display Audits in Q4?
Does display compliance spook you? In 2020, you can't afford to waste a display: they need to be executed correctly for maximum impact.
Your displays don't need to lurk in the shadows. Field Agent gives you direct visibility. With our display audits, you can quickly (and cheaply) see positioning, pricing, shopper sentiment, and more, no matter where your products are sold.
And it's not just Halloween. Field Agent helps brands keep an eye on their displays in-store, all year round.
"I'm blown away that I was able to go from a google search to having a plan in place in just a few hours." - satisfied client