The Top 7 CPG Brands of the Holidays [2020]
Can you hear the sleigh bells ringing? The holidays are right around the corner!
But you know what's already here? Field Agent's annual Holiday Report, An Omnichannel Christmas! This free report covers this year's holiday shopping from every angle: from popular gifts to favorite treats, top retailers to COVID concerns. This information is sourced from shoppers themselves, over 4,000 of them.
These mobile shoppers (we call them agents) shared a wealth of information with us, including the products that they plan to include in their holiday celebrations. There's a lot to dig into in the report, but let's take a peek at the top CPG brands across 7 categories.
So, without further ado, here are 7 CPG brands poised for a very merry holiday season!
2020's Top Holiday CPG Brands

From sugar cookies to gingerbread, it's just not Christmas without a few baked treats. In fact, freshly-baked cookies topped the list of foods, snacks and beverages that agents plan to serve this Christmas (freshly-baked pies came in at #3). So what brand do shoppers most associate with holiday baking? 391 of our agents name-dropped Betty Crocker.

Now we know what's in the oven. What's filling glasses this Christmas? Years of clever marketing have paid off:
the beverage brand that shoppers most associate with the holidays is Coca-Cola.
And it's no contest: Coke got nearly 500 mentions from our agents, while the runner-up won 144. Who's the runner-up? Thought you'd never ask.
Download the report
to find out.

Realistically, if you have kids, Christmas morning is bound to start early. And nearly 75% of our shoppers plan to brew a cup of coffee to keep them from turning into Grinches. Which coffee brand takes the crown? Perhaps unsurprisingly, when it comes to java, Starbucks is king.

Move over, cookies and milk. Santa wants a brew. From eggnog to wassail (anybody else out there a wassail fan?), alcoholic beverages often feature heavily in holiday celebrations, and the majority of our agents expect to have a drink or two on Christmas day. We'll save the top alcohol category for the report, but the top beer is Stella Artois.

Which spirits will be "making spirits bright?" The top liquor brand overall this year is Bailey's Irish Cream, mentioned by 19% of alcohol drinkers surveyed. Cheers!

Of agents who plan to stuff stockings for their kids this year, 74% said they plan to include candy. Which candy brand will be enjoyed by the most boys and girls on Christmas? The majority of those parents plan to slip some M&Ms in their kids' stockings.

Let's not forget: it's not just tasty goodies and drinks that make the holidays special. There are some CPG brands that don't get a lot of love, but make Christmas run smoothly. One such item is batteries. And in our survey, Energizer emerged as the top choice in batteries for this holiday season.
Bonus COVID-19 Insight
Let's face it: the 2020 holiday season will be like no other. The COVID-19 pandemic has transformed the way we shop, work, and spend time with our friends and family.
Our agents shared several insights about how the pandemic has changed the way they shop, and you can read all about it in the report. But here's a taste: we started with a simple, free-form question. How will your shopping habits change this holiday season, as a result of COVID-19?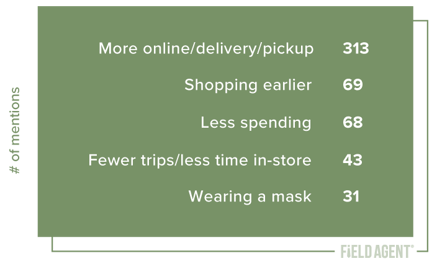 In their freeform answers, our agents told us a host of ways that they plan to shop a little differently in 2020. But as you can see, the #1 change is clear: shoppers are using online shopping, delivery, and pickup services more than ever.
Want more insights? Pages more? Just keep scrolling.
Unwrap the Full Report
We're just getting started. This article only mentions the top CPG brands - there are so many more! To read more holiday insights (and find out if your brand made the cut), download the full report below!
The report covers the following topics:
The top retailers for holiday groceries and gifts
What's on the wishlists of men and women
How everyday shoppers are responding to the pandemic
And so much more!