Black Friday 2021: Which Stores, Gifts Were Tops with Shoppers?
Last year, brick-and-mortar holiday shopping was dampened, regrettably and unforgettably, by a global pandemic and widespread concerns among shoppers and governments about the spread of COVID-19. Not to mention millions of event cancellations, too.
However, following the 2021 edition of Black Friday, even a cursory glance at headlines suggests a renewed sense of optimism this year about B&M holiday shopping.
Black Friday Brought Shoppers Back to Stores (The Wall Street Journal)
Black Friday bounces back from 2020. Shoppers hit stores again (CNN)
Holiday retail 2021: In-store shopping is back, though it's complicated (The Mercury News)
"I think people want to be out," said Katherine Cullen, senior director of industry and consumer insights for the National Retail Federation. "I think they really missed the store environment" (emphasis added).

But what about the "store environment"? What did it really look like this Black Friday?

For instance...

Which brick-and-mortar stores did shoppers visit?
How much of their total gift-buying did they do inside stores?
What gift category did shoppers spend the most money on?
What were the best deals shoppers found?
To get an indication, we turned to our shoppers.

Back to Stores? Surveying Black Friday Shoppers
On Saturday, November 27, fresh off the heels of yet another Black Friday, we surveyed 2,500 U.S. adults through the Field Agent platform*, including 815 respondents who reported shopping inside stores on Black Friday this year.
*All survey respondents were U.S. adults at least 18 years of age and smartphone owners. The survey was executed through the Field Agent platform, November 27, 2021, with a non-random sample of shoppers. Demos: Gender - Female (76%), Male (24%), Age - 18-29 (19%), 30-39 (37%), 40-49 (25%), 50-59 (14%), 60+ (5%); Household Income - < $35K (22%), $35-49K (15%), $50-74K (22%), $75-99K (17%), $100K+ (24%); Race - Caucasian (72%), Latino/Hispanic (8%), African American (8%), Other (12%).
Our aim: To understand how these respondents shopped in brick-and-mortar stores on one of the biggest shopping days of the year, including questions about the how, where, how much, and what of Black Friday 2021.
Here's a 7-question quick-fire Q&A offering a fast look at the results:
1. How did shoppers shop on Black Friday 2021?
Of 2,500 total shoppers surveyed, 65% shopped in one way or another—in-store and/or online—on Black Friday 2021. Compare this to 63% when we ran a similar survey in 2019, just prior to the pandemic's widespread arrival in the U.S.
But let's remove non-shoppers from the sample; this leaves n = 1,597 who actually shopped this Black Friday.
Of these shoppers, how many shopped in-store and how many online?
As you can see below, fully 4-of-5 (80%) said they shopped online, compared to only 1-in-2 (51%) who shopped with brick-and-mortar retailers, on Black Friday in 2021. In 2019, 72% reported shopping online for Black Friday, while 64% reported shopping in stores.
This year, 32% of shoppers in our sample shopped both in-store and online on Black Friday.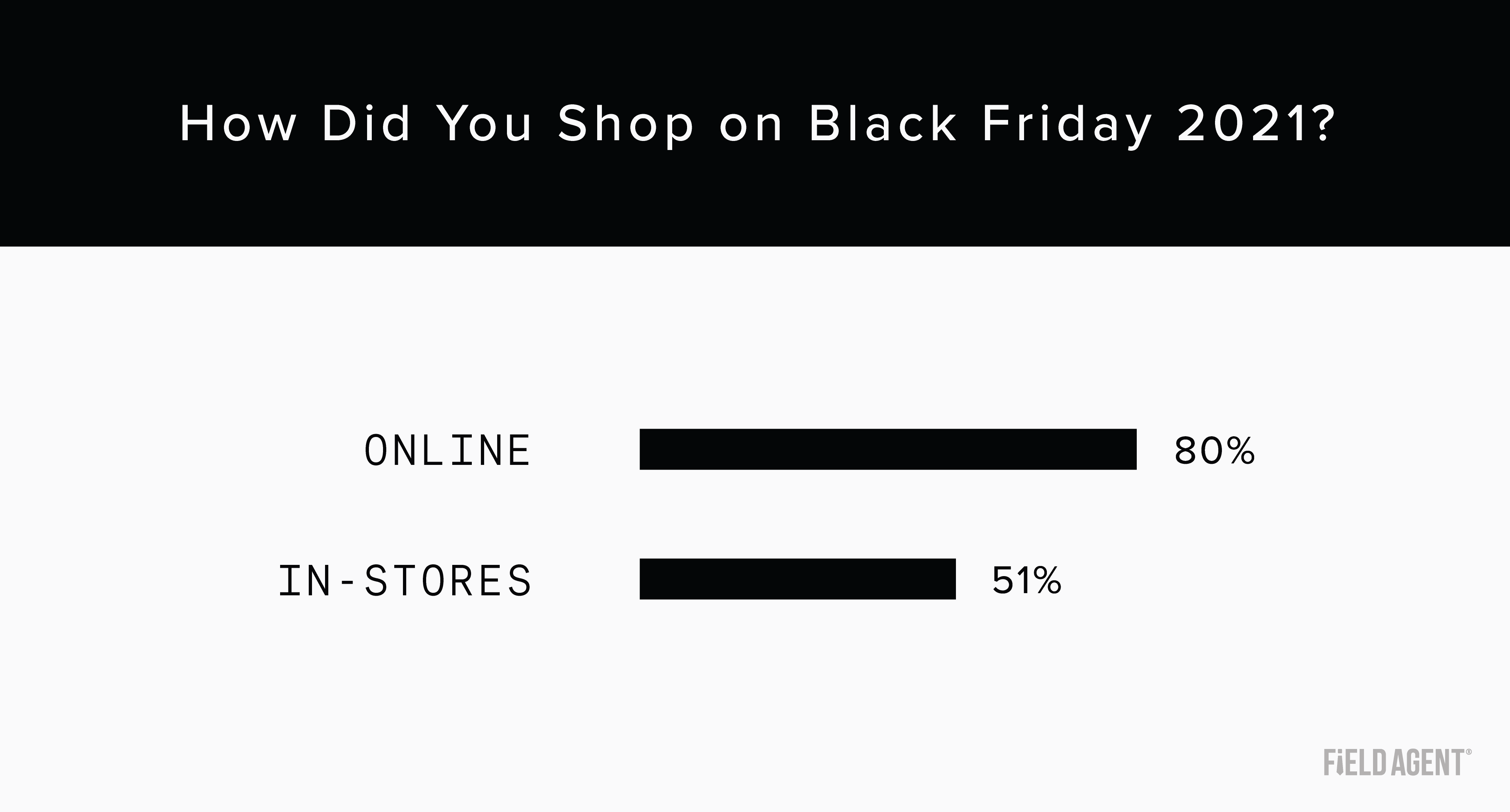 Even with, reportedly, shoppers feeling better about shopping inside stores on Black Friday this year, online shopping was somewhat more prevalent in our sample.
Cyber Monday, what are you doing in Black Friday?
2. What B&M stores did shoppers visit this Black Friday?
Let's dig deeper into the sub-sample of respondents who shopped inside stores on Black Friday (n = 815). After all, our goal is to understand the role of B&M retail this year.
We'll start with which stores were most popular among Black Friday shoppers in our survey? We asked, "Which STORES did you visit on Black Friday to shop for holiday gifts?"
Not surprisingly, retail titans Walmart (59%) and Target (46%) were cited most often, followed by holiday favorites Kohl's (26%), Best Buy (22%), and Bath & Body Works (18%).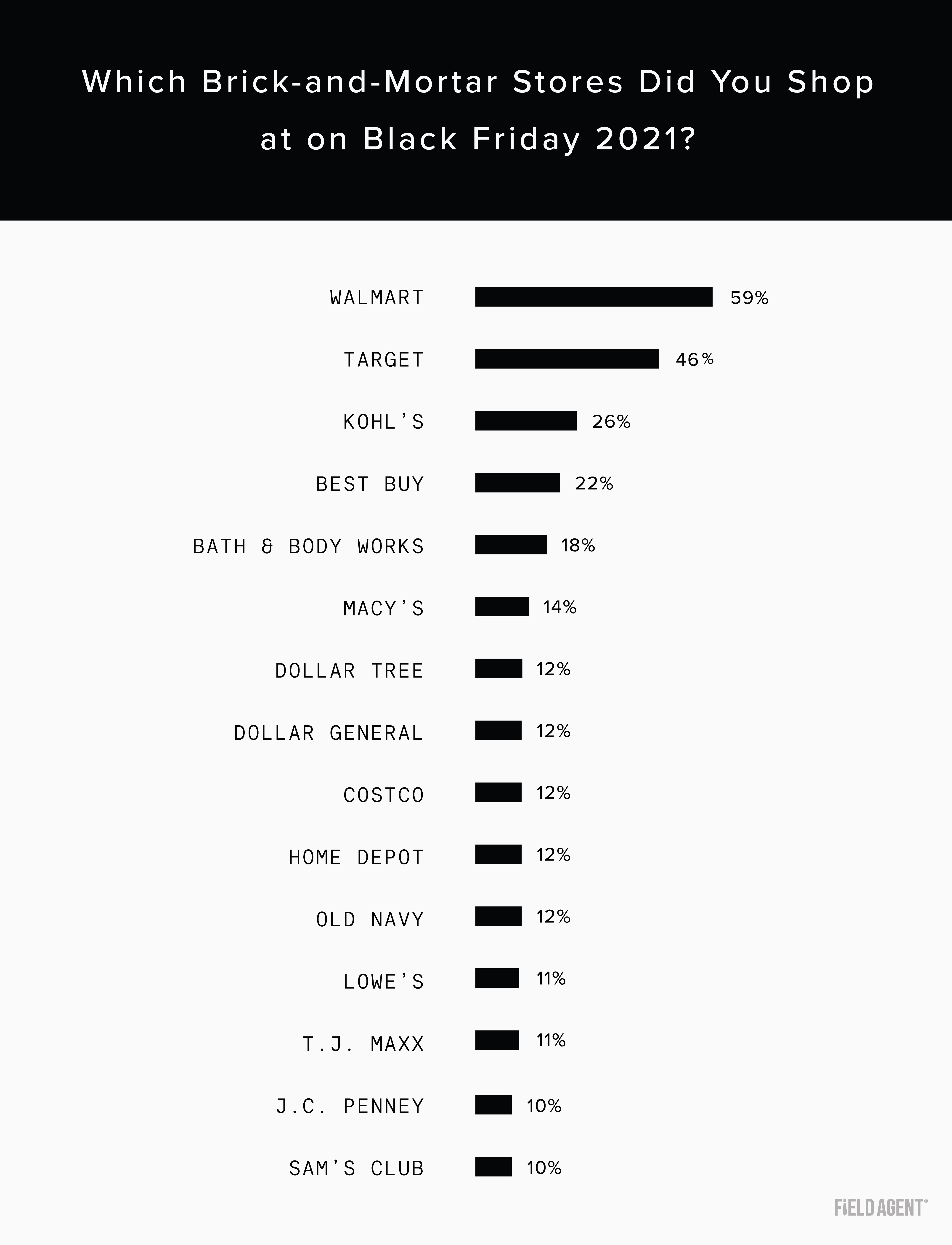 The chart above shows only those chainstores that amassed at least 10%.
Bed, Bath, & Beyond, GameStop, and Dick's Sporting Goods each received 9%, while Barnes & Noble and Apple Store received 7% and 6%, respectively.
Retail Audits. Merchandising. Product Trial. Shopper Insights. The Field Agent on-demand marketplace has the tools to help you win more holiday sales.
3. Where did in-store shoppers spend most of their gift-buying dollars on Black Friday 2021?
But what about spending? We asked these in-store shoppers to identify the one store where they spent most of their gift-buying dollar this Black Friday.
The results resemble those above, as follows:
Walmart - 30% (i.e., 3-in-10 said they spent more money on gifts at Walmart than any other Black Friday, brick-and-mortar retailer)
Target - 17%
Kohl's - 9%
Best Buy - 6%
Costco - 4%
Bath & Body Works - 3%

4. Who offered the better Black Friday shopping experience: Target or Walmart?
Clearly, Walmart and Target performed comparatively well among in-store shoppers this Black Friday.
Which one, however, offered the best shopping experience, including the best Black Friday deals, atmosphere, stock levels, checkout lanes, etc.? We posed this question to 246 shoppers who shopped in-store at both Target and Walmart this year. Of these...
34% said Walmart offered the best in-store Black Friday shopping experience
24% said Target offered the best experience
The remainder cited another retailer.
5. How much of their total gift-buying did shoppers complete inside stores on Black Friday?
Now here's an interesting question, one posed to 815 respondents who shopped in stores on Black Friday 2021. How much of your total gift-buying did you do in stores on Black Friday, we asked.
Among shoppers in our sample, only 6% said they completed all of their 2021 gift-buying inside stores this past Friday, while only 4% said they completed none of it.
Most were in the middle. In fact, 78% reported completing "some" or just "a little" of their gift-buying in stores on Black Friday this year.
Only 18% completed the majority (all or most) of their gift-buying in this way.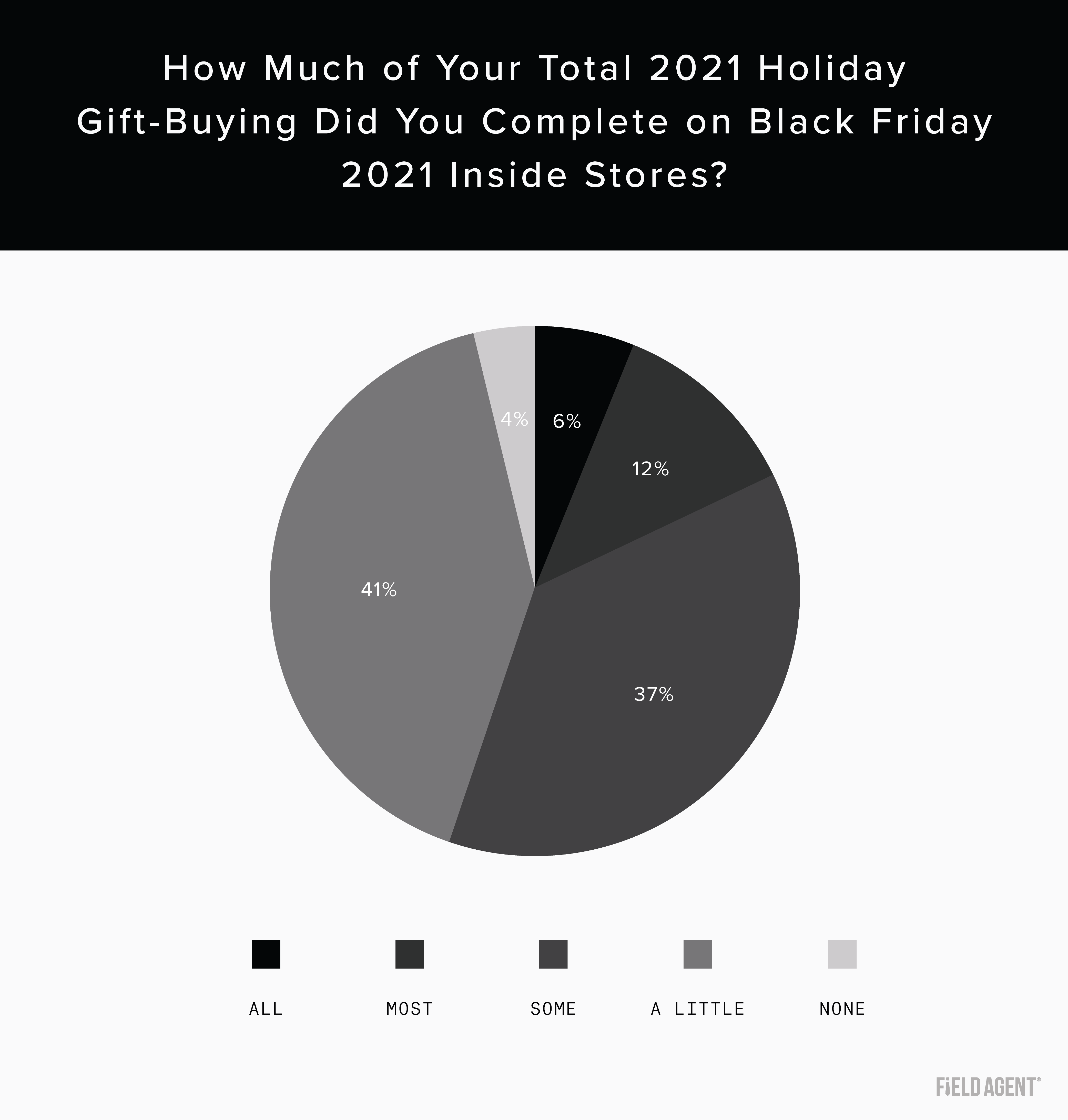 6. Which gift category was most popular with B&M Black Friday shoppers?
Now we turn our attention to the what of Black Friday.
For this, we asked 815 in-store Black Friday shoppers, "Which one product category received MOST of your Black Friday gift-spending?"
As the chart makes clear, at 20%, clothing and footwear were most common, followed by toys/games (17%) and electronics (14%).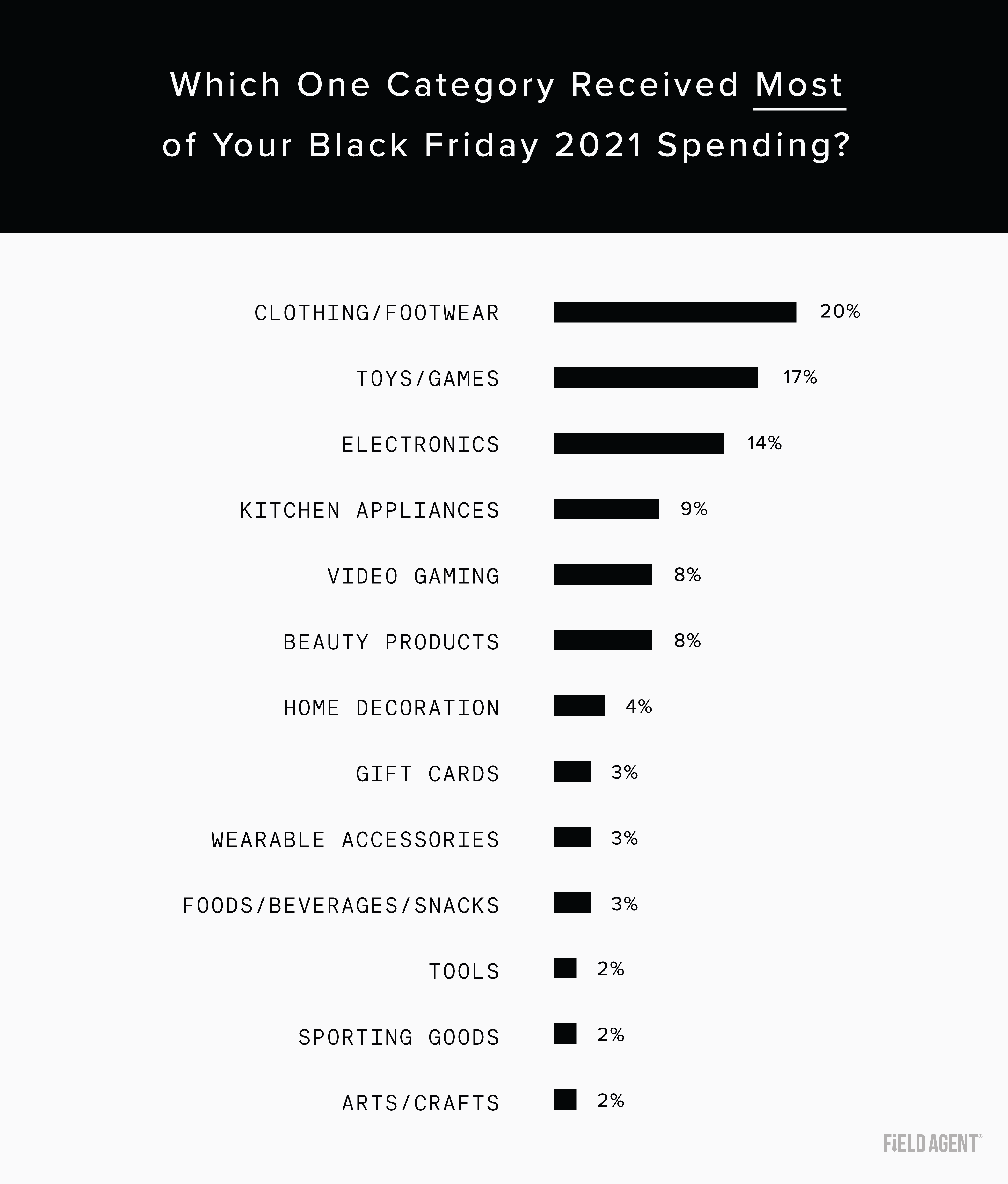 The chart shows only categories that received 2% or more in the survey. Categories receiving at least 1%, however, included non-kitchen household appliances (e.g., vacuum cleaners), pet supplies, furniture, collectible items, camping/outdoor equipment, bikes/scooters/ride-ons.
7. What would shoppers cite as their "single best deal" of Black Friday this year?
We wrapped up the survey with a fun question: "What was the single BEST DEAL you got while shopping for holiday gifts on Black Friday this year?"
Would in-store Black Friday shoppers (n = 815) cite some common deals, we wondered.
Here are the most common brands/categories/retailers mentioned in these free form responses, with each receiving at least 12 mentions:
Video games
Apple
TV
Target
Walmart
Toys
Bath & Body Works
Clothes
Nintendo Switch
Kohl's
Laptop
Some of you, clearly, are on the nice list this year.
Lucky.
The 2021 Holiday Report for CPG Professionals
The holiday shopping season may already be in full-swing, but it's not too late to download Field Agent's free resource, The 2021 Holiday Report for CPG Professionals, and better understand this year's holiday shoppers.
The 36-page report is chock-full of insights, best practices, and useful tools to help professionals of the branded-goods industry make the most of the holiday shopping season - this year and for years to come.