Merchandising Made Simple: New Solutions Hit Field Agent Marketplace
The last 100 feet. From the back room to the shopper's cart.
What a crucial stretch of the marketing channel.
One brands can't afford to bobble.
Are your SKUs merchandised correctly and cleanly on store shelves?

Are shelves haunted by phantom inventory?

Do planograms match the plans your team fought for?

Are your displays properly executed (and taken down before you're penalized)?
The answer to such questions could mean the difference between success and failure for a brand's retail program, and it's why CPG companies often spend vast sums on merchandising.
Traditional merchandising services, however, can be slow, expensive, and complicated.
And that's why the Field Agent Marketplace recently added a variety of merchandising solutions, specifically designed for reliability, speed, affordability, and transparency.
Shall we introduce you?
Meet Our New Merchandising Solutions
Audits. Insights. Reviews. On-Demand Sales. The Field Agent Marketplace was created to be the brand professional's all-in-one toolkit for retail success. And we'll keep adding streamlined solutions until this mission becomes a full-blown reality.
Today, our marketplace is one step closer, with the introduction of several new merchandising products fulfilled entirely by our third-party partners, Customer Impact and Observa.
Now, the Field Agent Marketplace is not only where you go to identify problems at-retail, it's where you go to fix them, too. You might say we've now added "hands and feet" to our "eyes and ears."
With just a few clicks, brands can dispatch merchandisers to be their hands and feet inside stores everywhere—replenishing, removing, and organizing SKUs and point-of-purchase materials to ensure a retail program is at the top of its game. And stays there.
It's auditing and merchandising all in one place. Spot and fix. With the efficiency and affordability you already expect of the Field Agent Marketplace.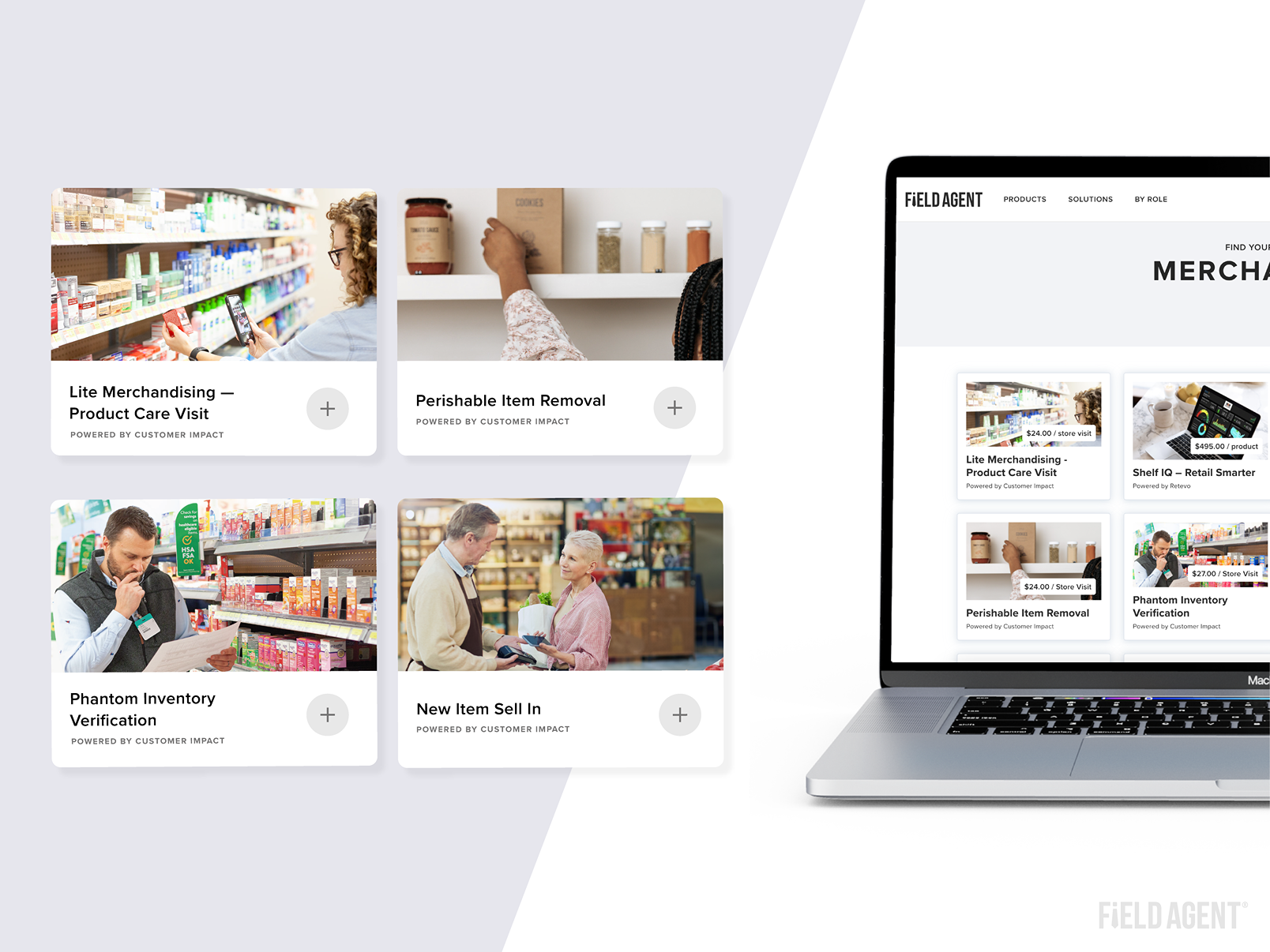 As you can see below, each new merchandising solution—from new item sell-ins to promotional material removal—meets a specific, everyday need for brands.
We've worked hand-in-hand with our third-party partners to provide simple solutions to otherwise complex merchandising problems.
Ready to experience for yourself? Just click below to explore our full line of merchandising products.
And stay tuned, because we're adding more tools all the time.