Case Study: Brand Gets Instant In-Store Visibility with Mobile Audits
My Brother's Salsa, maker of premium, carefully sourced salsas and chips, had some burning questions about in-store conditions and the retail execution of its products.
According to CEO and owner Ashley Pointer, the CPG brand wondered whether its products were…
Correctly priced on store shelves
Competitively priced relative to other salsas
Marked with the appropriate shelf tags
On shelf and in stock
It's a challenge "checking to make sure promotions are actually being executed at the store-level," Pointer said.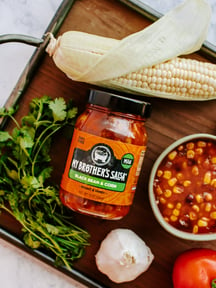 So the CEO turned to Field Agent and its Mobile Audit solution to obtain, as she put it, a "clear line of sight" into 200 stores across nine grocery chains.
What Pointer discovered from the audit was, in some cases, both surprising and alarming.
The resulting photos and information gave her not only an accurate picture of retail conditions, but also evidence to approach her buyers/distributors with confidence and to get problems resolved quickly.
"We were saying [to the distributor], 'No there's a bigger problem and here are the photos'," Pointer said. "You can't argue with the proof."
Watch Pointer's story in the video below, and download the free Mobile Audit case study, "My Brother's Salsa Gets the Scoop on Retail Conditions," to go inside the brand's audit experience.
Free Case Study: Mobile Audits
The free case study, "My Brother's Salsa Gets the Scoop on Retail Conditions," describes in detail how Mobile Audits helped one CPG brand identify and fix problems inside stores. Claim your free copy now.