Fast or Fresh? Customers Surveyed about McDonald's New Strategy
You can't always have your cake cheeseburger and eat it, too.
Especially in fast food—either you'll have to wait for fresh food or sacrifice freshness for fast service.
So when McDonald's announced it would start serving "fresh, never-frozen" beef in its signature Quarter Pounder burger, some pointed out wait times would likely increase by one minute.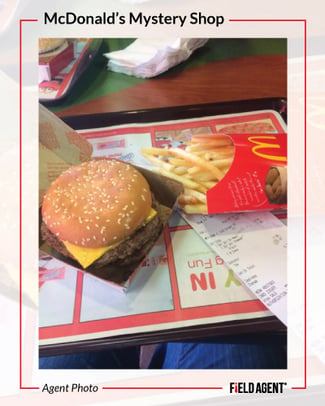 See Also: Download our "Hard Choices 2017" report to explore consumers' attitudes toward FAST FOOD
Which raises the question: Fresh or fast?
How will customers ultimately side, if forced to make a trade-off between the two?
And not just U.S. consumers. With restaurants in more than 100 countries, what do fast food customers in other countries think about the prospect of never-frozen McDonald's hamburgers—as well as the possibility of a longer wait time?
North American Survey: Customer Attitudes toward McDonald's "Fresh, Never-Frozen" Strategy
Mobile solutions firm Field Agent recently surveyed over 1,000 consumers across the United States, Canada, and Mexico. Our immediate aim was to understand what customers in all three markets make of the burger giant's new "fresh" strategy.
The results from this three-country survey are presented below as a slideshow for you to view, download, and share.
With operations in seven countries and counting, Field Agent offers fast, affordable access to shoppers and stores around the world. Read more about Field Agent's global capabilities.
Where's the Beef? Lessons from the Survey
Regardless of country, consumers appear to like the idea of "fresh, never-frozen" McDonald's hamburgers.
Are they willing to wait longer—if it comes to that? Yes.
Are they willing to pay a little more? Yes.
How consumers actually respond to the strategy change is yet to be determined, but, in the meantime, the results from this survey should potentially alleviate some fears among McDonald's franchisees.
Shoppers Dish on 180 Casual Dining Restaurants
What do shoppers think about some of the nation's most popular casual dining chains?
Field Agent mystery shopped 180 restaurants to find out. Shorter and more affordable than traditional mystery shops, mobile mystery shopping crowdsources customers' smartphones to collect insights and gauge attitudes from patrons—while they're actually inside restaurants.
Download our free report to view the results from our casual dining study and to learn more about the capabilities of Mobile Mystery Shopping.