Gift Wishes 2017: What Women REALLY Want for Christmas
It might be easy to overlook that gift purchases don't actually begin as gift purchases.
They often begin as gift wishes.
Some wishes are delicately hinted-at; others are openly and shamelessly declared. Yet, regardless of their delivery, it's helpful to remember: Gift wishes beget gift purchases.
In this way, gift wishes provide a leading indicator of which products and retailers are prime for a successful holiday season.
See Also: Is your brand really ready for holiday shoppers? [Checklist]
What Do Women Want for Christmas 2017?
Which is why Field Agent asked over 1,000 women what, more than anything else, they want for Christmas this year. We asked men the same question.
Some of their wishes were more general than others, which is why we compiled their responses at both general and specific levels.
At the more granular, brand-specific level, women asked for (in descending order): Macbook Pro Laptops, Apple Watches, KitchenAid Mixers, Samsung Galaxy S8 Phones, and iPads.
But the majority of women didn't mention brands at all. Instead, they phrased their wishes generally.
We share these wishes below.
(Husbands, take note.)
This information originally appeared in our popular 2017 holiday insights report, "An Old-Fashioned, Omnichannel Christmas." Download your free copy today.
See Also: What MEN Really Want for Christmas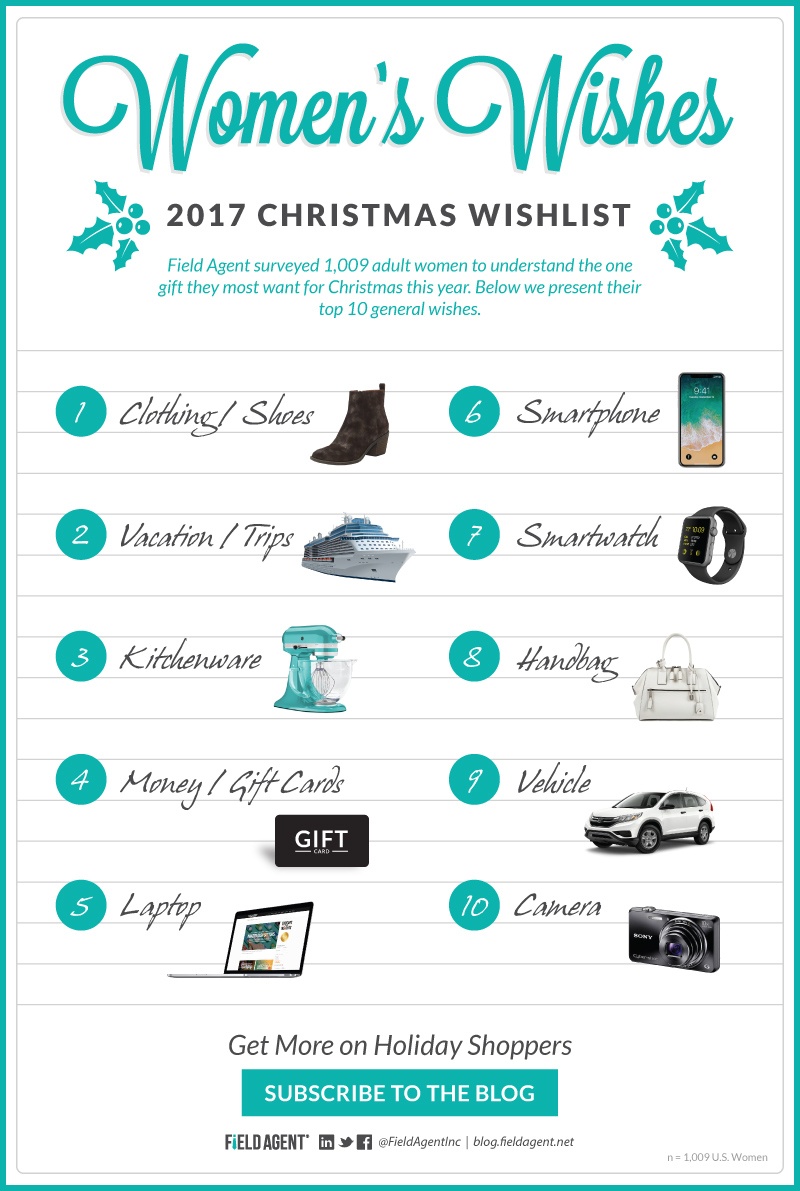 Free Download: 2017 Holiday Insights Report
Field Agent's 2017 holiday insights report, An Old-Fashioned, Omnichannel Christmas, combines more than 12,000 survey responses to offer business professionals a unique and authoritative glimpse into America's holiday shopping plans.
The report addresses shoppers' gift-buying intentions, spending plans, and preferred retail destinations, while also exploring many questions about the increasingly digital nature of holiday shopping:
What gifts do shoppers plan to buy online...and where?
What role will in-store pickup, showrooming, and webrooming play?
How do shoppers intend to use mobile apps this holiday season?
From Christmastime alcohol consumption to pet gifts, this free, professionally designed report has something for everyone. Download your copy today!