SPECIAL REPORT: The BIG Guide to Holiday Shoppers 2016
Companies far and wide are already feverishly preparing for holiday shoppers.
[Pause and take a deep breath.]
Mobile solutions firm Field Agent is proud to present an essential, one-of-a-kind resource to help brands and retailers make ready for the 2016 holiday shopping season.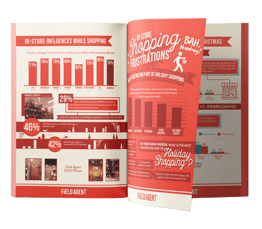 Based on surveys with almost 3,000 shoppers across seven countries, Field Agent's Big Honkin', Tree Toppin', Globe Trottin' GUIDE TO HOLIDAY SHOPPERS 2016 is packed with pivotal insights into the attitudes and behaviors of holiday shoppers around the world.
This free report, Field Agent's largest to date, explores a variety of topics, including:
Top retail destinations for holiday gifts, groceries, and online purchases
Most common gift wishes among men and women, boys and girls
Product categories poised for a strong holiday season
Roles of online shopping and digital, omnichannel services in holiday shopping
The report casts a wide net, offering timely insights into multiple product categories:
Electronics
Toys
Alcoholic Beverages

Batteries
Salty Snacks
Clothing & Fragrances

Fast Food
Pet Supplies
Entertainment
As a bonus, the Guide to Holiday Shoppers 2016 includes The Brand Manager's Guide to Q4 Retail Execution, which describes concrete solutions to six in-store challenges faced by many CPG companies.
Make it a holiday season to remember. Download the guide today.