How Important are Online Ratings & Reviews to YOUR Product Category?
A whopping 94% of Americans surveyed read online ratings and reviews (R&Rs) prior to making purchases. 94%! This according to a recent Field Agent survey.
"I use reviews for nearly everything," one respondent said. "In fact, if I can't find a review for something, I may not even consider it."
For brands concerned with winning sales online and even in stores, R&Rs are clearly no longer just nice to have. They're must-haves.
While R&Rs are important to one degree or another for most consumer-facing goods, from air fresheners to automobiles, it seems R&Rs help shoppers make some purchases more than others.
Which leads to a pressing question: Just how important are online R&Rs to your product category?
Let's answer this and some other questions about R&Rs.
Ratings & Reviews: By the Numbers, By Category
The insights below are based on a Field Agent mobile survey of 1,250 U.S. adults* conducted January 21, 2020.
*All respondents were smartphone owners and U.S. adults at least 18 years of age. The survey was administered entirely through the Field Agent mobile app, January 21, 2020. Demos: Gender - Female (69%), Male (31%); Age – 18-34 (32%), 35-44 (38%), 45-54 (22%), 55+ (9%); Race – Caucasian (70%), African American (11%), Latino/Hispanic (7%), Other (12%); Household Income - <$35K (25%), $35-49K (20%), $50-74K (23%), $75-99K (16%), $100K+ (16%).
Free Booklet: 10 Reasons to Up Your Ratings & Reviews Game
1. By category, how important are R&Rs to ONLINE purchases?
To understand this question, Field Agent presented nine different product categories to respondents and asked, "For the following category, how often do you read online ratings and/or reviews prior to making ONLINE purchases?" Choice options included always, often, sometimes, rarely, and never.
In all, 93% of survey respondents (N = 1,250) said they at least sometimes look at online R&Rs prior to online purchases of one or more of the nine categories below.
The chart below reflects only the results of respondents who read R&Rs (n = 1,175) and, for any given category, make online purchases. For example, only respondents who read R&Rs and purchase baby supplies online are included in the baby supplies figure.
Clearly, online R&R activity is high for electronics and even health/beauty supplies, while relatively lower for groceries and household consumables (e.g., cleaning supplies, toilet paper).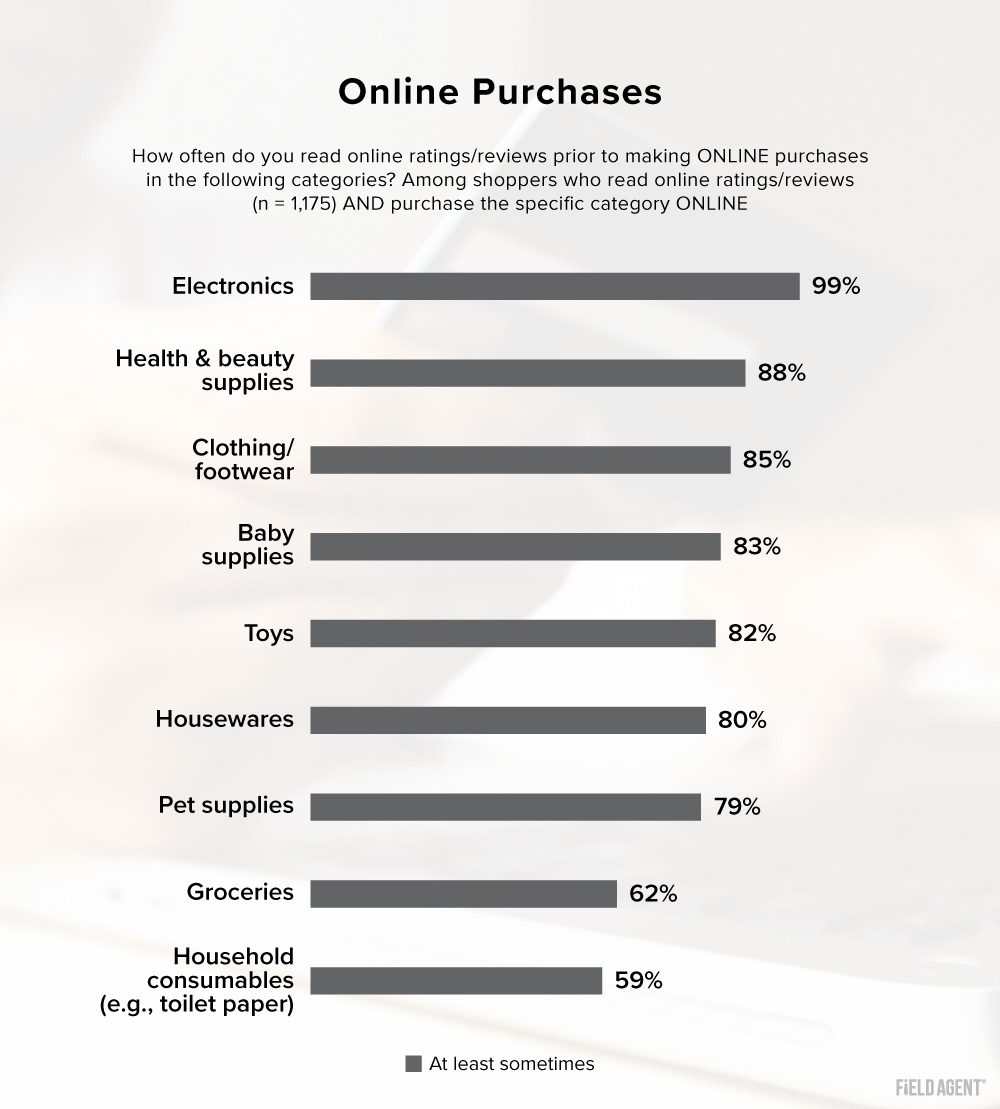 2. How important are R&Rs to IN-STORE purchases, on a category-by-category basis?
But what about in-store purchases? Do shoppers turn to online R&Rs prior to making purchases through brick-and-mortar retailers?
For the full sample of 1,250 shoppers, 89% indicated they at least sometimes read R&Rs before in-store purchases of one or more of the nine categories below.
Thus, as expected, survey results suggest R&Rs are a little less influential over in-store purchases, compared to online purchases. But, clearly, online R&R activity is still high...even for purchases through brick-and-mortar retailers.
But how do the categories stack up?
As you can see below, more than half of respondents who read R&Rs (n = 1,175), and make in-store purchases of a given category below, said they reference ratings and reviews at least sometimes when making in-store purchases of electronics, health/beauty supplies, baby supplies, housewares, toys, attire, and pet supplies.
Online or in-store, R&Rs exert a powerful influence on product sales.
Across categories.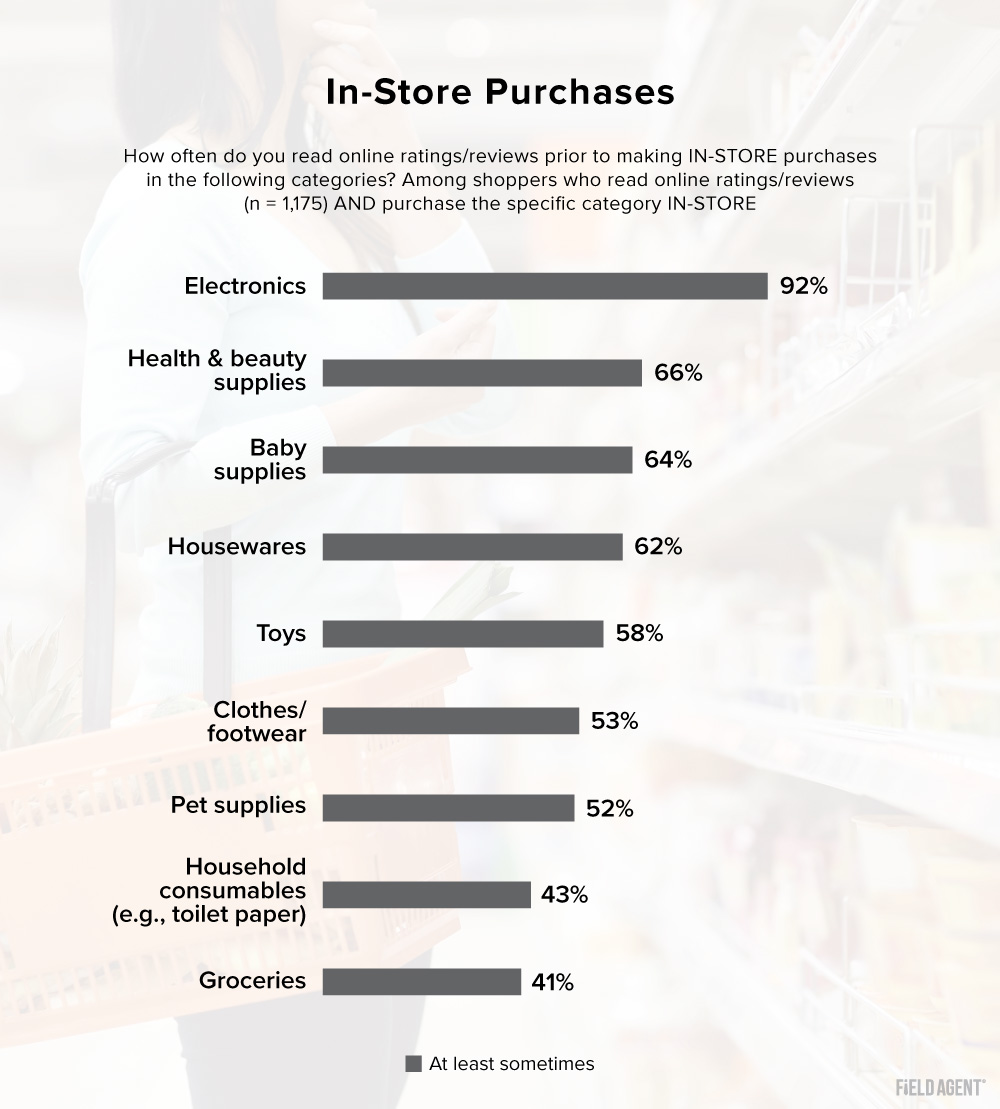 3. How important are R&Rs to sub-categories like cosmetics and gluten-free foods?
It's also telling to drill down into categories and observe the influence of R&Rs. For instance, of shoppers in our survey who read online R&Rs and purchase cosmetics online and/or in-store (n = 770), 81% said they at least sometimes read R&Rs prior to buying makeup.
Here are the results on some other sub-categories:
Gluten-free foods (n = 260): 68% read online R&Rs prior to purchasing
Perfumes/colognes (n = 581): 68%
Baby food (n = 266): 67%
Art supplies (n = 495): 63%
Dog/cat food (n = 700): 62%
Across categories and sub-categories, R&Rs are evidently an important stop along the path to purchase.
4. What are the most popular destinations for R&Rs, by product category?
We also asked respondents to tell us where they read R&Rs online, prior to purchasing the nine categories already cited.
As the table shows, retailer sites like Amazon.com and Walmart.com are easily the most popular destination for online R&Rs. Yet a meaningful number of shoppers also visit brand sites, third-party reviewers, and video platforms.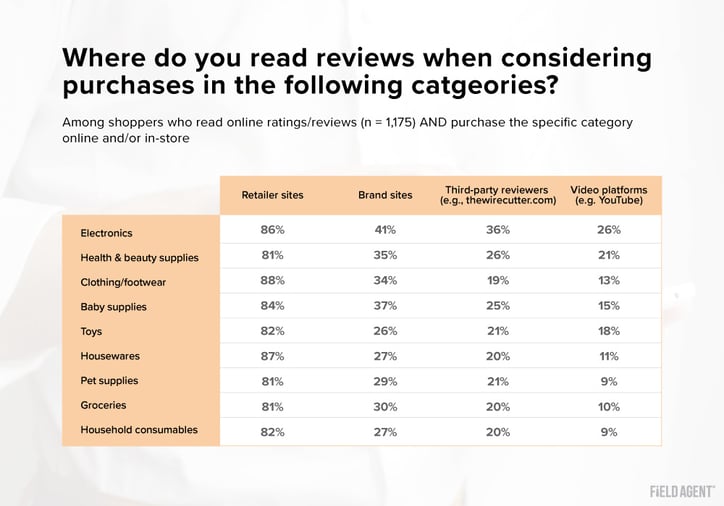 5. What makes some online reviews better than others?
But what makes a review a good review in the minds of shoppers? That is, when do shoppers find online reviews most influential over their purchase decisions?
Field Agent asked 1,175 respondents (only those who read online reviews) to suggest three words describing effective online reviews from the shopper's all-important perspective. We ultimately collected over 3,000 adjectives.
Responses congregated primarily around three distinct themes: honesty, detail, and helpfulness. Effective online reviews, those that move shoppers closer to purchases, are...
Honest/reliable/trustworthy/unbiased - 360 mentions
Descriptive/detailed/specific/thorough - 327 mentions
Helpful/useful - 207 mentions
But how do companies generate honest, detailed, helpful reviews online? That's the question.
Field Agent is now working with brands to help them up their R&R game online. And there are many reasons, more than you might expect, why today's companies are taking a more intentional approach to online R&Rs.
The free booklet below describes just some of these reasons.
Free Booklet: 10 Reasons to Up Your R&R Game
Download our free booklet, "10 Reasons to Up Your Ratings & Reviews Game," to learn why you should take control of your online R&Rs.