Display Gallery: Super Bowl LIV's High-Scoring Grocery Displays
The Super Bowl means Super Business for brands that sell soda, chips, beer, pizza, and other party foods, and these companies pull out all the stops to attract the attention of hungry football fans as they traverse through stores.
That's why Super Bowl grocery displays are some of the most innovative and extravagant displays of the year.
Instead of just sitting on the sidelines, we recently asked hundreds of agents to blitz stores in search of Super Bowl LIV displays.
Want to see what they found? Just keep scrolling.
If you like product displays as much as we do, you'll love Field Agent's free, interactive Seasonal Display Gallery. Get access today!
Display Gallery: Super Bowl 2020
This weekend, Field Agent conducted display audits of 200 stores across 49 different retailers, looking for Super Bowl-themed grocery displays.
Soon, these photos (and many, many more!) will be available on our free, interactive display gallery. The gallery already contains hundreds of photos from seasons such as Back to School, Halloween, Thanksgiving, and Christmas.
In the meantime, here are some of the most visually-striking displays of Super Bowl LIV.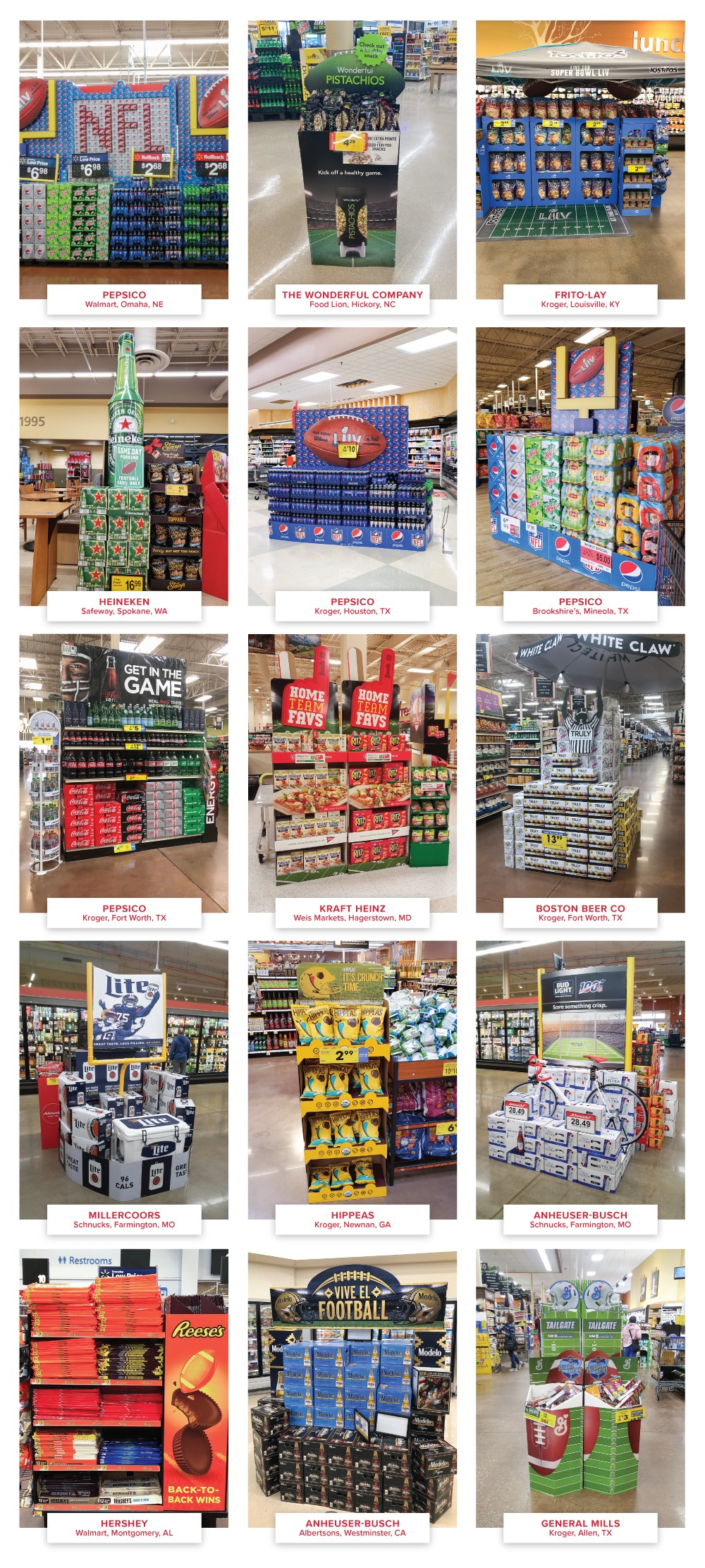 Ready to see more seasonal grocery displays? Sign up for Field Agent's free Seasonal Display Gallery (see below).
Retail Solutions for Any Challenge
Get visibility in-store, gather relevant insights, drive trial of your products, merchandise shelves, and more. You can even create
custom campaigns.
Explore the Field Agent Marketplace today.
The Seasonal Display Gallery
If you like product displays, then you'll love our Seasonal Display Gallery. This free resource helps retail professionals keep a watchful eye on seasonal, grocery displays inside stores across the country.
Click below to see it for yourself!