How Impulse Purchases Differ Around the Globe [Survey]
Guess how much an average shopper spends on impulse purchases in his or her life.
Really, take a guess.
Hint: It's enough to make a substantial impact on many retailers and brands.
One survey of 2,000 Brits revealed that, on average, shoppers in that country impulse buy (i.e., purchase items not on their shopping lists) some £70,217 during their lifetimes.
In U.S. dollars, that's over $100,000 in expendable purchases.
This figure suggests impulse buys, from packs of gum to cashmere sweaters, are a boon for retailers and brands around the world.
An International Impulse
Field Agent recently conducted a global survey of over 2,000 shoppers. With operations in 7 countries, encompassing more than 800,000 agents, we wanted to understand the propensity of shoppers around the world for making impulse buys during the checkout process.
See also: 7 Reasons Retail Shoppers Aren't Buying Your Products
As the table suggests, we presented respondents with four categories and asked the likelihood they'd purchase the product on impulse.
24% of shoppers across 7 countries say they'd be "very likely" to purchase snack foods while in the checkout queue, with South Africans (44%) and Mexicans (35%) showing the greatest likelihood.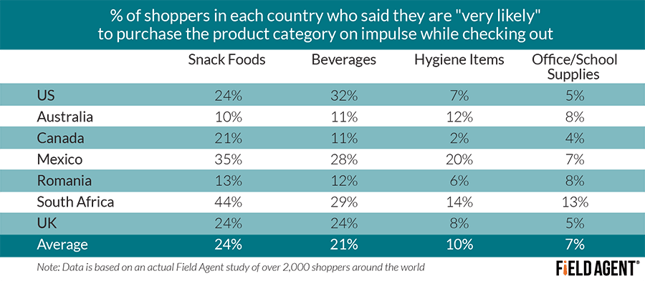 Key takeaways:
20% of Mexicans say they'd be very likely to impulse buy hygiene items, compared to only 2% of Canadians
More Americans said they're very likely to purchase beverages on impulse (32%) than snack foods (24%)
Overall, 52% of global respondents said they're "not at all likely" to impulse buy office/school supplies. Compare this to hygiene items (42%), beverages (18%), and snack foods (15%)
Despite differences from one country to the next, impulse purchases are truly a global phenomenon. And with shoppers around the world doling out so much to unplanned purchases, this is one consumer "impulse" companies should take very seriously.
Retail Solutions for Any Challenge
Get visibility in-store, gather relevant insights, drive trial of your products, merchandise shelves, and more. You can even create
custom campaigns.
Explore the Field Agent Marketplace today.
The Glo-bile Difference
Field Agent presently operates in 7 countries around the world (and growing) to provide businesses with far-reaching, seamless auditing and research services.
Download the case study, "Take Your Mobile Global," to witness how companies benefit from mobile solutions with worldwide reach.