V-Commerce: Insights on Shopping via SMART SPEAKER [Survey]
Note: This is a follow-up to a Field Agent article, "Shopping with Alexa," published in March 2017 and available in our special report, "Shopping on the Cutting-Edge."
Smart speakers have become a common sight.
Many homes now contain at least one of these Jetsonian, voice-command devices, whether it's an Amazon Echo, Google Home, or a lesser-known model.
And this development has certainly not been lost on retailers and brands. Companies ranging from Walmart to Domino's, P&G to Mondelez are presently grappling for superior positioning vis-à-vis this, some would argue, emerging channel.
But for all the hoopla, just how common is shopping via smart speaker—I mean, really?
Has v-commerce, as in voice-command commerce, reached a critical mass yet?
Survey of Smart Speaker Owners
To answer this question and others, Field Agent recently surveyed 520 bona fide, U.S.-based smart speaker owners. To verify smart-speaker ownership, each participant was required to submit a photo of his or her in-home smart speaker, as the sample photos demonstrate.
Amazon Echo dominated the survey. Some 74% of respondents owned an Echo in one form or another (Dot: 40%, standard Echo: 27%, Show: 3%, Plus: 2%, Tap: 1%, Spot: 1%), while 22% reported ownership of a Google Home (Mini: 14%, standard: 8%). All other brands fought for the leftovers—a meager 4%.

With operations in eight countries and growing, Field Agent also took the occasion to survey 2,735 shoppers across four major international markets about their smart-speaker ownership and usage.
Below we present several timely insights about shopping via smart speaker.
The Facts about Shopping via Smart Speaker
1. 3-of-10 owners make purchases through their smart speakers
Of 520 U.S.-based owners, only 29% said they actually make purchases through their smart speakers.
Still, as you can see from the graph, the proportion of U.S. smart speaker owners making purchases is probably higher than other major markets.
In our survey of shoppers across Australia, Canada, Germany, and the United Kingdom, no market demonstrated an ownership-to-purchase ratio greater than 20%.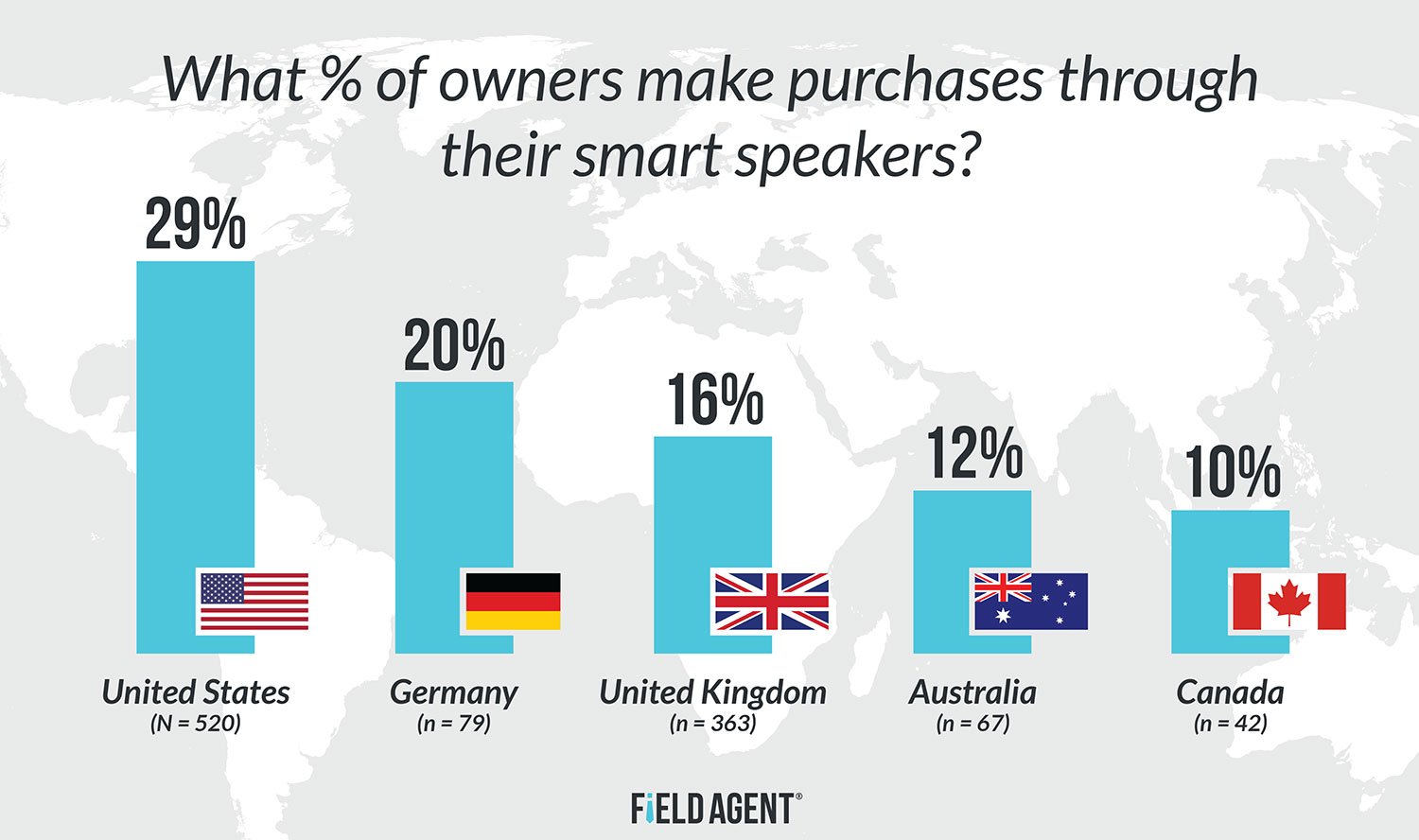 2. Household supplies are the top non-music purchase through smart speakers
Not surprisingly, among U.S.-based owners who make purchases through their smart speakers (n = 149), music is easily the top purchase.
But besides digital music, it's trash bags, toilet paper, detergent, and other non-durable, household supplies (35%) that smart speaker owners are most prone to purchase by voice command.
This is understandable, since household supplies aren't exactly "shopping" goods. They require little to no price comparison or brand consideration, and they can be easily reordered through a smart speaker.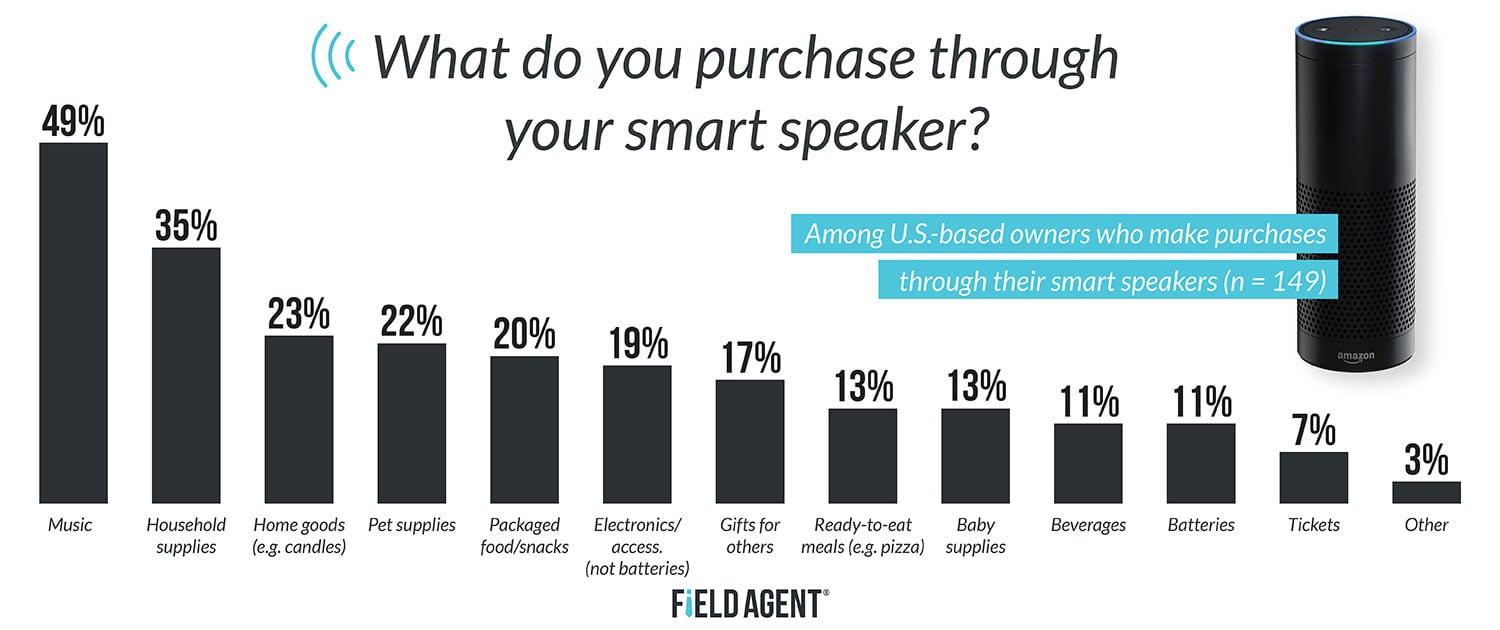 3. Amazon is the go-to retailer for purchases by smart speaker
With its Echo devices, Amazon effectively created the shopping-by-smart-speaker channel. It's therefore not unexpected that Amazon would be the most popular retailer for making purchases through a smart speaker.
Of U.S.-based owners who make purchases via their smart speakers (n = 149), a heaping 81% reported making such purchases through Amazon. That's 65 points ahead of second place Walmart (16%) and its alliance with Google Home. Of course, it should again be stressed that the sample consisted predominantly of Echo owners, perhaps reflecting smart speaker ownership in general.
Domino's (15%) and Best Buy (9%) fared relatively well in the survey, in third and fourth places respectively.
4. Difficulty comparing prices is a major drag on shopping via smart-speaker
Then there are those who own a smart speaker but don't make purchases through it (n = 371).
Well, why not?
As is common with most emerging retail channels, non-use is the major reason for non-use.
In this case, 50% say they simply haven't tried purchasing anything via smart speaker before, and another 42% say they're satisfied with their current shopping methods.
"Why fix what ain't broke?"
But such objections have a way of dissipating over time. Other objections have to be dealt with...
For instance, 39% of respondents said they don't shop through their smart speakers because they can't easily compare prices, while 35% simply want to view products before purchasing them.
Likewise, 23% say they're concerned about unauthorized purchases by kids or others, and another 21% have security concerns about shopping by smart speaker (e.g., safeguarding financial information).
5. Only 8% actually "shop" on their smart speaker
Of course, purchases via smart speaker assume different forms—namely, (1) shopping purchases and (2) reorders/refills. The former feasibly require more effort on the shopper's part: comparing prices, considering brands, researching reviews, etc. Conversely, reorders/refills are simply repeats of previous purchases.
In our survey, 14% said they use their smart speakers to reorder/refill past purchases (i.e., already in their purchase history) and 8% reported shopping for products not previously bought online.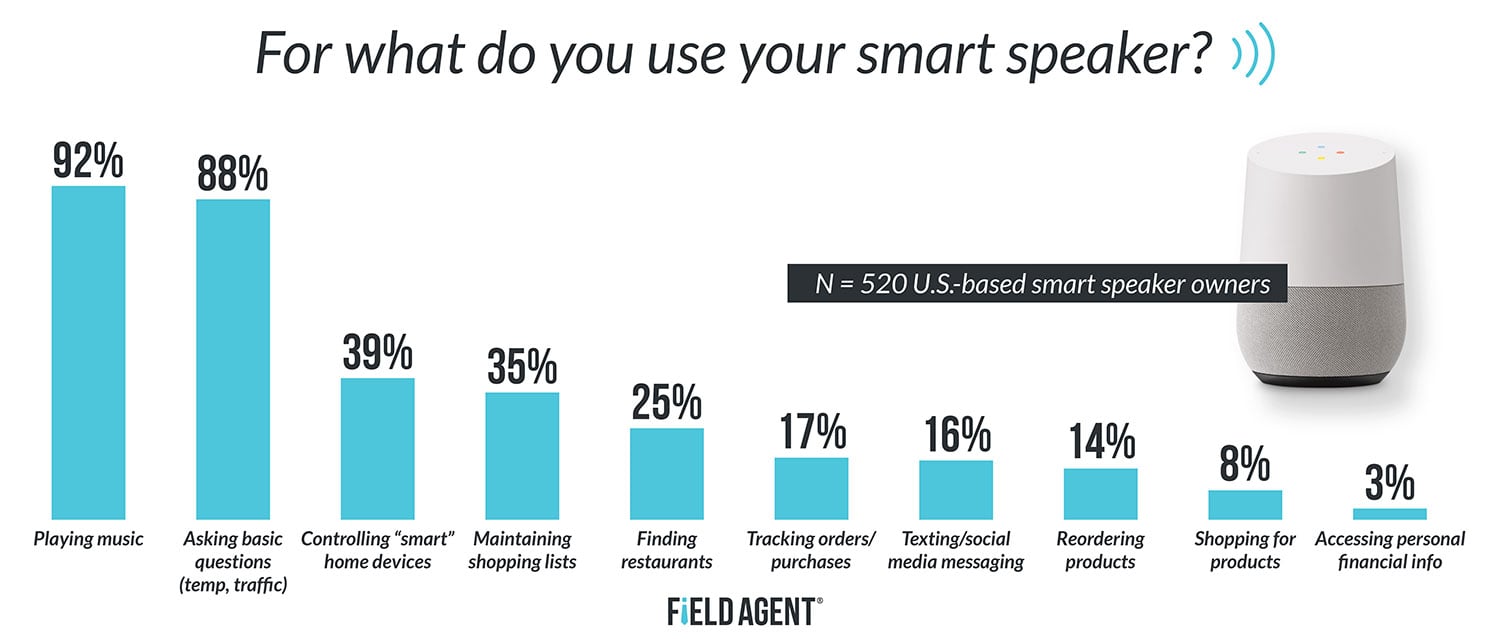 6. For those who do it, most say shopping via smart speaker is easy
So we asked this small but important subset of shoppers (n = 44) whether it's generally easy or difficult to shop through their smart speakers (i.e., for products not already in their online purchase history). Sixty-eight percent agreed it's relatively easy to do so, while only 11% say it's difficult.
7. Certainty and simplicity determine what owners shop for on their smart speakers
We asked this same subset (n = 44) to tell us under what circumstances they shop for products by voice command.
Sixty-four percent said they shop via smart speaker when they know exactly what they want, while 57% said they do so when they're shopping for really simple items.
Another prominent contextual factor: sales and discounts. Fifty-seven percent reported shopping via smart speaker when there's a price promotion to take advantage of.
8. CPG brands haven't yet gained traction
The smart speaker is also a chance for CPG brands, it seems, to interact with customers and potential customers. After all, many popular household brands, from Betty Crocker to LEGO, have developed skills or apps to communicate with customers and promote their products.
Are they gaining traction with smart speaker owners?
Not especially. Not yet.
Of 520 owners, 90% said they've never interacted with a CPG brand via their smart speaker.
Tide was the most commonly cited "branded" skill/app used by smart speaker owners. Six percent said they've interacted with the detergent brand through their devices, with Glad trash bags (5%), Campbell's soup (2%), Quaker Oats (2%), and Ritz Crackers rounding out the top five.
In Conclusion: Shopping via Smart Speaker
Most will probably interpret these results in one of two ways:
Smart speakers are not currently a prevalent means by which shoppers make purchases…and they won't be any time soon. The real potential of the smart speaker, as a retail channel, has been exaggerated.
Smart speakers are not currently a prevalent means by which shoppers make purchases…but, like many product diffusions and retail innovations, it simply takes time to change shopping routines. The real potential of the smart speaker, as a retail channel, has not yet been realized.
Which is right? Time will tell, of course.
But whichever view you subscribe to, shopping via smart speaker has a ways to go.
Special Report: The Digital Shopper
Based on studies with thousands of shoppers, Field Agent's special report, "The Digital Shopper: Insights into Today's Most 'Connected' Customers," offers companies an inside, shopper-centered look at online retail. Special features include:
The digital shopper's journey: before, during, and after shopping for groceries online
Shoppers try and rate Instacart delivery
The product detail page: a shopper-guided tour
Shoppers compare PDPs on Walmart.com VS Amazon.com
Shoppers try and rate Amazon Lockers at Whole Foods Market
Best of all, the report is free.