Makeup Roundup 2017: The What & Where of Cosmetic Shopping [Survey]
The cosmetics industry is known for exotic colors with exotic names: Pink Passion, Desert Dusk, and Dusty Rose, just to name a few.
But it's good, old-fashioned green the industry knows best.
After all, according to one survey, the average U.S. woman applies $8 worth of beauty products to her face every. single. day. That comes to an astonishing $300,000 over a lifetime.
With this much green up for grabs, it's clearly a good idea to keep track of which retailers and beauty brands are winning shoppers' cosmetic dollars.
Women Surveyed: Preferred Makeup Brands & Retailers
Last week, Field Agent surveyed 2,433 U.S. women about their attitudes and behaviors toward beauty purchases—with cosmetics a particular focus.
The complete results are available in our report, "The Model Shopper: Insights into Americans' Clothing, Footwear, & Beauty Purchases."
Below we offer several insights into women's makeup purchases as a QuickFire Q&A.
QuickFire Q&A: The What & Where of Makeup Shopping
1. What are the top cosmetic brands among women?

CoverGirl and Maybelline made the strongest showings in this mobile survey of 2,433 women. Altogether, 52% of female respondents said they use CoverGirl brand makeup, while Maybelline came in just one-point shy at 51%.
Our free 2017 style and beauty report offers the full results—brand-by-brand. We also detail which cosmetic brands enjoy the strongest loyalty among women. Download the report below.
2. Where do women purchase their cosmetics and facial skincare?
At 78%, mass merchandisers were the clear winner in our survey. Drug stores (59%) placed second, with specialty beauty retailers (46%) like Ulta and Sephora following in third place.
3. Which specific retailers are top destinations for makeup purchases?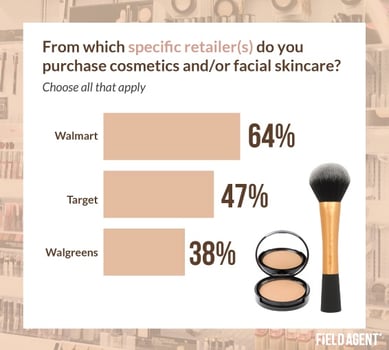 Walmart (64%) fared best in our survey, followed by rivals Target (48%) and Walgreens (38%). At 35% and 27% respectively, specialty beauty retailers Ulta and Sephora also made strong showings in our survey.
4. How many women purchase cosmetics online?
Field Agent presented female respondents a list of 10 beauty and personal care items. We asked, "Which have you ever purchased online?"
Almost half of women (48%) said, at one time or another, they bought makeup online, a higher percentage than facial skincare (41%) or any other choice option.
5. How popular is Amazon.com for makeup purchases?
In Field Agent's mobile survey, 21% of women said they purchase makeup and facial skincare from Amazon.
That's good enough for seventh place in our survey, but well behind the likes of Walmart, Target, and Walgreens. We address potential reasons for this in our complete 2017 style and beauty report.
Get More Insight on Makeup Shoppers!
Sign up for your free copy of Field Agent's 2017 style and beauty report, "The Model Shopper." Based on surveys with more than 5,000 shoppers, the special report explores women's:
Preferred makeup brands and retailers
Usage of beauty subscription services like Ipsy and Birchbox
Attitudes toward shopping for cosmetics online
The report examines several topics within the larger clothing, footwear, and beauty industries. You might say...insights never looked so good!