Private Label Nation? Survey Reveals Shopper Attitudes on Store Brands
Once upon a time, private label brands—or generic brands, as they were often called—were considered inferior knockoffs of name brand goods. They were perceived as "cheap," not "valuable."
(Yeah, I know, it's getting harder to remember those days.)
But private label brands are enjoying an image-makeover of sorts with shoppers—and have been for some time. Just last week, Field Agent asked over 2,000 U.S. adults whether they agreed with the statement, "Private label brands are inferior to name brands in quality."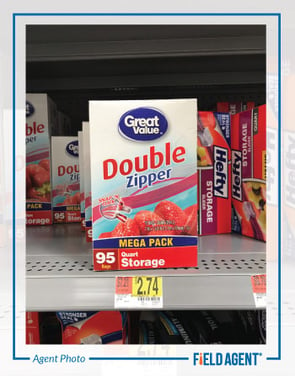 Almost half (47%) disagreed with the statement, compared to 30% who agreed.
It seems, then, that many Americans have promoted private label, store brands from generic "knockoff" status to, in some cases, name brand equivalency.
And with the rise of retailers like Aldi and Lidl, and online brands like Jet.com's Uniquely J, such questions about private label goods are hardly academic.
Such questions have become imperative.
So let's ask (and answer) some more.
QuickFire Q&A: Private Label Brands
Last Thursday night, Field Agent surveyed 2,048 U.S. adults* about their private label purchases and attitudes.
*Female (67%)/Male (33%); Age: 18-24 (5%), 25-34 (27%), 35-44 (33%), 45-54 (24%), 55-64 (10%), 65+ (1%); Income: < $35K (22%), $35K-$75K (49%), > $75K (28%)
Below we offer the results as a six-question QuickFire Q&A.
1. Which retailers are popular destinations for private label goods?
While Aldi and Lidl sell primarily their own store brands, other retailers—Walmart, Target, and Kroger, for example—carry a much higher proportion of name brands. Within this latter category, which retailers are really moving their private label goods?
With store brands such as Great Value, Equate, and Sam's Choice, Walmart was the most popular retailer in our survey for purchasing private labels. Indeed, 84% of Walmart customers said they buy store brands at least occasionally when shopping at Walmart.
Kroger was only one point behind—right on Walmart's heels. Eighty-three percent of Kroger customers said they purchase store brands from the grocery chain.
See how other retailers fared below.
Note: The percentages below reflect only the specified retailer's customers.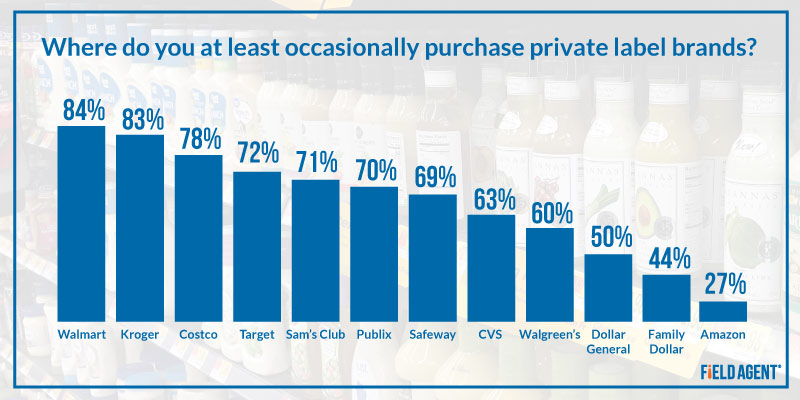 2. Which private label brands are most trusted?
Field Agent presented respondents a list of 13 store brands and asked them to identify the one they trust most. They were also allowed to write-in options.
At 25%, Walmart's Great Value was the most trusted brand in our survey. Kirkland Signature (17%), Up & Up (8%), Equate (8%), and Member's Mark (7%) rounded out the top five.
We also asked respondents to tell us why they trust their designated private brand, this time as a free form question. Here are some of the top themes from their responses, along with representative quotes:
It's simply the brand sold at my favorite retailer - "It is from Costco and I trust Costco."
It's a good value - "I find the Great Value brand in foods is...a much better value!"
It's comparable in quality - "I have found that the quality of this label is comparable to name brand."
It performs consistently well - "I've never been disappointed."
3. How often do shoppers actually purchase store brands?
We applied this question specifically to packaged groceries and household consumables. Field Agent defined household consumables as "any non-durable, non-grocery good like toilet paper, cleaning supplies, pet food, diapers, hygiene supplies, etc."
Very few—only 3% in our survey—purchase only private label brands when shopping for the two categories. Yet almost half of households (47%) said they purchase store brands "often," and another 42% "sometimes."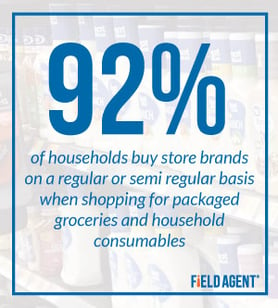 This means the overwhelming majority (92%) of households in our survey buy store brands on a regular or semiregular basis when shopping for packaged groceries and household consumables.
Household income may exert some influence on shopper propensity to purchase store brands.
In our survey, 55% of households with income below $35K (n = 451) purchase private labels either "always" or "often," compared to 47% of those with a household income above $75K (n = 573).
4. What % of their overall purchases do private label brands represent?
Only 27% of households surveyed say store brands make up more than half of their packaged grocery purchases (29% for household consumables). Some 53%, however, claim private labels comprise between 11-50% of their total packaged grocery purchases (household consumables: 44%).
5. Why primarily do shoppers purchase store brands?
For the lower price, of course. Though it's not entirely that simple.
Sixty-eight percent said they buy private-label packaged groceries because "they simply cost less" (67% for household consumables). Similarly, 48% said store-brand packaged groceries are a "better value" than name brands (household consumables: 40%).
What was the top non-price factor in our survey? "To try something different," a reason why 14% purchase private-label packaged groceries and 12% buy private-label household consumables.
6. Are shoppers more/less likely to purchase private labels ONLINE?
As seen above, only 27% of Amazon customers said they buy Amazon private label brands.
Does this suggest shoppers are apprehensive to purchase private labels online?
In our survey, 47% indicated they're less likely to purchase private label brands on the Internet, compared to only 16% who are more likely.
Now Available! Groceries 2.0 Vol III!
Entirely updated for 2019, Field Agent's free report, Groceries 2.0, Vol. III, explores the rise of online grocery-shopping and digital grocery-retail.
Based on surveys and studies with approximately 4,500 shoppers, this 28-
page report examines pressing questions about the digital grocery-
landscape, from the prevalence of online grocery-shopping to shoppers' top
concerns about buying groceries online.
Groceries 2.0, Vol. III also includes fun and informative "spotlights" on...
The Aldi-Instacart pickup partnership
Grocery-pickup among regional grocery chains
Walmart's Fast Lane checkout
Grocery-shopping with smart speakers
Just click below to download this free and timely report.