The Model Shopper: Style & Beauty Insights [Special Report]
Field Agent's Free 2017 Style & Beauty Report: Insights Never Looked So Good
Based on surveys with over 5,000 shoppers, Field Agent's 2017 style and beauty report, The Model Shopper, offers an intensive look at some of the most pressing issues in the style and beauty industries.
From subscription boxes to online attire shopping, this free, special report is bristling with insights to help business professionals understand today's style and beauty shopper.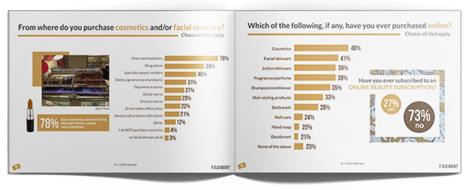 The Model Shopper encompasses four separate surveys—all conducted through the Field Agent app in September 2017. We address questions like:
Where do you shop for clothing and footwear?
Which cosmetic brands do you use?
Where do you purchase your cosmetic brands and facial skincare?
What attire and cosmetics do you purchase online?
Which online personal-styling and beauty services (e.g., Stitch Fix, Birchbox) do you use?
So whether you're a business professional in the fashion and beauty industries, or simply someone trying to come to grips with today's shoppers, we enthusiastically welcome you to Field Agent's 2017 style and beauty report.
We think you'll agree...insights never looked so good.
Click below to download the free report.