Out of Place? Men Mystery Shop Beauty Retailers Sephora & Ulta Beauty
What exactly happens when a man visits a beauty specialty store, like Sephora or Ulta Beauty, that caters almost exclusively to women? Perhaps he just wants to purchase some perfume for that special woman in his life.
Does he feel out of place?
Is he overlooked?
Does he have a good—let's say repeatable—experience?
In short, how's it look when male shoppers enter the larger, mysterious world of female retail?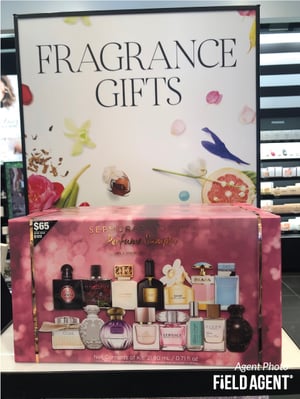 Men Mystery Shop Sephora & Ulta Beauty
This weekend, retail-auditing and insights firm Field Agent enlisted 43 male agents to mystery shop the two largest beauty specialty chains in America, sending 23 men to Sephora and another 20 men to Ulta Beauty. Agents visited their assigned store's fragrance section, where they shopped for a single bottle of perfume. Purchase was not required.
Prior to entering the store, agents were versed in the following scenario:
You're gift-shopping for a special woman in your life (e.g., wife, mother). You want to buy her some perfume between, ideally, $75-100, but you really don't know what to buy her. This perfume could be for an anniversary, birthday, or holiday (e.g., Mother's Day).
While inside, mystery shoppers interacted with store employees and assessed both retailers on a variety of dimensions, including wait time, employee friendliness, and the "shopability" of the fragrance section. Field Agent also instructed mystery shoppers to capture photos inside the department.
What did we learn from this all-male mystery shop of Sephora and Ulta Beauty?
The report below details the experiences of men with both beauty retailers. Scroll further down for additional discussion.
Discussion: Men @ Beauty Specialty Retailers
Far and away, men left this mystery shop with favorable attitudes toward beauty specialty retailers and their service to male shoppers. As one participant said,
"I have never been in a Sephora, and didn't know how nice of a store it is. It has a lot of very nice things for the woman in my life, as well as things for men, which I didn't know!"
But many men, even some who described their experience in positive terms, still felt a little uncomfortable or uneasy entering the alien world of beauty retail. One man, who said he would be only moderately likely to return to the store (i.e., in the event he needed to buy a gift of perfume for a woman), said,
"I feel like the employees are just hovering over you…It makes me more uncomfortable in a store where I already feel uncomfortable because it is geared toward women."
Beauty retailers, some men suggested, could offer a more "guy-friendly" experience, which might encompass everything from gift guides to designated employees (on the lookout for male shoppers) to advertisements or posters directly targeting men.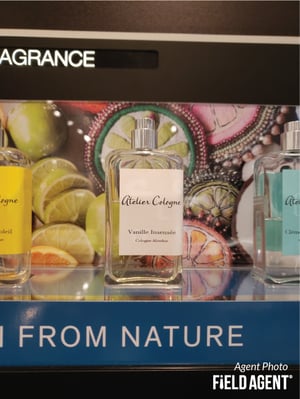 Yet, despite feeling "out of place," many men said they were made to feel at ease by friendly, attentive store employees.

All in all, results suggest Sephora and Ulta Beauty are already on the right track in how they serve men, and any improvements would likely be of an incremental nature.
Style & Beauty Report: The Model Shopper
Download your free copy of Field Agent's style and beauty report, "The Model Shopper," based on surveys with more than 5,000 shoppers.
This special report explores women's:
Preferred makeup brands and retailers
Usage of beauty subscription services like Ipsy and Birchbox
Attitudes toward shopping for cosmetics online
You might say...insights never looked so good! Download it today!