One Year Later: Lidl Shoppers Share Likes, Dislikes about the Retailer
It was just about this time last year, when all eyes were focused on German retailer Lidl and the opening of its first U.S. stores.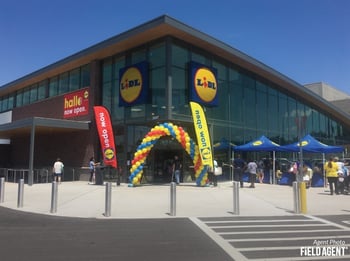 Our agents were there when, on June 15, 2017, the doors finally slid open on 10 brand-spankin' new Lidl stores across Virginia, North Carolina, and South Carolina. Throughout the day, Field Agent's Lidl Live Blog paraded real-time photos, video, and shopper feedback from the three-state grand opening.
Now, one year later, with the number of Lidl stores sitting at 53, we decided to revisit the topic. Specifically, we wanted to explore the attitudes of Lidl shoppers toward the retail chain following its first full year of stateside operations.
One Year Later: Surveying Lidl Shoppers
This weekend, Field Agent surveyed a crowdsourced sample of 268 Lidl shoppers* to understand their current attitudes and behaviors toward the retailer. To locate Lidl patrons, Field Agent specifically targeted shoppers in 44 U.S. communities where the retailer presently operates stores.
*All respondents were U.S. adults at least 18 years of age and smartphone owners who have shopped at Lidl at least once. The survey was administered completely through the Field Agent mobile app. Demos – Gender: female (71%), male (29%); Age: 18-24 (6%), 25-34 (27%), 35-44 (40%), 45-54 (18%), 55-64 (9%), 65+ (1%); Household income: <$35,000 (21%), $35-49 (23%), $50-74 (34%), $75-99 (9%); $100-124 (7%); $125-149 (3%), $150+ (4%); Ethnicity: Caucasian or combo of (70%), African-American or combo of (18%), Hispanic or combo of (3%), other (9%).
Below we offer a six-question QuickFire Q&A based on the results, offering a basic indication of how some Lidl shoppers view the retailer following its first year in the States.
But, first, the video below shares a look back at our "rapid response" of Lidl's grand opening one year ago.
QuickFire Q&A: Lidl One Year Later
1. How is Lidl distinguishing itself among shoppers?
Field Agent asked 268 Lidl shoppers (i.e., those who have shopped the retailer at least once), what, if anything, they feel Lidl does better than other grocery retailers.
Two things particularly stood out: prices and the store environment.
More than half (52%) said Lidl's everyday prices excel those of other grocery retailers, and another 43% suggested Lidl's price promotions (i.e., sales) are comparatively superior.
With respect to the store environment, 34% said Lidl's atmosphere/ambiance, and 25% its store layout, sets it apart from other retailers.
2. In what areas, then, is Lidl viewed as relatively inferior to other grocery retailers?
We then posed a similar question to the same full sample of Lidl shoppers, this time asking what Lidl does worse than other grocery retailers.
As the chart displays, 31% and 26% of respondents believe the retailer underperforms other retailers in, respectively, "offering brands shoppers want" and merchandise assortment.
It seems Lidl's low-cost strategy, which emphasizes private-label store brands, isn't without its own costs.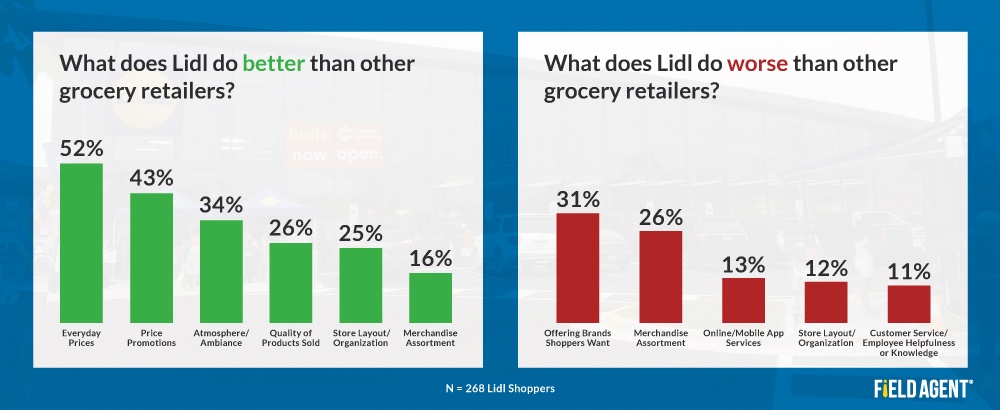 Likewise, among respondents who have made at least one grocery purchase from Lidl but wouldn't consider the retailer a primary grocer (n = 153), we asked…why not? Why, having experienced Lidl, isn't the retailer one of their primary grocery destinations?
A full 40% said it's owing to geographic inconvenience—there simply aren't that many Lidls yet. But, beyond this, 35% of these shoppers said Lidl's product selection is limited while 20% said there are too few name brands.
"Lidl could offer a greater selection of various brands to convince me to shop there more often. The store is very attractive and should continue to advertise their store ad in the weekly paper."

- Lidl shopper, Raleigh, North Carolina
3. What about those store brands? Are Lidl shoppers reaching for them?
Of 268 Lidl shoppers surveyed, 114, or 43%, cited Lidl as a primary retailer for purchasing groceries.
We asked this subset to describe the contents of their typical Lidl shopping cart—specifically, to tell us whether these carts contain mostly store-brand or name-brand packaged groceries.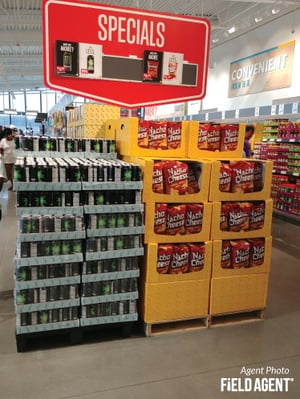 In all, 35% indicated they buy entirely or almost entirely private labels when shopping at Lidl, and another 33% said they buy mostly Lidl brands.
One-quarter (25%) of respondents, however, said they purchase about half-and-half from Lidl: half store brands and half name brands. That leaves only a meager 6%, then, buying entirely or mostly name brands at Lidl.
Not surprisingly, given the retailer's intense focus on private labels, those shopping carts are brimming with Lidl's in-house brands.
"They have great prices and their private label groceries are as good as name brands."

- Lidl shopper, Lexington, North Carolina
But do Lidl shoppers specifically set out to purchase private labels?
In our survey, 40% agreed they "make a purposeful attempt to purchase private-label store brands over name brands" when shopping at Lidl, compared to only 9% who make a deliberate effort to buy name brands.
The remainder, 51%, said they don't make a "purposeful attempt" one way or the other.
4. And if Lidl's winning these shoppers' dollars, which retailers are losing them?
It stands to reason that if shoppers are patronizing Lidl since its U.S. launch, they may be curtailing their spending with other retailers.
So, of those who identified Lidl as a primary grocery retailer (n = 114), Field Agent asked, "With which retailers, if any, have you decreased your grocery spending since you started shopping at Lidl?"
Fifty percent reported cutting back their grocery spending at Walmart, followed by Aldi (38%), Food Lion (23%), and Kroger (17%).
5. And what are these shoppers buying from Lidl?
Quite a bit has been circulated in the media about Lidl's fresh produce, wine, and non-grocery merchandise.
Thus, we sought to ascertain the frequency with which this subset of shoppers, those who consider Lidl a primary grocery retailer (n = 114), purchase these categories from Lidl.
Consider: 92% reported buying fresh produce at Lidl, compared to, for example, frozen meals (48%), butchered meat (44%), and candy/chocolate (35%).
Interestingly, among primary shoppers, no category other than fresh produce amassed more than 50% in our survey. This small sample of loyal shoppers clearly looks to Lidl for fresh produce.
"I feel their produce is fresh and lower priced. Example: large watermelon was $2 cheaper than [another] grocery store and very tasty."

- Lidl Shopper, Henrico, Virginia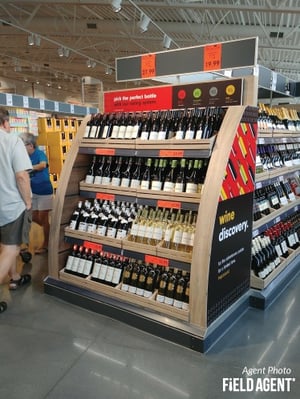 And what about that wine we hear so much about? Among loyal Lidl shoppers who purchase alcohol from stores (n = 81), 4-in-10, 41%, said they purchase wine from the retailer and 30% buy beer.
From the early stages of Lidl's U.S. launch, one point of interest has been the German retailer's plan to sell non-grocery merchandise alongside conventional grocery-store staples. And all with only about 20,000 square feet of selling space to work with.
Are shoppers, those for whom Lidl is a primary grocery retailer (n = 114), buying such non-grocery merchandise? In Field Agent's survey:
23% said they purchase personal care supplies from the retailer
21% - indoor/outdoor home goods
15% - kitchen appliances
14% - clothes and/or footwear
11% - grilling supplies
Thus, within this small group of frequent Lidl shoppers, these non-grocery categories aren't major pulls.
6. How do shoppers describe Lidl?
To the full sample of 268 Lidl shoppers, Field Agent posed the question, "What 3 words would you use to describe Lidl?"
After analyzing these submissions, 801 in total, Field Agent found the following words were used most commonly by respondents:
Clean (74 mentions)
Affordable (42)
Convenient (33)
Fresh (27)
Quality (24)
Inexpensive (23)
Here, too, shoppers with firsthand knowledge of Lidl appreciate the retailer's low-price strategy as well as certain features of its facilities—in this case, its cleanliness.
Checking Out: Lessons Learned
As a basic indication of how some shoppers feel about Lidl following its first year in the States, a common refrain appears to surface.
The retailer is distinguishing itself among some shoppers as a low-price leader with a distinctly positive in-store experience. On the opposite end of the scales, however, the retailer's narrow assortment and lack of name brands is limiting its potential with other shoppers.
As one shopper said,
"I love the store...just wish they had additional manufacturers' products."

- Lidl shopper, Richmond, Virginia
Clearly, some other shoppers would agree.
Free Report: Explore the New Branding Landscape
Based on surveys with thousands of shoppers, Brand New World: Exploring the Critical Issues Facing Today's Brands, takes an intense, data-driven look at the contemporary branding landscape.
This free report examines shoppers' attitudes toward:
Private labels versus name brands
Online private label brands
"Off-brander" retail operations like Aldi and Lidl
Brand loyalty and brand-switching
Download this free report today…and start exploring the "brand new world" around us!