How to Convince Big Retailers to Carry (and keep carrying) Your Product [Part 2]
This article is the second installment in a two-part series. The first article, the "pre-meeting prep," is available here.
Congrats! You've landed your product on store shelves!
But convincing retailers of your product's worthiness is hardly over. It's something you do even after earning your place on shelves, in follow-up meetings with the buyer.
To keep winning, you must have a strong follow-through.
Convince Retail Buyers: Post-Meeting Follow-Through
1. Know the Score. The REAL Score.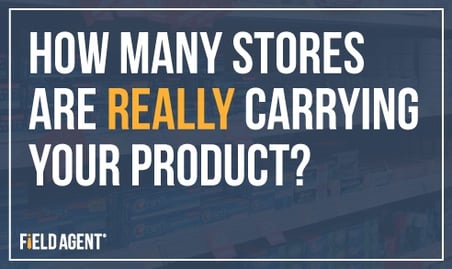 Look, retail buyers know—on paper—how many stores and shelves are carrying your product. Such numbers help them calculate your product's ROI.
But what's on paper doesn't always match what's actually happening inside stores!
The buyer, believing your product to be in, say, 1,000 stores, may conclude your product is missing its sales objectives—a frightful position to be in as a brand.
Yet sometimes a product seemingly in 1,000 stores is actually in just 800, a point that could, if recognized in time, greatly alter the buyer's math and perception of your product.
To win and keep winning, you should regularly monitor your product's actual distribution, ensuring your buyer's numbers reflect operational realities.
2. The Price is Right? It's No Game.
Price tags: So small yet so powerful. They entice sales, yet they also deter sales.
So periodically brands should ensure retail partners are marking their products with the correct prices.
Think about it: An incorrect price is a double-whammy. Shoppers bypass your product today because they think, "I don't want to spend that much," while they bypass your product in the future because they have the wrong preception about it (i.e., "That product was too expensive last time I checked").
Of course, underpricing is another can of worms altogether. A lower-than-expected price can quickly erode a shopper's perception of your product's quality.
To keep your products on store shelves, make sure the price is right.
3.
Give your product some POP
Buyers want to know how you, the brand, will help move your product off their shelves. So be prepared to make investments in displays, signage, and other point-of-purchase marketing materials throughout the product's life cycle. And be ready to share these plans with your buyer.
Equally important: Ensure retail partners are correctly executing your in-store marketing. It's expensive. So be sure your POP marketing is actually in-store, properly executed, and making money...not just spending it.
4. Get Your Recon On
Your product's on-shelf "neighborhood" will change:
SKUs will come and go.
Prices will fluctuate.
Promotions will thrive one day and die the next.
In other words, change is the only constant on store shelves.
Stay aware of your product's retail surroundings, and your competitors' latest moves, so you can discuss them knowledgeably (hard evidence never hurts) with your retail buyer.
The One-Stop Shop: Mobile Solutions
Mobile audits and research provide a fast, affordable way to collect the hard data—both in stores and in homes—to convince your buyer to carry (and continue carrying) your product.
From consumer surveys to on-shelf availability audits, concept tests to competitor intelligence, mobile audits and research offer a full suite of services so you can approach your buyer's meeting with winning confidence.
Download our inforgraphic to see how mobile audits and research work!